Flu vaccine suggested but demand high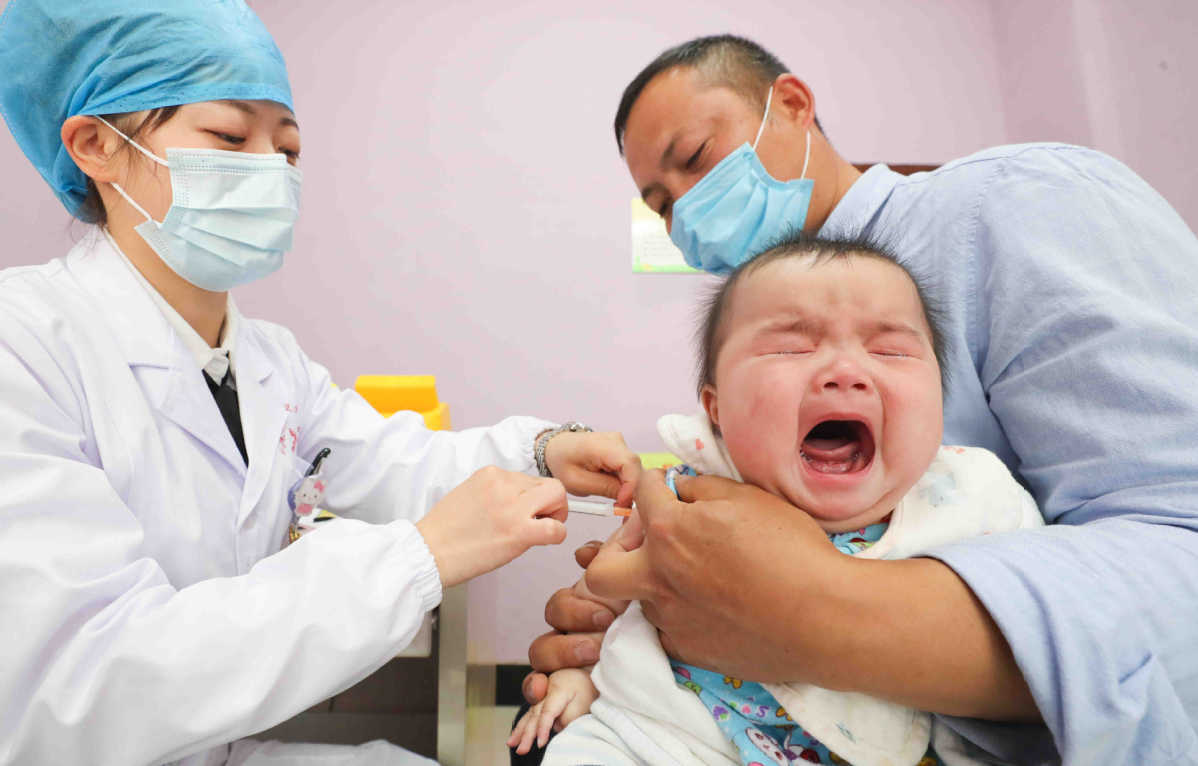 A child cries during an injection at a health center in Huzhou, Zhejiang province on April 24, 2020. (Photo: China Daily)
Although flu vaccine has been in short supply in China's major cities this year, certain groups of people will be given priority to get appointments for inoculations.
According to the Hubei Provincial Center for Disease Control and Prevention, flu vaccine supplies will increase to 3 million shots this year, compared with 600,000 last year. Children under 3, people above 65 and front-line medical workers at infectious disease departments are given priority.
"More people are willing to get a flu shot this year because their awareness of prevention and protection increased after the COVID-19 outbreak," said Ai Xuecai, head of Zhifangjie Community Hospital in Wuhan. "Faced with a flu vaccine shortage, our plan is to make sure youngsters up to 5 years old and adults above 65 get shots first."
Zhou Chengsi, 39, the father of two daughters, said that last year, he could choose the type and brand of flu vaccine. This year, he has been unable to get an appointment.
As of August, the total number of doses of licensed flu vaccine nationwide reached 10.54 million, a 52 percent increase year-on-year, according to the National Institutes for Food and Drug Control. The proportion of people who get a flu shot in China is low, however-around 2 percent, compared with 60 percent in the United States.
Feng Luzhao, an infectious disease researcher at the Chinese Center for Disease Control and Prevention, estimates that roughly 4 percent of the population will be able to get a flu vaccine this year.
Starting on Saturday, people with Beijing hukou (household registration) above age 60 and students in primary, middle and high school can get free shots at a community hospital and through group appointments.
"Prevention is more important than treatment-the cost is much lower," said Zhao Shujue, 70, a resident of Yayuncun community in Chaoyang district. "I got a flu shot every year for many years. It is an effective way to protect myself, especially considering this year's situation."
Medical staff at Beijing Yuetan Middle School said the percentage of students willing to get a flu shot rose from 25 percent last year to 46 percent this year.
People should not worry about duplication with the coronavirus vaccine, said Wu Guizhen, chief biosafety expert at the CDC. Wu said the flu vaccine and COVID-19 vaccines are different, and there is no conflict if a person gets both.
Wu said getting a flu shot is "not only beneficial for the individual, but also reduces the burden on medical institutions".
In Beijing, despite the capital increasing its flu vaccine stockpile this year, residents are still finding it difficult to get their shots.
Staff at Anzhen Community Hospital in the city's Chaoyang district said appointments for adults are booked through mid-November.
Wu Min, a teacher at Beijing Yuetan Middle School, said her family did not get flu shots last year, but given this year's pandemic, she plans to get a flu vaccination. She said she hasn't been able to do so.
With the potential for a COVID-19 outbreak this winter, during the flu season, the Chinese Center for Disease Control and Prevention suggests that people get a flu shot to boost their immunity and reduce the difficulty of identifying possible COVID-19 patients.