China's soccer renaissance transforms village into thriving community
Global Times
1514402731000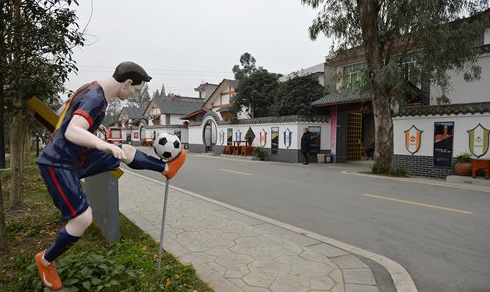 Sanhe village in Southwest China's Sichuan Province develops football tourism to boost local economy. Photo: IC
China has been gradually forming its own soccer culture over the past several years after Chinese President Xi Jinping, a soccer fan, pinned high hopes on the nation's soccer development.

For rural areas, developing soccer has not only helped raise the sport's overall competitive level, but also helped local villagers out of poverty. Sanhe village in Southwest China's Sichuan Province is the latest successful showcase proving how soccer can turn a poor village into a wealthy region. Sanhe became the biggest soccer village in Chengdu after it organized its first soccer league in 2015. Two years later, Sanhe organized a total of 248 soccer matches, watched by over 100,000 people, and now claims 1,078 registered soccer players, according to Chengdu Business Daily. "Soccer has become our village's business card, and developing the sport has boosted rural tourism and driven sales of our agricultural products," Tan Jie, Party branch secretary of Sanhe village committee, was quoted by the newspaper as saying.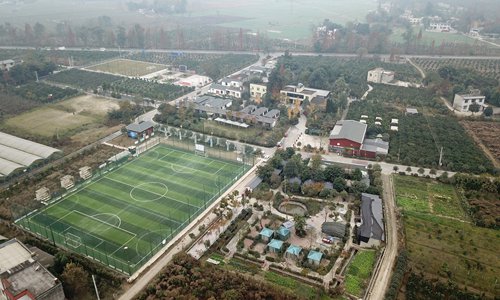 Soccer field in Sanhe Photo: VCG
Big ambitions

Sanhe village established its first amateur soccer team in 2013, when China first started vigorously promoting soccer in both rural and urban areas. But as the very first farmers' FC (football club) registered in Chengdu, Sanhe's team at that time struggled to find a proper soccer field. "We thought building a soccer field would cost less than 200,000 yuan ($30,553), but it turned out it required more than 400,000 yuan," said Ma Zhongyu, captain of the Sanhe soccer club, adding that the village eventually decided to crowd-source funds for the pitch.

At that time, Sanhe village had a bumpy dirt path as its only main road, and the average income of its villagers was below the average level of all 24 villages in the township. Its Party branch was even voted a "weak and lax" organization in 2012, and the village's overall assessment was the second-lowest among the 24 villages, Chengdu Business Daily reported. In July of 2015, a grass soccer pitch equipped with lights, basic drainage and a simple audience stand was constructed in the village. The field was also rented out to players outside the village, who were charged 320 yuan per game, Ma said. Sanhe village soon organized its first soccer league on August 15, 2015, with 20 qualifying teams. But in a poor village like Sanhe, players found no locker room and had to take care of everything themselves. Even so, the league has made the village locally famous, as many soccer teams went to Sanhe for training and practice. The success of organizing its own league pushed the villagers' ambitions forward, and Sanhe soon realized the potential driving power of organizing its own youth training camp.

Chen Liwei, the coach for Sanhe's new youth camp, was hired by the village this August. He said that some of their young players will attend soccer clubs in Germany for further training. "We have reached a deal with a German company," Chen said. The youth training team now has 60 team members. The two-hour session every Saturday costs those who live outside the village 200 yuan per month. "We hope that our youth training club will draw more city kids into Sanhe. Of course, with their parents," said Tan.


Grapefruit trophies

Wang Xueguang, a villager, said that the league has boosted the sales of the grapefruits he grows in Sanhe. "I used to sell them for only 4 yuan [per 500 grams]. Now the grapefruits sell out at 5 yuan [per 500 grams]," Wang said, adding that he can earn about 15,000 yuan every year just by selling grapefruits at matches. To help villagers sell grapefruits, which are the pillar industry of the village, Sanhe uses them as part of the prize for winning teams during matches. The champion team for the first league in 2015 won 6,000 yuan and 50 kilograms of grapefruits. "Receiving grapefruits as a prize is a great way to advertise Sanhe's agricultural industry, and my teammates love bringing home local specialties," said Wang Xiong, captain of a soccer team which joined the league three years ago.

Even villagers from neighboring villages have benefited from Sanhe's soccer league. Ma, the captain of Sanhe soccer club, actually lives in Jinwen village, 2 kilometers away from Sanhe. He said that his family used to find it difficult to sell their grapefruits, and his father even had to give them away for free.

"I never thought that playing soccer could improve my family's grapefruits business," Ma said.

The popularity of Sanhe's soccer events has also drawn other merchants to seek out business opportunities there. In 2016, Yang Jun from nearby Pengzhou opened the first soccer-themed restaurant, named Duck Nest, in Sanhe.

The restaurant accommodates up to 200 people and earns Yang 300,000 yuan per year. His booming business has attracted other entrepreneurs to start businesses in Sanhe.

Goooal!

In 2016, the village invested 700,000 yuan to build a second soccer field, as well as new roads, soccer-themed sculptures and other entertainment facilities that helped modernize Sanhe's appearance and infrastructure.

Official data shows that over the past three years Sanhe has constructed roads extending 10.3 kilometers. The annual per-capita income of the village's 2,100 residents has increased by 6,000 yuan since 2013. Social capital increased from 2 million yuan in 2013 to 10 million yuan this year.

With the rapid development of soccer, Sanhe is now widely known as "No.1 Soccer Village" in Chengdu, attracting football clubs from neighboring cities such as Guanghan, Qingbaijiang and Pengzhou to join their league.

Sanhe village is just a glimpse of how China has successfully "kick-started" the development of soccer.

After Xi announced three personal football-related wishes in 2011 - for China to qualify for another World Cup, to host the event and, finally, one day, to win it - the country collectively set out to accomplish these goals.

In February of 2015, China's central reform group, chaired by Xi, approved an ambitious plan to boost the level of football throughout the country. The measures included establishing 50,000 football schools within 10 years and making the game a compulsory course at some primary and middle schools.

One year later, China came up with a pragmatic soccer development plan aiming at setting up "elite clubs" and turning China into a "top class soccer nation" by 2050. By 2020, China will have 20,000 soccer academies, 30 million elementary and middle school students playing the sport, and more than 50 million Chinese citizens active in the game, Xinhua News Agency reported.

In the meantime, China is strengthening cooperation and player/coach exchanges with soccer clubs from foreign countries.

Chinese Super League signed a cooperation deal in 2013 with English Premier League, and in 2015 Xi and Prince William discussed a sports exchange between China and Britain.

In November of 2016, Chinese soccer associations signed a five-year deal that will see German players, coaches and referees provide assistance to their Chinese counterparts, Beijing-based China Global Television Network reported.

German soccer giant Bayern Munich, one of the world's best-known clubs, signed deals to jointly build soccer schools in Qingdao, East China's Shandong Province and Shenzhen, South China's Guangdong Province, China Radio International reported.