Investments worth 200 billion yuan expected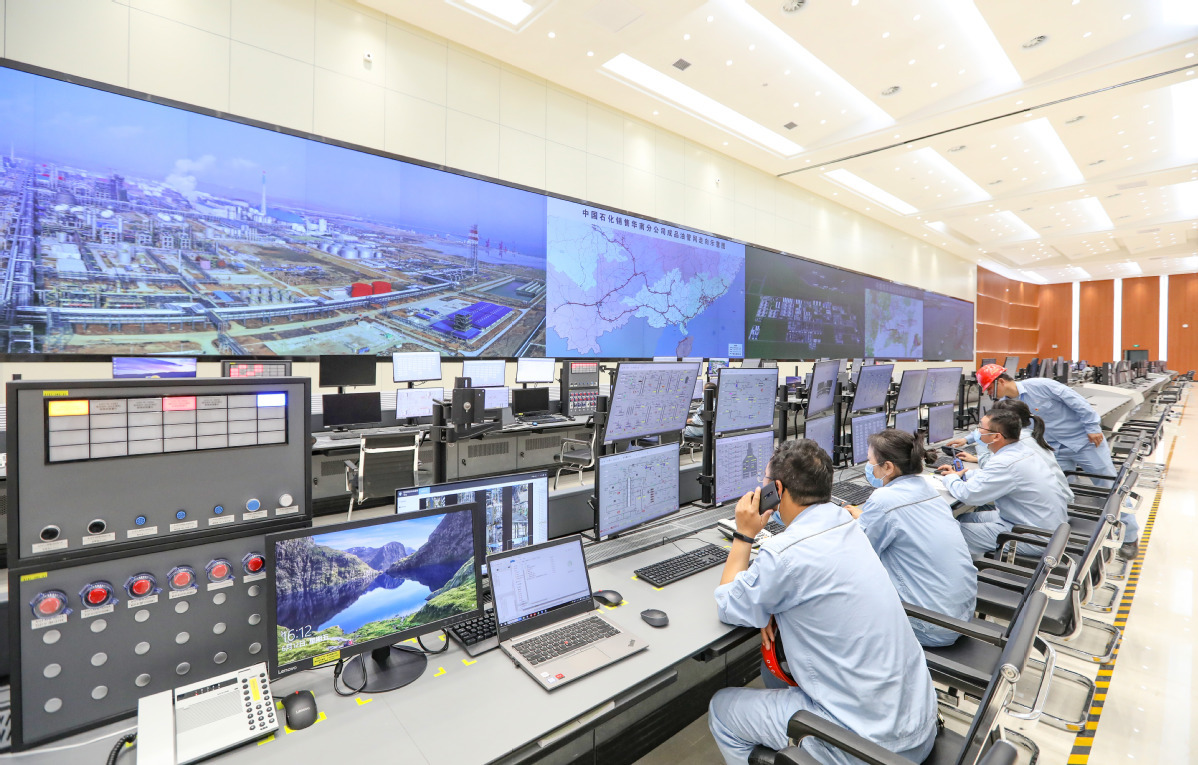 A team of workers keep watch over the control panels of the Zhongke Refinery and Petrochemical project. (Photo: China Daily)
As a city in the west of Guangdong province with a long coastline and deepwater port, Zhanjiang is using its advantages to develop port-based industries ranging from petrochemicals to steel.
The city is pinning hope on the giant petrochemical project that started operating last week to lure more investment to supplement the local industrial chain.
The Zhongke (Guangdong) Refinery and Petrochemical project will be able to refine more than 10 million metric tons of crude oil and produce 800,000 tons of ethylene products annually by the end of 2025.
The project is expected to help the city secure more than 200 billion yuan ($28.3 billion) worth of investments in the fields of plastics, chemicals used in electronics and fine chemicals.
It will also offer an opportunity for businesses of new materials, light industry and automobiles, in addition to a huge number of job vacancies, according to Wu Xiwei, executive director and Party secretary of Zhongke Refinery and Petrochemical.
Another petrochemical giant BASF began to build its largest overseas investment project in Zhanjiang in November 2019, with investment set to surpass $10 billion.
Zhanjiang aims to refine more than 25 million tons of crude oil, produce more than 2 million tons of high-end ethylene products and 20 million tons of fine steel products annually in five to 10 years, laying a foundation for its goal to become a subcenter in Guangdong and a major part of a modern coastal economic belt in the province, according to the city's blueprint.
The Baosteel project in Zhanjiang, operational since 2015, has turned Zhanjiang into a major advanced steel production base in China.
"Zhanjiang will strengthen the development of its pillar industries while trying to extend industrial chains and attract industrial clusters in the following years," said Jiang Jianjun, mayor of Zhanjiang.
Jiang has promised to introduce more preferential policies to help attract foreign investment in the coming years.
Zhanjiang is planning to attract at least 40 billion yuan of investment from China and the rest of the world to accelerate development of port-based industries in 2020. It will also build an industrial park capable of yielding 100 billion yuan in industrial output annually and three others generating 10 billion yuan each.
Wang Xiaosui, director of the Zhanjiang bureau of industry and information technology, pledged there will be a better business environment for investors.
"We will offer more incentive policies for investment promotion and accelerate the construction of complete industrial and supply chains to accurately attract investment and secure more high-quality projects to Zhanjiang," Wang said.
The official added that Zhanjiang's ambition is to develop itself into a world-class port-related industrial base in the years ahead.
Officials from the Zhanjiang bureau of commerce said operation of the Zhongke (Guangdong) Refinery and Petrochemical project will help to promote Zhanjiang's foreign trade, increasing its exports and optimizing its export structure.
Steel, petrochemical and paper products will become the city's main exports, supplemented by aquatic products, furniture and household appliances, they added.