Across China: Shanghai community safeguards elderly living alone with smart devices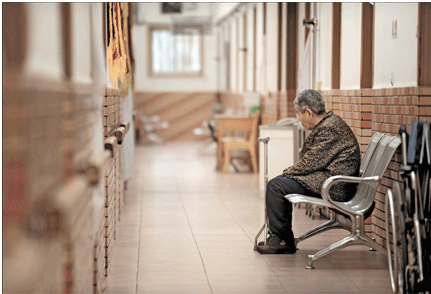 SHANGHAI, Dec. 11 (Xinhua) -- For Zhang Meixia, an 87-year-old woman who lives alone in Shanghai, 0.01 cubic meters of water is enough for her to do the laundry or cook a meal. That amount of water can even save her life.
The Jiangsu Road sub-district of Changning District in Shanghai, where Zhang lives, has recently begun installing free smart water meters for elderly residents living alone to monitor their water consumption in real time.
Once the reading within 12 hours falls below 0.01 cubic meters, the system will automatically alert the community's managing platform and notify local cadres. Community volunteers will come to check the situation as soon as possible.
"As an elderly person living alone, my biggest fear is calling for help but no one comes. I am all for installing smart water meters in my home," said Zhang.
Over two decades of living alone, Zhang's only experience with smart devices has been using her phone to make calls and take pictures of the flowers she grows on her balcony. She never expected that installing smart devices in her home could bring her such peace of mind.
Just like Zhang, many elderly living alone in Shanghai are now being protected by smart devices such as smart water meters, smart door sensors, smoke detectors and infrared sensors.
The managing platform run by the local government collects and analyzes data from these smart devices to ensure the well-being of the elderly, monitoring key indicators such as whether the front door has been opened or whether there have been signs of human activity within the past 24 hours.
So far, the sub-district has installed more than 100 smart door sensors and nearly 10 smart water meters for elderly residents living alone in the community. Since the beginning of November when the data was uploaded to the local urban operation and management center, the devices have issued 23 warnings.
"As I've gotten older, I've become more forgetful. Once I forgot about a frying pan on the gas stove. If it weren't for the alarms set off by the smoke detector, I would have been in big trouble. Soon volunteers also came to my door to check up on me after receiving warnings. I didn't expect those devices would be so helpful," Zhang said.
Li Chun, the community volunteer paired with Zhang, said all the elderly living alone in the community are paired with volunteers who visit them every week. However, these volunteers can only do so much.
"These smart devices come in handy to take care of the elderly. As long as the water consumption exceeds 0.01 cubic meters, I know that Zhang is safe and sound at home, and I feel at ease," Li said.
Shanghai is facing a severe aging problem. The number of people aged 60 and over in Shanghai was 5.18 million by the end of 2019, accounting for 35.2 percent of the total registered population in the city, according to the municipal health commission. Among them, 317,400 elderly are living alone.
As a microcosm of the aging population in Shanghai, 40 percent of residents in the area are senior citizens, said Dai Tao, an official with the Jiangsu Road sub-district.
Authorities hope to actively explore smart applications to solve real problems and share the benefits of technological progress with the elderly, Dai said.
"We plan to explore more ways of using smart water meters in the future. For example, instead of only monitoring the minimum reading, we will also detect irregular increases in water consumption and send out warnings to the volunteers," Dai said, adding that relevant data is also under strict protection to avoid any privacy leakage. Enditem