China's biggest oil firm CNPC in state of emergency in Beijing after 4 staff found positive for COVID-19
Global Times
1636637232000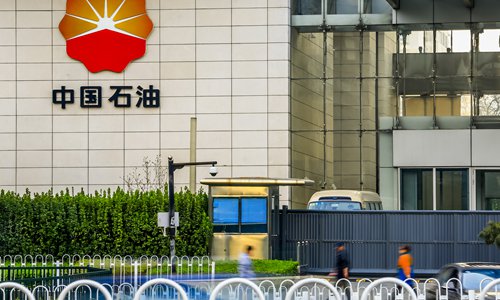 File Photo: VCG
China's largest oil and gas producer and supplier, China National Petroleum Corp (CNPC), also the world's third-largest oil firm, has told all of its Beijing units to enter a state of emergency after four employees tested positive for COVID-19.
As of press time, four employees of CNPC had tested positive, including one from Northeast China's Jilin Province. And four family members living with one of the positive cases in Beijing's Haidian district were confirmed to be infected with COVID-19.
Based in Beijing, the state-owned giant immediately started to conduct nucleic acid testing for all employees in the capital, Liu Shengyao, deputy director of the Integrated Management Department of the CNPC, said at a press conference addressing epidemic prevention and control on Thursday.
The move came after 111 employees attended meetings in Beijing sharing conference rooms with a company employee from Northeast China's Jilin Province, who was later found to be COVID-19 positive.
This Jilin patient had a business trip to Beijing from October 20 to November 7, and was confirmed to have been infected with COVID-19 on November 10. The patient visited Beijing's Haidian, Chaoyang and Dongcheng districts.
Liu said that the confirmed case from Jilin attended the company's meetings from November 2-5 in Beijing, while vowing that the company will strengthen the management of its offices and personnel, and deploy strict environmental testing and disinfection protocols.
The company, which ranks fourth on the 2021 Fortune Global 500 list, asked its employees to continue to work as usual and cooperate with the investigation, while employees who had left the Beijing building were asked to work at home for a seven-day quarantine period, so as to ensure the normal production and operation of oil and gas supplies.
CNPC will suspend meetings and in-person training courses in Beijing in order to cooperate with the city's disease control departments to strengthen measures against the recent flare-ups in Beijing.
Beijing tightened its entry regulations as part of the city's epidemic prevention and control work after the capital reported six confirmed local cases and one asymptomatic patient as of 9 am on Thursday. The cases are related to the confirmed case from Jilin.
A meeting hosted by Cai Qi, secretary of the Communist Party of China (CPC) Beijing Municipal Committee, on Thursday, said that the anti-epidemic situation in Beijing is grim and complex due to the new cluster infections, which requires all parties to respond immediately and resolutely cut off the transmission chain of the virus.
Meetings and public activities are encouraged to be held via video link.
Personnel from medium- and high-risk areas visiting Beijing for meetings shall be strictly restricted. Closed-loop management shall be implemented during the meetings, and personnel shall not go out.
The meeting also highlighted the necessity of strengthening epidemic prevention and control for the logistics, as Thursday marks China's Double 11 shopping festival - the world's largest, and doing a good job in disposing of goods packaging.
Global Times