China has likely administered over 10 mln doses, long way to go to 50 mln before Spring Festival: expert
Global Times
1610371286000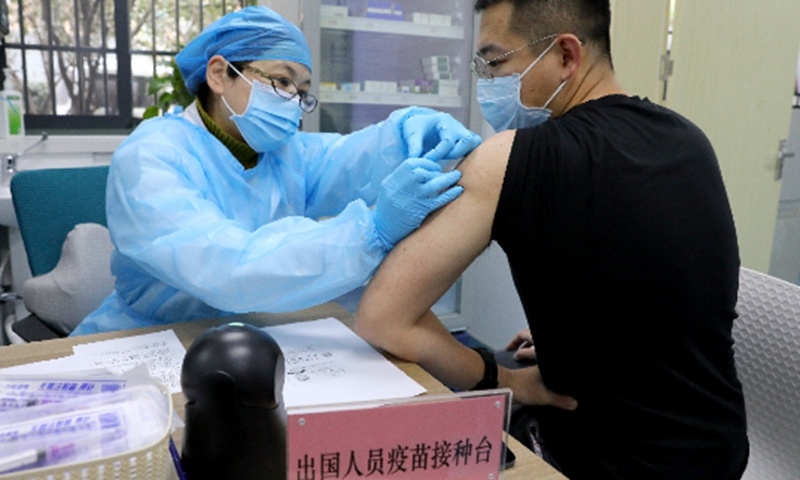 China has likely vaccinated more than 10 million doses in mass inoculation efforts for first high-risk groups so far, experts estimated, as health departments ramped up the national immunization plan, racing against infection resurgences in a number of provinces including Hebei.
More than 1 million people have been vaccinated in Beijing, adjacent to virus-hit Hebei, as of Monday, Beijing authorities said. The Chinese capital has started inoculating key groups with COVID-19 vaccines since the New Year.
The capital is capable of vaccinating 100,000 to 150,000 people each day, local heath authority introduced on Monday. Before Spring Festival, vaccination to the first batch of the key population can be completed, and it is expected that all priority groups can get their first dose injected by January 15.
China aimed at vaccinating 50 million people before Spring Festival falls on February 12. North China's Hebei Province has dispatched the first batch of 70,000 COVID-19 vaccines to coronavirus-hit provincial capital Shijiazhuang, and the city has inoculated around 20,000 people.
Multiple regions across the country also kept updating its rollout progress - North China's Shanxi Province has inoculated 250,000 people and South China's Guangdong Province inoculated 1.21 million as of Thursday, and Southwest Sichuan Province has inoculated 40,000 people as of Friday.
Xi'an, the capital of Northwest China's Shaanxi Province, has injected over 76,000 people across 152 injection sites as of Monday.
Chinese authorities on Saturday said it has administered 9 million doses around the country, proving that the Chinese vaccines are safe, and the country is committed to vaccinating all those who are eligible in order to build herd immunity and cut the spread of the virus.
China has officially started vaccination to high-risk population since December 15, 2020, and has given 7.5 million doses nationwide as of Saturday. Adding to the 1.6 million doses previously administered in emergency use, the overall doses have reached 9 million, Zeng Yixin, deputy head of the National Health Commission, said on a Saturday press conference.
China was likely to have sped up vaccinations for more than 1 million over the weekend especially in some virus-hit places such as Hebei Province, a Shanghai-based medical expert on vaccines Tao Lina told the Global Times on Monday.
Sinopharm on Thursday announced that more than 4 million doses of its inactivated vaccine had been administered in China and more than 10 million doses had been distributed across national vaccination sites. No serious adverse reactions have been reported so far.
Other vaccine candidates, including one produced by Sinovac and CanSino, have also been taken for emergency use in China, and the overall doses given should have reached over 10 million so far, Tao said.
However, at Beijing's current vaccination rate, around 20 million doses are expected to be administered before Spring Festival in all of China (to protect less than 20 million people considering some will get a second dose), far short of the initial target of 50 million people, Tao suggested.
All three major Chinese vaccine producers - CNBG Beijing institute, CNBG Wuhan institute and Sinovac - are accelerating vaccine production while 15 other production plants have completed construction, according to the Chinese Ministry of Industry and Information Technology.
CNBG Beijing institute, a Sinopharm subsidiary, has confirmed its production capacity can reach over 1 billion in 2021. CNBG Wuhan institute and Sinovac are expected to guarantee capacity of 600 million respectively, media reported.
Tao expected that China is highly likely to ensure a domestic vaccines capacity of more than 2 billion doses in 2021 to meet the target of at least 70 percent of Chinese get vaccinated to achieve herd immunity.