Some COVID-19 confirmed patients in N.China's Shijiazhuang outbreak attended recent religious activities: media
Global Times
1610060360000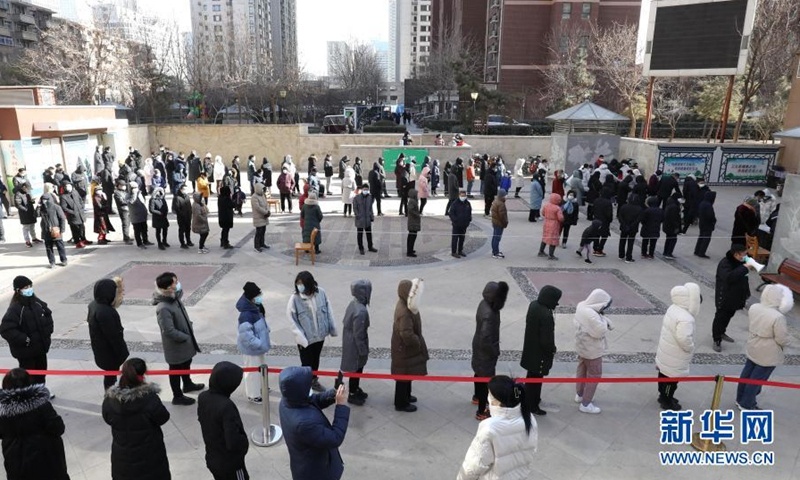 Some COVID-19 elderly patients in a local village had attended religious activities regularly at a villager's home before they were confirmed in the latest outbreak in Shijiazhuang, North China's Hebei Province, a village head told Beijing-based Health Times on Thursday.
Amid online speculations that the latest outbreak in Shijiazhuang may be linked to family religious gatherings in a local village, a head of the local Catholic diocese in Shijiazhuang denied the church is related to the spread of the virus.
"Some villagers with religious beliefs among the confirmed cases had gathered every Wednesday, Friday or Sunday to attend religious activities in a villager's home. Each time there were several dozens of people, mostly elderly," a head of Xiaoguozhuang village in Shijiazhuang told the Health Times on Thursday.
The village head said the earliest cases were confirmed on January 2, according to the report.
Active tracks published by Hebei provincial health commission showed that several patients confirmed with COVID-19 attended "activities" in Xiaoguozhuang village every week. There were also confirmed villagers from a nearby village who attended "activities" in Xiaoguozhuang village in late December.
Shijiazhuang reported 50 new confirmed COVID-19 cases and 67 silent carriers on Wednesday, with most from villages of Xiaoguozhuang,Nanqiaozhai and Liujiazuo, according to a press conference.
Posts suggesting Xiaoguozhuang village has many Catholic worshipers have been spreading online, and the Catholic church of Shijiazhuang on Thursday said the posts were "rumors."
The Catholic church in Shijiazhuang is undergoing the "two suspensions, one postponement" policy to prevent the spread of the virus, which refers to "closing religious venues, stopping group religious activities and postponing openings of religious schools," a person in charge of the Shijiazhuang diocese who asked for anonymity, told the Global Times on Thursday.
But he said that the church had no knowledge of "underground" religious activities.
In China, religious personnel are not allowed to hold religious activities outside of religious venues without approval, according to the Regulations on Religious Affairs.
The person from the Shijiazhuang diocese confirmed that a statement posted in the name of Shijiazhuang diocese and Shijiazhuang Patriotic Catholic Association is authentic. The statement has been reposted by several unverified Catholic-theme WeChat accounts on Thursday night.
The statement refutes an online article by another WeChat account Qifenglugu, which stated that Xiaoguozhuang village is a Catholic village and religious activities were held 20 days ago with attendance by several priests from Europe and the US.
Xiaoguozhuang, Liujiazuo and Nanqiaozhai, which are related to the current Shijiazhuang outbreak, are not "Catholic villages" and there are only few Catholic believers in the village. The villages do not have Catholic venues and do not hold Catholic gatherings, the statement said.
According to the person in charge, there are about 110,000 Catholic believers in Shijiazhuang, capital of Hebei which has a population of 11 million. The majority of the believers are rural residents.