Flexible display panel makers eye higher sales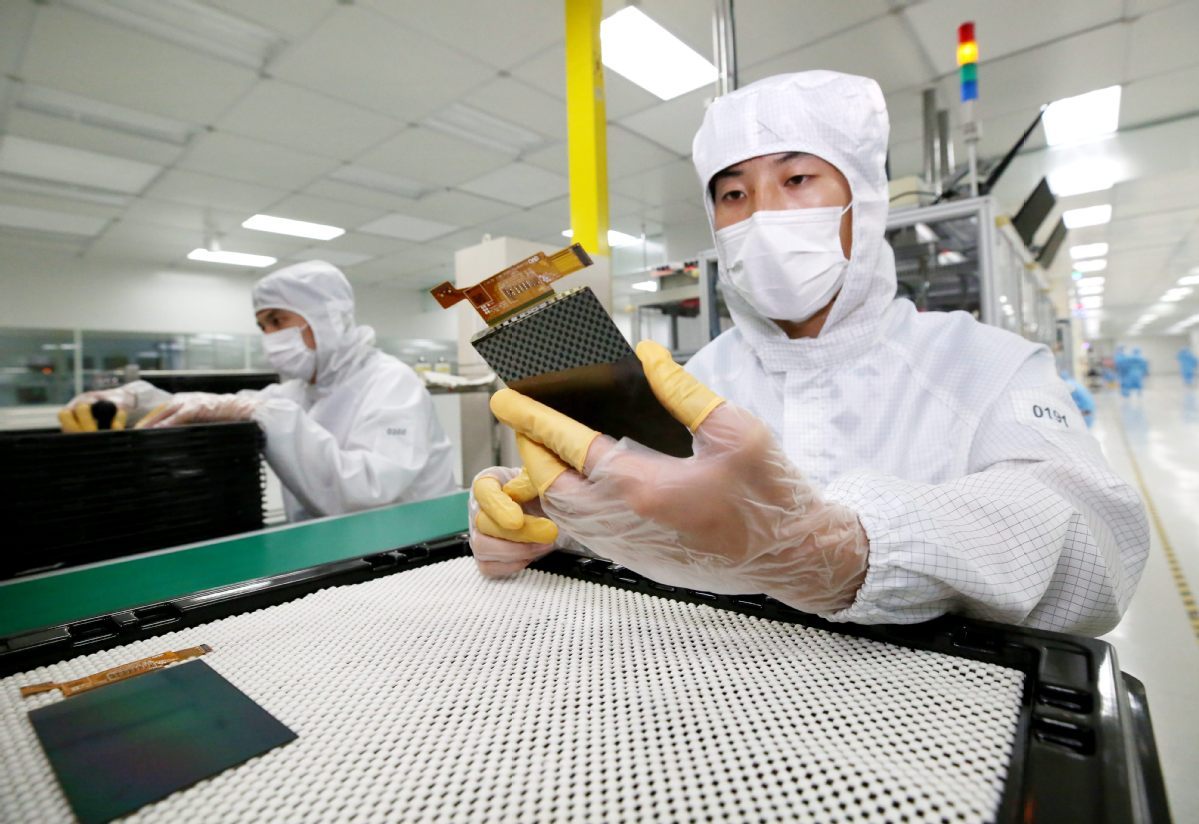 Employees inspect semi-finished display panels at a factory in Langfang, Hebei province.(Photo: Xinhua)
The flexible display panel industry is set to experience growth as major Chinese panel makers have scaled up production capacities in the thinner, lighter and foldable screens used for smartphones despite the negative impact of the COVID-19 pandemic on handset sales.
Market research company Trend-Force said smartphone brands are proactive in adopting active-matrix organic light-emitting diode, or AMOLED, panels for their phones. The penetration rate of AMOLED phones in the overall smartphone market is projected to increase from 31 percent in 2019 to 35.6 percent in 2020.
AMOLEDs are more flexible with faster response times, high contrast and wide visual angles compared to traditional liquid crystal display (LCD) panels.
Apple Inc will use organic light-emitting diodes or OLED screens for all its forthcoming 5G iPhones this year, going all-in with the world's premium display technology for its flagship brands, said Japan's business newspaper Nikkei.
Domestic display panel suppliers such as BOE Technology Group Co Ltd, Visionox Technology Inc and China Star Optoelectronics Technology Co Ltd (CSOT) are doubling down on flexible screens mainly used for smartphones. They are ramping up efforts in the AMOLED display market that is still dominated by South Korean companies.
BOE Chairman Chen Yanshun said the company is banking on OLED, and the shipment of such panels will triple to at least 70 million units this year.
He noted the supply of traditional LCD has surpassed demand, so the company will not increase its investment in the sector in the future.
BOE now has three sixth-generation flexible AMOLED production lines. It started mass production of flexible panels at its facility in Chengdu, Sichuan province, in October 2017.
A total of 48,000 glass substrate panels (at 1850 mm x 1500 mm) were produced every month. The panels have already been used by more than 10 smartphone manufacturers.
Its second line in Mianyang, Sichuan province, began mass production in July 2019. Work on its third facility commenced in Chongqing last year.
Industry statistics showed that BOE has witnessed robust growth in the OLED market, with its shipments surging by seven times in 2019 on a yearly basis. The flexible OLED panels are ranked first in China, accounting for 86.7 percent of market share.
Visionox Vice-President Xu Fengying said flexible AMOLEDs will have wider applications in smartphones, computers, smart wearables, vehicles, smart homes, virtual reality and augmented reality because of surging demand for flexible display screens.
The company has provided AMOLED technology for smartphone maker Xiaomi's under-screen camera. Xiaomi's prototype foldable phone also uses an OLED display panel from Visionox. It has offered AMOLED screens for ZTE's first 5G flagship smartphone, the ZTE Axon 10 Pro.
Its AMOLED display screen production line in Gu'an, Hebei province, began operations in May 2018.It can turn out 30,000 glass substrates (1,500 mm by 1,850 mm) every month, and meet the highend, foldable screen demand for 90 million smartphones.
The company started building its second flexible AMOLED production line in Hefei, Anhui province, in December 2018.
Market research firm Omdia said shipments of AMOLED panels used in smartphones are set to soar to 513 million units this year, up from 471 million in 2019. This means the penetration rate of AMOLED panels is rising sharply.
Panel shipments to smartphone makers including Huawei and Xiaomi increased 287 percent and 120 percent, respectively, to reach 73 million and 20 million units last year. Both companies increased their adoption of AMOLEDs in place of LCD panels in their mid to high-end smartphone lineups, Omdia said.
CSOT, another leading panel supplier and subsidiary of home appliances giant TCL, announced its Gen 6 flexible AMOLED display panel production line in Wuhan, Hubei province, achieved mass production on Jan 1. A total of 48,000 modules are set to be manufactured each month.
"With the arrival of the 5G era, flexible AMOLED products have broad application scenarios due to their foldable and flexible characteristics. They will bring about differing and high-quality experiences for consumers," said Chen Jun, vice-president of Beijing-based market researcher Sigmaintell Consulting.
Sales revenue of global foldable smartphones should exceed $100 billion in 2025, an increase of over 80 times compared with sales in 2019, Chen said.