Xi meets Myanmar's State Counselor Aung San Suu Kyi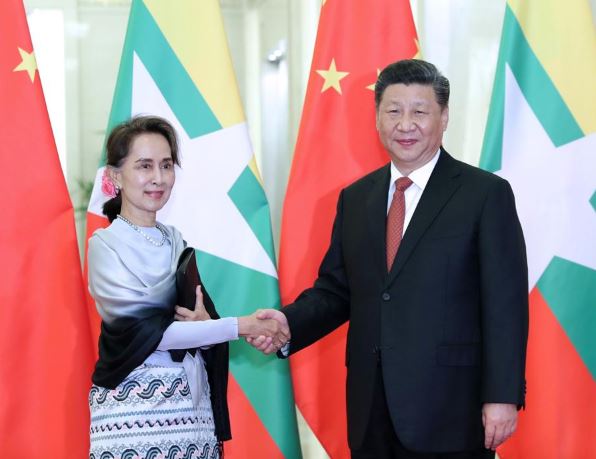 Chinese President Xi Jinping (R) meets with Myanmar's State Counselor Aung San Suu Kyi ahead of the Second Belt and Road Forum for International Cooperation in Beijing, capital of China, April 24, 2019. (Photo: Xinhua)
BEIJING, April 24 (Xinhua) -- Chinese President Xi Jinping met with Myanmar's State Counselor Aung San Suu Kyi on Wednesday ahead of the Second Belt and Road Forum for International Cooperation to be held from April 25 to 27 in Beijing.
Noting the profound "Paukphaw" (fraternal) friendship between China and Myanmar, Xi said China is willing to carry forward the traditional friendship of the two sides, increase mutually beneficial cooperation and push forward bilateral relations constantly.
In light of the celebrations next year that will mark the 70th anniversary of the establishment of the China-Myanmar diplomatic relationship, the two sides should actively conduct interactions at all levels and people-to-people and cultural exchanges, and focus their pragmatic cooperation more on areas related to people's livelihood, so as to continuously consolidate public support for bilateral friendship, Xi said.
China supports Myanmar in developing its economy and improving people's livelihood, and appreciates the efforts of the Myanmar's government to advance domestic peace and reconciliation, Xi said.
China is willing to work with Myanmar to safeguard the security and stability in China-Myanmar border areas and ensure the safety and normal order of border residents, he said.
China highly appreciates the establishment of a steering committee by the Myanmar's government for implementation of tasks related to the Belt and Road Initiative, which is chaired by Aung San Suu Kyi, Xi said.
China is willing to strengthen mutually beneficial cooperation with Myanmar under the Belt and Road framework, and accelerate the development of the China-Myanmar Economic Corridor, so as to bring more concrete benefits to the two peoples, he said.
Noting that China is a close and friendly neighbor of Myanmar, Aung San Suu Kyi expressed gratitude to China's efforts to support the peace, stability and development of Myanmar.
Myanmar has supported the Belt and Road Initiative since the very beginning and has been active in expanding cooperation with China, and it believes joint construction of the initiative will lead to greater well-being in the world and the region, enhance Myanmar-China friendship and cooperation, and bring concrete benefits to the two peoples, she said.
Myanmar is willing to work with China to safeguard the security and stability in border areas, she said.
Myanmar appreciates China's position in upholding the purposes and principles of the UN Charter, and is willing to strengthen coordination and cooperation with China on multilateral affairs, she added.