China ranks second in new internet index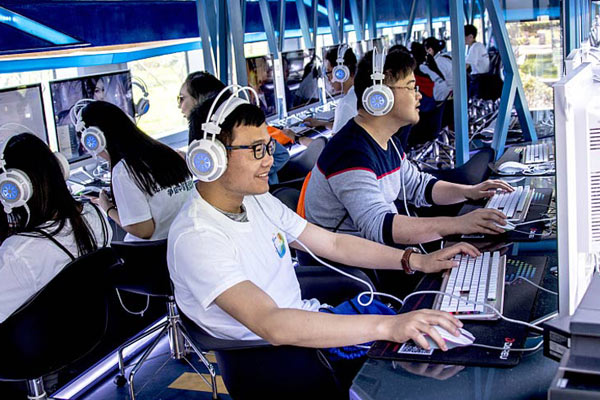 People surf the internet in Nanjing Future Network Town, East China's Jiangsu province, May 10, 2017. [Photo/VCG]
China ranked second after the United States in an internet development index released on Monday that gauges six dimensions from internet infrastructure to application among 38 countries.
China has the largest number of internet users and is the world's top e-commerce and mobile payment market by transaction volume, according to the Global Internet Development Index, published during the 4th World Internet Conference in Wuzhen, Zhejiang province.
The findings are part of the World Internet Development Report 2017, the first such industry index China has compiled as a world-leading digital force, said Yang Shuzhen, head of the Chinese Academy of Cyberspace Studies.
"It represents the specification, standardization and indexing of President Xi Jinping's thought on global internet governance," he said at a news conference.
The index takes a holistic approach by assessing the level of infrastructure, innovation capacity, industry development, internet application, cyber security and internet governance among economies with advanced internet conditions.
The rest of the top six were the Republic of Korea, Japan, the United Kingdom and Singapore.
Compared with other international indexes that rely mostly on one specific benchmark, the Chinese plan aims to provide a comprehensive picture of internet development so that countries can draw on each other's experience and make progress accordingly, said Xu Yunhong, assistant to the head of the Chinese Academy of Cyberspace Studies.
"What are often neglected in past trials are evaluations of total internet industry capacity and measures on internet governance," Xu said. "China's experience suggests that both factors are crucial to a sound development of the internet that aims to serve the fundamental interests of the people."
During last year's gathering in Wuzhen, Xi put forward four goals for the healthy development of cyberspace: promoting equality and mutual respect, being innovative, continually opening-up and sharing, and safeguarding its security and orderly development.
The report urged countries to join hands to expand communications, safeguard the order of cyberspace and formulate governance rules.
Also unveiled at the conference is a sister report that scans and analyzes internet development inside China, a country that saw 30.3 percent of its GDP come from the digital economy last year.
Guangdong, Beijing, Zhejiang, Jiangsu and Shanghai are rated among the top five places where internet is being applied to invigorate economic vibrancy and innovate in social governance.
Government agencies have had a digital makeover, with 27 out of 31 provinces, autonomous regions and provincial-level municipalities having established e-government service platforms by the end of last year, according to the research.
A total of 170,000 government Weibo accounts and 514,000 WeChat public accounts had been set up by June 2017 to enhance transparency and facilitate interaction between the public sector and the people.
Zhejiang province utilizes mobile internet, big data and facial recognition technologies for frictionless and secure transactions in public services, so that citizens run an errand "no more than once", said Che Jun, Party chief of Zhejiang.
"China's goal of internet development is not to nourish a handful of companies and groom them into giants or unicorns," said Shen Yi, head of the Cyberspace Governance Research Center at Fudan University.
"Instead, we strive to give dividends to the vast number of internet users through internet products and services that are affordable, premium and secure."