Hong Kong reports two additional COVID-19 cases, 1,023 in total
HONG KONG, April 18 (Xinhua) - Hong Kong's Center for Health Protection (CHP) reported on Saturday two additional cases of COVID-19, taking the total number of confirmed COVID-19 cases in Hong Kong to 1,023.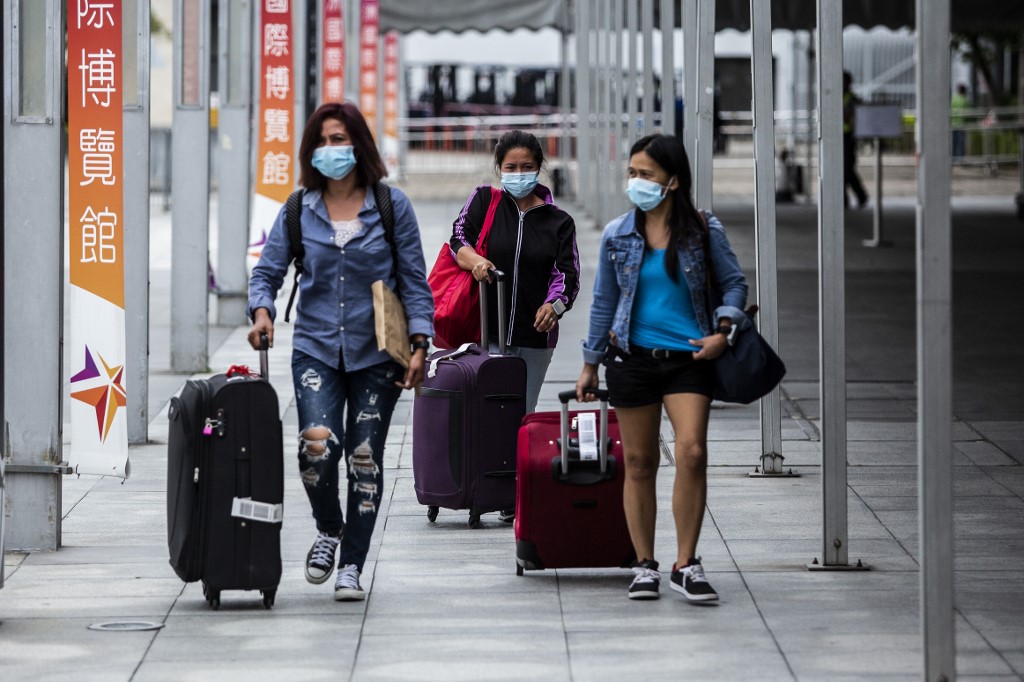 Airline passengers leave a temporary COVID-19 coronavirus testing centre set up at the AsiaWorld-Expo for arriving passengers in Hong Kong on April 18, 2020. (Photo: AFP)
Both of the two newly diagnosed patients, a four-year-old child and a 29-year-old man, had travel history during the incubation period, Head of the CHP's Communicable Disease Branch Chuang Shuk-kwan said at a daily press briefing on Saturday afternoon.
The four-year-old child and the child's mother received tests on April 10 after they returned to Hong Kong from Britain. The mother was tested positive and diagnosed, while the child was tested negative at first, but developed symptoms such as runny nose days later and was then disgnosed.
The 29-year-old man returned to Hong Kong from the Philippines on Friday. He was asymptomatic, but was tested positive for the virus.
The number of additional COVID-19 cases per day in Hong Kong has been at single-digit level for consecutive seven days.
Linda Yu, chief manager of Hong Kong's Hospital Authority (HA), said at the briefing that as of Saturday noon, 567 patients diagnosed with COVID-19 have been discharged from hospitals upon recovery, while 450 patients are being treated in 14 hospitals across Hong Kong, including nine in critical condition and seven in serious condition.
The HA set up temporary test centers at AsiaWorld-Expo and North Lantau Hospital near the Hong Kong International Airport since March 20 to arrange tests for travelers with upper respiratory symptoms for early identification of the COVID-19 infection.
With the declining number of inbound travelers, the HA announced on Saturday that the temporary test center at AsiaWorld-Expo will be suspended from noon on Sunday to refocus manpower resources to hospital services.
Yu said the pre-hospital test service has played an important diversion role by largely reducing the number of suspected cases admitted to the hospitals for testing and alleviating the demand pressure for first-tier isolation beds.
As of Friday, of the over 1,400 specimens collected at the two test centers, 104 confirmed cases were identified. The process of on-the-spot testing and the release of test results have saved a total of 1,300 admissions to the hospital, leaving more public hospital isolation facilities for confirmed cases, according to Yu. Enditem