Chinese, German cities expand industrial services cooperation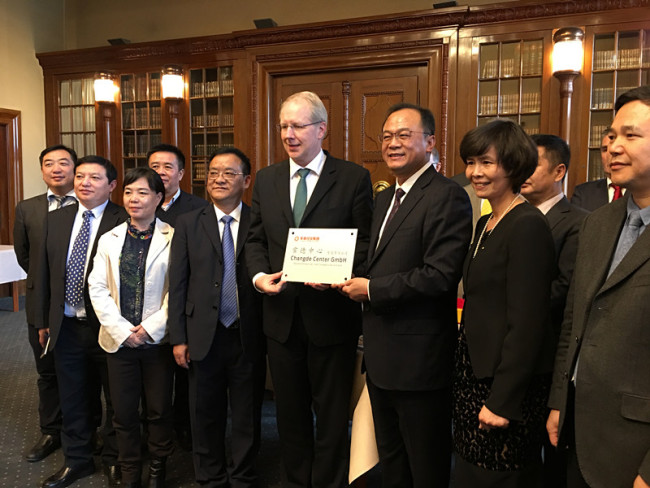 Hannover Mayor Stefan Schostock (R, 4th) and Changde Vice Mayor Ren Chen (R, 3rd) unveil the Changde Center in Germany, on November 3rd, 2017. [Photo: China Plus]
The Chinese city of Changde in Hunan Province has set up a cooperative framework with Germany's Hannover.

With a long history of exchanges in water resource regulation and urban construction, the two cities now plan to expand their cooperation and build connections between the two countries' respective development strategies.
Separated by a long distance, Changde and Hannover have been brought closer by their shared target of water-system management.
After years of cooperation, the two cities have recently expanded their ties by entering a new cooperative framework.
Changde's Vice Mayor Ren Chen talks about the goals of the new deal.
"First, we want to build an industrial park for small- and medium-sized companies. In addition, we want to facilitate both sides to promote their projects. Also, we want to build a trade platform for technological and industrial products. We intend to achieve Hunan's provincial target of opening up and innovation through such cooperation. This is also a move to implement the spirit of the 19th Communist Party of China National Congress."
According to the agreement, the industrial park will be located in the Changde Economic and Technology Development Area.
The move is expected to bring German technology and talents to Changde, in an attempt to bridge the strategies of "German Industry 4.0" and "Made in China 2025."
The heart of the "Industry 4.0" idea is intelligent manufacturing.
In the German context, it means using the Internet to connect small and medium-sized companies in a more efficient way in global production and innovation networks.
"Made in China 2025" is the first ten-year action plan designed to transform China from a manufacturing giant that relies on low-cost labor into a world manufacturing power.
During German Chancellor Angela Merkel's visit to China in 2015, the two sides pledged to bolster the connection between the two strategies to promote entrepreneurship and innovation.
Thomas Nolting is the president of the Institute for Automation and Industrial Technology, which, along with the city of Hannover, represents the German side in the deal with Changde.
"A target for building this industrial park is to introduce technology and talent training mechanisms through the connection between 'German Industry 4.0' and 'Made in China 2025,' so as to make companies in the park more innovative and competitive. Meanwhile, the Changde government also expects the introduction of German companies to help create a more innovative environment."
At the same time, the Changde Center has also been unveiled in Hannover as part of the Chinese city's going-out strategy.
The center not only aims to boost bilateral communication but also seeks to attract more German capital to China.
The Mayor of Hannover Stefan Schostock hopes the center will boost economic and trade ties between the two cities.
"Our two cities share many similarities in politics, culture, and sports. Now, we are about to further our economic and trade ties. We hope more German companies can invest in Changde. The establishment of the Changde Center will definitely strengthen the ties between the two cities."
Cooperation between Changde and Hannover dates back to 2004, when they launched joint projects to manage river pollution in Changde.
Since then, Changde has been recognized nationally for its efforts and achievements in environmental restoration and protection.