Border security key to China-Pakistan Economic Corridor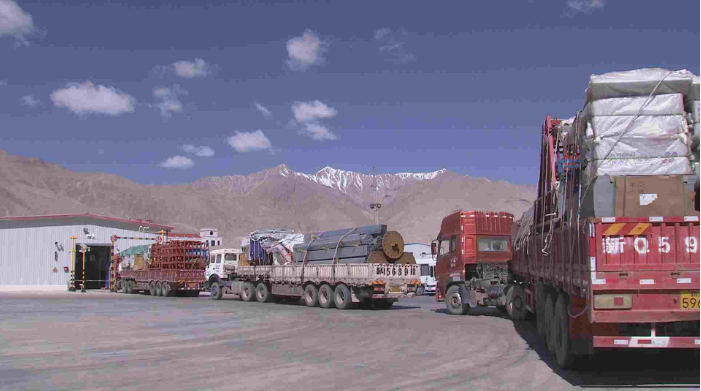 Many infrastructure materials are transported to Pakistan for China-Pakistan Economic Corridor projects. (Photo: CGTN)
The Khunjerab Pass on the China-Pakistan border plays a crucial role in bilateral trade, anti-terrorism cooperation and the construction of the China-Pakistan Economic Corridor.
Qasim Ali has been operating his import and export business here for over seven years and each month, he crosses the border two or three times.
His business sees him bring handmade bronze products and jade stones from Pakistan to Chinese markets, as well as selling Chinese electronics and clothing in Pakistan.
In addition to businessmen like Ali, trucks loaded with Chinese machinery and textiles also frequently cross the border for joint infrastructure projects, carrying materials to be used in construction work along the China-Pakistan Economic Corridor.
Customs statistics show that in 2017 the bilateral trade volume through the Khunjerab Pass was 3.7 billion yuan (578.9 million US dollars), a year-on-year increase of over 60 percent, Cao Lei, the chief of Khunjerab Customs told CGTN.
Stretching from Kashgar in Northwest China's Xinjiang Uygur Autonomous Region to Pakistan's Gwadar Port, the China-Pakistan Economic Corridor covers 3,000 kilometers of roads, railways and pipelines, aiming to form a comprehensive network of trade, industry and transportation.
More than being a key gateway for trade, the border also plays an important role in safeguarding security.
Wang Xianlei, the chief of Khunjerab Immigration Inspection Station, said many drug dealers attempt to smuggle narcotics from the "Golden Crescent," a major opium-producing region across Afghanistan, India and Pakistan, into China through the Khunjerab Pass.
The most important task for this border inspection unit is to keep illegal drug-dealers and terrorists out of China.
Preventing crime requires cooperation between countries, particularly at border areas.
Liaqat Ali, the assistant Director of Sost Immigration Checkpoint on the Pakistani side of the border, told CGTN that he is looking forward to enlarging collaboration between Pakistani and Chinese immigration, in order to combat anti-human trafficking, illegal drugs and other crimes.