Chinese movie relives WWII China-Myanmar supply lifeline construction
People's Daily app
1509278052000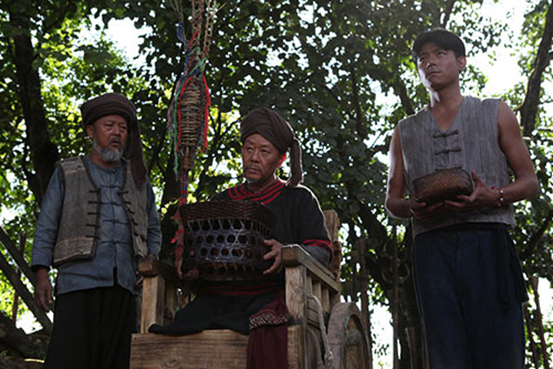 Stage photo of the movie "Road to the Sky"
A recent film release, "Road to the Sky", got a screening on Tuesday as a tribute to Chinese villagers who supported a lifeline that connected China with the outside world, during World War II.
The film is based on the real-life story of people in southwest China's Yunnan Province who strived to build a military supply road in just nine months during the Chinese People's War of Resistance Against Japanese Aggression, and created a miracle in the process.
The Burma Road, the name given to it by the Allies, was once the only transportation line China had with the outside world, and was dubbed a "blood transfusion" and "transport artery", to highlight the important role it played in the Chinese fight against fascist forces.
Work on the road started in December 1937 as an international aid and military supply line, after the Japanese invaded China in 1937.
The road runs between Kunming, capital of Yunnan Province and Lashio, in Myanmar (Burma) for 1,146 kilometers, 959.4 kilometers of that in Yunnan.
Numerous people voluntarily joined the massive effort, including the Han, and the Yi, Bai, Dai, Hui, Jingpo, Achang, Miao, Lisu and De'ang ethnic groups. The Chinese section of the Burma Road opened to traffic on August 31, 1938, more than two years earlier than many engineers had expected, making it a marvel of construction work at that time.
After the rail line between Yunnan and Vietnam was blocked by the Japanese after they occupied Vietnam, this road became the main transportation link China had with the outside world.
From 1938 to 1942, hundreds of thousands of tons of military supplies were transported to China to help in the fight against the Japanese invaders. At the same time, a large quantity of nonferrous metals, such as tungsten, copper and tin, and tung oil were delivered to Britain and the US to fuel their fight against fascist forces.