More than just an airshow
Global Times
1541141566000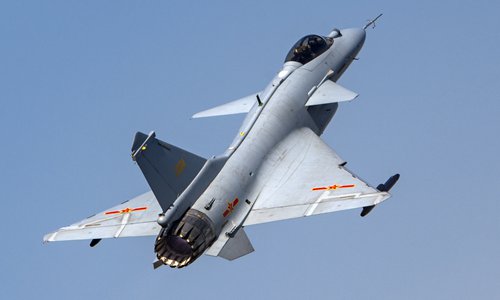 A J-10B fighter jet was spotted on Tuesday at Zhuhai Jinwan Airport conducting a rehearsal for the upcoming Airshow China 2018 next week.The fighter jet is equipped with a thrust vectoring nozzle, making it a world-class single-engine fighter jet and top of its class in China in terms of maneuverability. (Photo: IC)
A wide range of cutting-edge weaponry and equipment for use in the air, sea, space and on the ground are being gathered for Airshow China 2018.
The shows begins Tuesday but has already attracted a lot of attention from military buffs and experts alike who have arrived early in Zhuhai, South China's Guangzhou Province.
Chinese military analysts said on Thursday that the air show, which runs until November 11, has become a comprehensive defense exhibition and is driving sales of Chinese armaments on the international market.
A J-10B fighter jet belonging to the People's Liberation Army (PLA) Air Force was spotted on Tuesday at Zhuhai Jinwan Airport conducting a rehearsal for the air show, Beijing-based news website people.cn reported on Wednesday.
The fighter jet is equipped with a thrust vectoring nozzle, making it a world-class single-engine fighter jet and top of its class in China in terms of maneuverability, people.cn said. The nozzle gives the aircraft significant advantages in dogfights by allowing it to make extreme maneuvers.
This is the first time the PLA Air Force has displayed a fighter jet capable of thrust vectoring control.
According to the list of participating aircraft the air show organizer released on Saturday, the J-10B will be on static display at the show.
Wei Dongxu, a Beijing-based military analyst, told the Global Times on Thursday that China's thrust vectoring control system could become a highlight of the Zhuhai show.
China's most advanced fighter jet J-20 is also very likely to appear at the show despite its absence from the participation list, according to military experts. Formations of J-20s were seen in the skies above Zhuhai on Tuesday.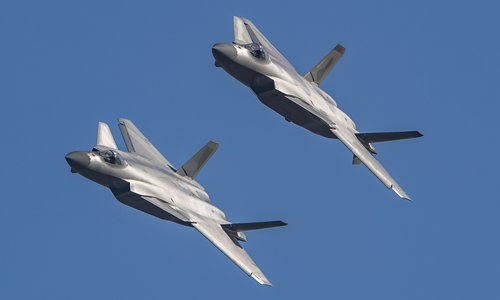 Formations of J-20s were seen in the skies above Zhuhai on Tuesday.Photo: IC
China's transport aircraft Y-20, the H-6K bomber, KJ-500 early warning aircraft, AG600 amphibious plane and GJ-2 unmanned aerial vehicle are among the aircraft to be displayed at the air show, according to the list of participating aircraft.
It's not likely that the highly anticipated next generation of Chinese strategic bomber, the H-20, will be exhibited, as it is still being developed and many details are classified, Wei said.
Another highlight at the air show will be drones, Wei said, noting that China-made drones have already enjoyed high reputation in the international market.
Alongside its existing drones like the CH-5, the China Academy of Aerospace Aerodynamics (CAAA) will display its latest product, the CH-10 tilt-rotor drone, which made its debut only on Wednesday, the academy said.
Like a helicopter, the drone can take off and land vertically and hover in the air, but it can convert itself to a fixed-wing aircraft and can cruise at high speed and has a much greater range. The shift in flight modes is done through the tilting rotor, reads a statement the CAAA sent exclusively to the Global Times on Wednesday.
China's newly developed 10-ton medium-lift utility helicopter - the Z-20 - is also likely to make an appearance at the air show, experts said.
A comprehensive exhibition
China Electronics Technology Group Corporation (CETC) will display more than 400 electronics products including a variety of radars and electronic countermeasure systems, the company told the Global Times on Wednesday. CETC said its pioneering quantum radar will also be on display.
China Aerospace Science and Technology Corporation (CASC) said they will have 182 exhibits at the show including the Long March-9 heavy-lift carrier rocket, the next generation of manned spacecraft and launch vehicle, and a model of the core module of China's space station. This is the first of many of its products to be shown to the public, CASC told the Global Times.
China North Industries Group Corporation Limited (NORINCO) will bring its independently developed main battle tanks, and wheeled armored vehicles among other weapons, which will conduct a variety of maneuvers for the public, China Aviation News reported.
China Shipbuilding Industry Corporation (CSIC) is among a number of companies that will showcase sea-based weapons and equipment, according to a list of participating companies the show organizer released on Wednesday.
Airshow China has evolved from a display of only aircraft into a comprehensive defense exhibition showcase China's best military equipment for sea, ground, air, space and electronics, Wei noted.
"A small or medium-sized country can realize its military modernization alone at the Airshow China," Wei said.
Forty-two countries participated in the Airshow China in 2016, where a total $40 billion worth of deals were struck.