Normal production resumes at Foxconn
The COVID-hit Foxconn plant in Zhengzhou, Henan province, has got its epidemic prevention and control measures in order and normal production has resumed, according to local authorities.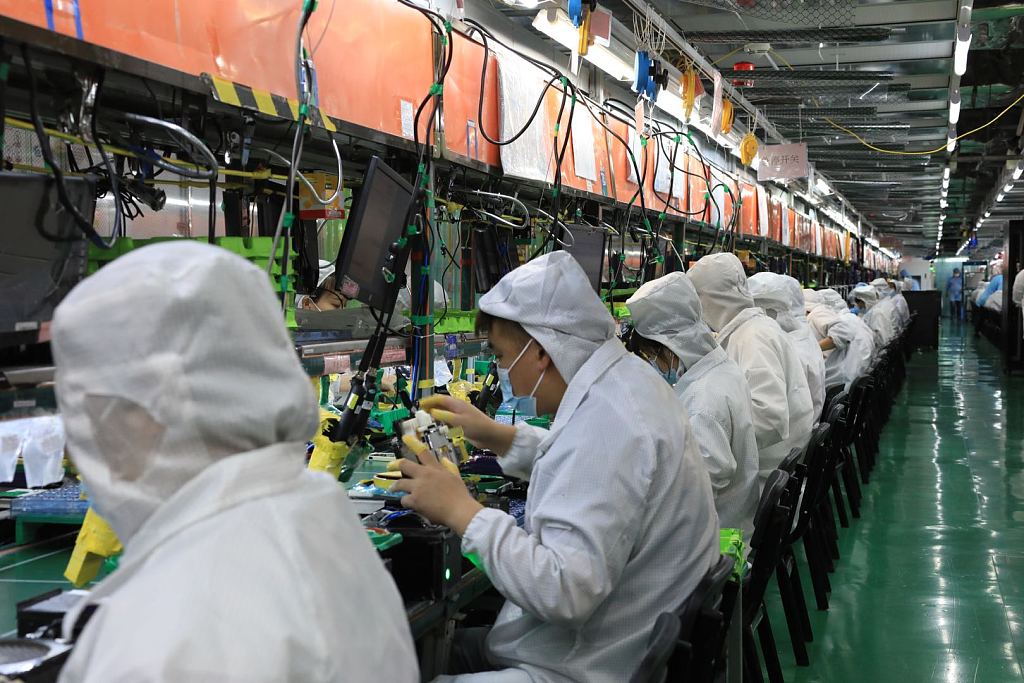 The world's largest iPhone assembly plant was put under the spotlight after an outbreak of COVID-19 on-site prompted many workers to leave and return to their hometowns. Videos on social media showed them dragging suitcases and walking along the side of the road.
The local government has sent working groups and released 15 measures to take care of workers who are infected, quarantined, working, willing to stay or leave.
The epidemic control efforts have borne fruit and there are no people who are critically ill, according to a news conference held by the Zhengzhou government on Thursday.
Workers who live outside of the production base have been moved into apartments on-site and are under closed-loop management to avoid gatherings and infections, said Sun Jiange, head of the major enterprises' epidemic control department at the Zhengzhou Airport Economy Zone.
Five mobile nucleic acid testing vehicles and one temporary laboratory have been sent to the production base. Workers must wear N95 masks and are being encouraged to take traditional Chinese medicine to improve their immunity, she said. Comprehensive disinfection of the site will be conducted from Wednesday night to Friday.
For those who are quarantined, if they test negative for seven days and want to go home, the local COVID-19 prevention and control headquarters will organize buses for them to return; if they want to stay, they can continue to work.
Zhengzhou Airport Economy Zone, where Foxconn is located, started a seven-day static management period on Wednesday with residents required to take daily nucleic acid tests.
The latest spate of COVID-19 cases in Zhengzhou originated from truck drivers at Wanbang Market outside of the city on Oct 4, and spread quickly via railway stations, hospitals and schools, according to the government.
Zhengzhou is lifting the static management of its communities and allowing for the resumption of production in order to restore normality.
Communities that have reported no positive nucleic acid tests for seven consecutive days have been allowed to reopen from Tuesday. By Thursday, about 60 percent of the city's 6,398 communities have reopened, Li Huifang, deputy secretary-general of the city government, said at the news conference.
About 90 percent of the city's major industrial enterprises have resumed normal operations, and 93.4 percent of its 342,000 workers in companies on the city's industrial whitelist are on duty, she said.
The city reported 167 new infections, including 132 asymptomatic carriers, on Wednesday.
Li said though the virus is highly transmissible, its virulence is weak. The city has reported no patients who are critically ill, so there is no need to feel panicked or anxious, she added.
The local government will work to realize zero infections in the community and restore normality as soon as possible, officials said.
The city will also investigate and punish officials from communities that are fit to lift lockdowns but do not, or those that pretend to have lifted a lockdown but resume it after inspectors have left.
Contact the writers at chenmeiling@chinadaily.com.cn