Kindergarten abuse cases lead to calls for monitoring systems
Global Times
1554915741000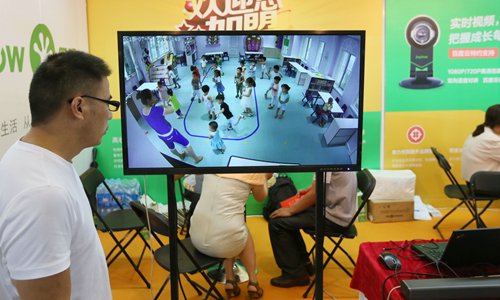 Staff show visitors a real-time monitoring system for kindergartens at an expo in Beijing in July 2015. (Photo: VCG)
Recent cases of kindergarten teachers abusing children have once again drawn public attention, with many netizens calling for comprehensive monitoring systems in kindergartens to prevent such incidents, while others argued it would intrude on the privacy of children.
During the two sessions in March, Zhang Baoyan, a deputy of the National People's Congress, proposed that all kindergartens should install a comprehensive real-time monitoring system with no blind spots, so as to create a well-supervised learning environment where children can grow up safely.
The Beijing Municipal Education Commission and the affiliated Office of Education Inspection of the Beijing Municipal Government announced the Quality Supervision and Evaluation Standards for Kindergartens in Beijing (Trial) on February 15, which required that kindergartens implement full video monitoring coverage of public areas and install emergency alarm devices in key areas of their establishments. Footage should be kept for 30 days and reviewed regularly.
However, two recent incidents of child abuse in kindergartens have led some to argue that the professionalism of teachers, rather than monitoring systems, is key to ensuring the safety of children.
A mother from Hangzhou, East China's Zhejiang Province revealed online that her 2-and-a-half-year-old daughter was held upside down on her teacher's lap for 45 minutes.
Rough treatment by the teacher, such as pushing her over, made her child depressed at home, thepaper.cn reported on March 26.
The school responded by saying that it was a way of dealing with separation anxiety and was meant to calm the child. The teacher has since been suspended.
According to parents of children in Meilin Kindergarten in Shenzhen, South China's Guangdong Province, teachers took photos of boys' genitals, and marked their names and birth dates on the pictures, thepaper.cn reported on March 24.
It was confirmed that six people had taken photos of boys' genitals without their parents' consent, which constituted an illegal violation of privacy, according to a notice issued by the Shenzhen Public Security Bureau's Futian Branch on March 27.
Most parents believe that kindergarten monitoring systems will give them an insight into their children's daily behavior, but doubt that they really contribute to dealing with the issue of child abuse.
Parental concerns
Wang Mingmei, 31, sent her 5-year-old daughter to Daqing Kid Castle Kindergarten, a nationwide education chain, in Daqing, Northeast China's Heilongjiang Province.
Wang told the Global Times that even in this famous kindergarten, which has installed a monitoring system, there are still many blind spots such as changing rooms and bathrooms where teachers could abuse children unseen.
"Even if a comprehensive real-time monitoring system was installed, kindergarten teachers could abuse children psychologically by telling other children to isolate them, which goes far beyond what supervision by CCTV can address," Wang said.
Yu Yue, 37, whose 4-year-old daughter is studying in Future City Kindergarten in Deyang, Southwest China's Sichuan Province, supports the idea of fully monitored kindergartens.
He believes that the security of his daughter trumps concerns about privacy, arguing that preschool children are too young to have privacy.
"Monitoring systems are necessary and can only help parents gather evidence after children have been harmed. Good management of kindergartens and high-quality and responsible teaching staff are the keys to establishing a secure environment for children to grow," Yu said to the Global Times.
Violations or protections
However, Zhang Wenjuan, a senior research fellow at the Beijing Children's Legal Aid and Research Center, believes that comprehensive real-time monitoring violates the privacy of both children and kindergarten teachers, adding that excessive reliance on technology could damage the bonds of trust between teachers and parents.
Lao Kaisheng, a professor from the Capital Normal University, told the Global Times that enhancing kindergarten teachers' professional quality and improving government supervision should be a priority.
"Monitoring kindergartens is probably intended to supervise teachers' professional behavior and to prevent accidental injuries, areas in which it may find some success. However, the current phenomenon of child abuse reflects the low professional quality of teachers, which cannot be easily solved by monitoring," Lao said.