HK eyes 'new economy' to boost Shenzhen-HK cooperation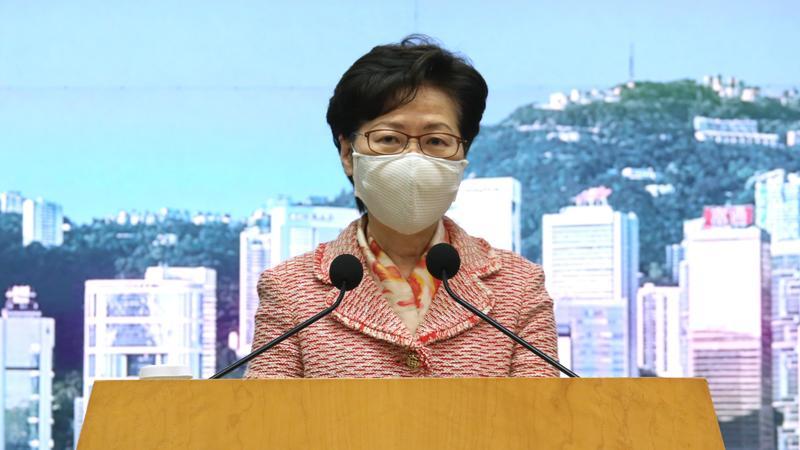 In this file photo, Hong Kong Chief Executive Carrie Lam Cheng Yuet-ngor holds a press conference at Central Government Offices on Sept 22, 2020. (Photo: China Daily)
HONG KONG - Chief Executive Carrie Lam Cheng Yuet-ngor envisions collaboration between Shenzhen and Hong Kong in the field of "new economy", including innovation and technology and the creative and design industry, to gather steam to take itself to the next level.
In an interview with a Shenzhen-based television channel, Lam spoke about her blueprint for enhancing the SAR's collaboration with its neighboring innovation and technology hub – the Shenzhen Special Economic Zone.
The report came two days before a grand celebration marking the 40th anniversary of the establishment of the special economic zone.
Shenzhen is also known as the city of design, a territory that the Hong Kong Special Administrative Region government is keen to support, Lam said.
In her opinion, the two cities will not be direct competitors due to their own particular advantages.
The Basic Law guarantees Hong Kong a set of competitive advantages in free market economy, an internationally renowned judiciary and abundant professionals in service industries, she said.
She is confident that Hong Kong-Shenzhen cooperation is bound to enjoy the fruits of prosperity together as long as the HKSAR continues to leverage these strengths to complement Shenzhen's thriving technological advantages.
Another domain that Lam set her eyes on for closer Hong Kong-Shenzhen cooperation is higher education, which would pave the way for deeper collaboration in innovation and technology and the transfer of research and development findings.
The Hong Kong leader identified shortage of talent and land as two possible barriers. Shenzhen and Hong Kong, if they teamed up, would be very attractive to talents if their favorable policies for talents are combined, she said.
Lam said talks with the Shenzhen government are underway for cooperation in promoting the two cities in tie-in sales to lure talents from overseas or other areas of the mainland.
The goal is to make the collaboration seamless and unobstructed, including the flow of travel, capital, information and logistics, she said.
If the collaboration between the two cities in the past is anything to go by, it will reach new heights should the central government continue to allow pioneering, ground-breaking policies to be carried out in Shenzhen, Lam added.
Hong Kong is still Shenzhen's largest source of external capital, with nearly 80,000 Hong Kong enterprises operating in the mainland city.
In the journey of the reform and opening-up of Shenzhen and the nation, Hong Kong has been both a contributor and a beneficiary, Lam said.