Chinese team shares tips with Malaysia on fighting COVID-19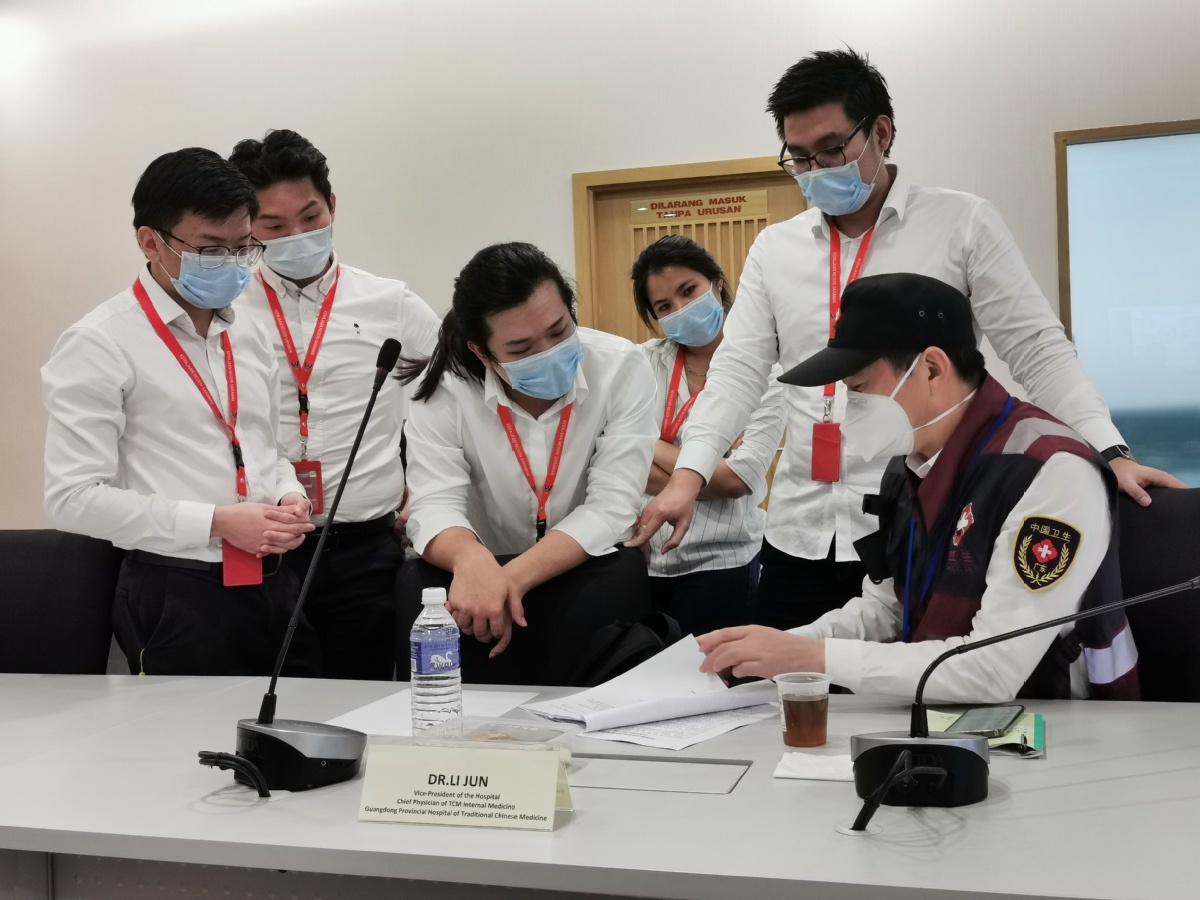 Li Jun, vice-president of Guangdong Provincial Hospital of Chinese Medicine and head of the Chinese medical team to Malaysia, shares China's experiences with local medical staff in Kuching, Sarawak state, on Monday. (Photo: Xinhua)
Editor's note: This series tells the stories of selfless individuals, from medical workers to volunteers, who are bravely fighting the virus outbreak with extraordinary dedication.
The meeting that Luo Xiaodan and her colleagues in the Chinese medical team held to discuss the agenda for the next two days ended at around 9.40 pm in Kota Kinabalu, capital of Sabah state in Malaysia, on Tuesday.
It was another packed day for the eight-member team since it arrived in the Southeast Asian country on April 18 to help in the fight against the coronavirus epidemic.
The team, comprising experts from Guangdong province in the field of public health, infectious diseases, emergency treatment, traditional Chinese medicine, respiratory disease and mental health, had also worked in capital Kuala Lumpur and the state of Sarawak.
Armed with documents on control and treatment of COVID-19 in China, the team attended meetings at Malaysia's health ministry, and visited hospitals, labs and medical research institutes, and participated in videoconferences.
The video conferences were held with local health and medical professionals, and TCM professionals and Chinese nationals in Malaysia.
"About 20,000 people took part in one such conference. The audience was very active, and their words of appreciation were very touching," Luo, deputy director of infectious diseases department, Guangdong Provincial People's Hospital, said.
"Some problems they are facing in Malaysia resembled those in early stages (of outbreak) in China," Luo said.
The Chinese team suggested that the virus testing capacity be expanded by including qualified testing companies in an effort to enhance the screening process.
Addressing the issue of shortage of personal protective equipment to medical workers, the team shared tips on rational distribution of supplies and reduction of waste. They also shared the Chinese experience in epidemic control in the communities.
TCM was made an important part of the team's mission, as Malaysia has a large population of Chinese descendants and nationals.
Li Jun, vice-president of Guangdong Provincial Hospital of Chinese Medicine and leader of the team, held discussions with local professionals on prevention and treatment plans, taking into account local regulations, climate and people's physical traits.
As Malaysia was planning to resume economic and social activities, the team shared the Chinese experience in employing QR code for health management and related matters.
The Malaysian side was also interested in vaccine development.
For Luo, the trip was fruitful. She was impressed with the strict implementation of movement of people, which helped bring down new infection cases considerably.
As on Wednesday, Malaysia had 5,851 cases with 100 deaths, according to the World Health Organization. A total of 4,032 patients had recovered from the disease.
Social distancing rules were strictly followed. "In some elevators that we used, no more than four people were allowed. The elevator floor was marked to indicate where people should stand and in which direction they should face," Luo said.
"When we took group photos and held meetings, people escorting us reminded us to maintain distance."
A large parking space was used to conduct drive-by virus testing.
Luo said the team wants to do maximum work within a short time. "We exchanged contact information from local counterparts, and will surely provide help if they encounter any problems in the future."