Livestreaming providing jobs to graduates in time of pandemic
Livestreaming has emerged as a new source of jobs for the record number of students graduating from Chinese higher education institutions this year amid the economic slowdown caused by the COVID-19 pandemic.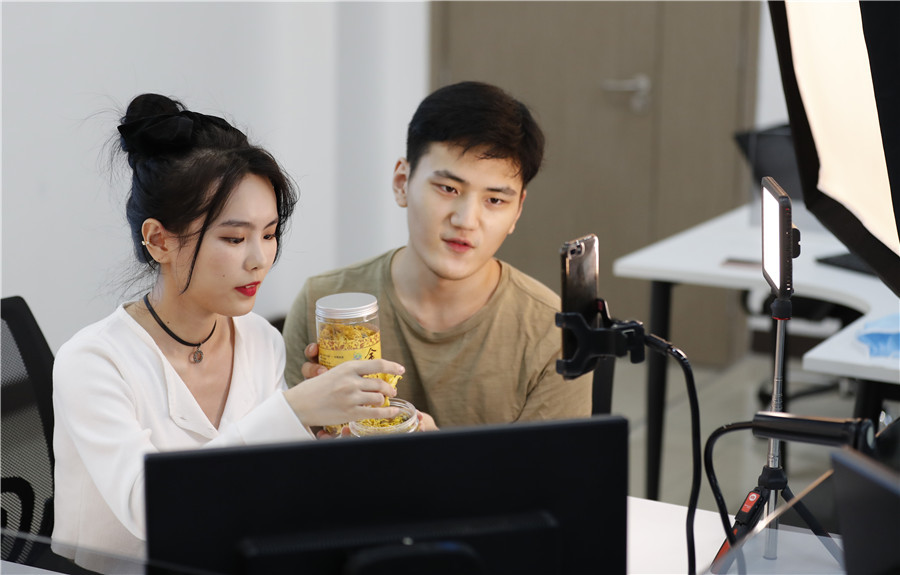 Students majoring in e-commerce participate in a livestreaming class at Chongqing Business Vocational College in May. CHINA DAILY
The Ministry of Education says 8.74 million people could graduate this year, 400,000 more than last year, and their employment is a pressing issue for both government and the students themselves.
But thanks to their livestreaming expertise, more than 40 students who majored in the jewelry business at Tengchong No 1 Vocational School in Yunnan province already had firm job offers by the time they graduated.
Wang Hongbo, who heads the jewelry business program, said students had received numerous offers from different companies. The first group of more than 40 graduates trained in livestreaming had nailed down jobs by February.
He said the students had been trained in conjunction with e-commerce giant Taobao in a unique arrangement that started in September 2018 and saw Taobao send experts to help the school build a training center.
"Students with livestreaming skills are in short supply in the market and they are offered much higher salaries, even during their internships," Wang said. "For example, they can earn 3,000 yuan to 4,000 yuan ($428 to $571) a month as an intern when the average salary in Tengchong is around 1,800 yuan a month."
Yang Kang, a 20-year-old student at the school, is working as an intern with Jinri Meichuang in Beijing, selling daily necessities and home furnishings.
"I'm quite interested in livestreaming, and I opened my own account on Kuaishou, a short-video sharing platform, when I was at junior high school, aged 16," Yang said.
"I signed up for the jewelry major with livestreaming courses in 2018, dreaming of becoming an excellent anchor.
"I learned some theoretical knowledge about livestreaming at school but found things were more complicated when I came to Beijing for the internship in early June."
Schools and companies in Yiwu, Zhejiang province, Harbin, Heilongjiang province and Chongqing have also worked together to develop livestreaming talent since last year.
In the past few months, livestreaming has become a buzzword for companies seeking to sell products online, with demand for livestreaming anchors booming since the COVID-19 pandemic dealt a blow to the economy.
A report by Zhaopin, an online recruitment platform headquartered in Beijing, said the number of job vacancies for livestreamers rose by more than 80 percent year-on-year in March, after companies resumed work, while the general job market slumped by almost 35 percent.
"The emergence and expansion of livestreaming depends on ever-developing high-tech and optimized big data," the report said. "It will see continuous development in the future as 5G is popularized."
This month, the Ministry of Human Resources and Social Security, the State Administration of Market Regulation and the National Bureau of Statistics announced that internet marketers, which include livestreaming sales personnel, had been added to the country's official list of occupations as one of nine new professions. The move was recommended by the China Employment Training Technical Instruction Center in May.
Zhaopin said that while about 70 percent of livestreaming positions require few skills, fresh graduates with specific knowledge about livestreaming have an advantage when it comes to attracting employers.
Ye Xin, a junior at Hangzhou Technician Institute in Zhejiang province, is helping his parents run a livestreaming booth in Huangshan, a city in Anhui province famous for its tea.
"It's not that easy for me to find an internship due to the pandemic, so I started to help my parents sell tea through livestreaming in early March," he said.
"Things got better after my parents joined and encouraged workers to show how to make tea and choose quality tea."
Zhaopin said that although the sector has quite a promising future, there are also problems hampering its growth.
"Because the social security system and regulation of the sector both need further improvement, people who are not well-prepared will struggle to succeed," it said.
Chen Jue, from Taobao's livestreaming department, said professionalism and knowledge are required to become a top quality anchor. "The livestreaming courses are usually set up for students majoring in e-commerce who are able to both learn theoretical knowledge and find opportunities to practice," she said.
Chen said that livestreaming can offer more jobs to graduates as a livestreaming show requires a team of about 10 people, apart from the anchor.
She said more than 200 agencies are now offering livestreaming services, up from just one a year ago.
"Some local governments, including those of Guangzhou, Guangdong province, and Hangzhou, Zhejiang province, have released preferential policies to nurture livestreaming talent," she said.
He Wei and Li Yingqing contributed to this story.