Persistent drought, heat wave continue to smother South China in October; scope of affected area rare case on record
Global Times
1664711439000
With heat waves continuing to engulf most areas of South China at the beginning of October with some places still record temperature more than 40 C, which break the historical record of same period in previous years, northern and middle parts of China look likely set for a cold snap, followed by a drastic drop in temperature overnight.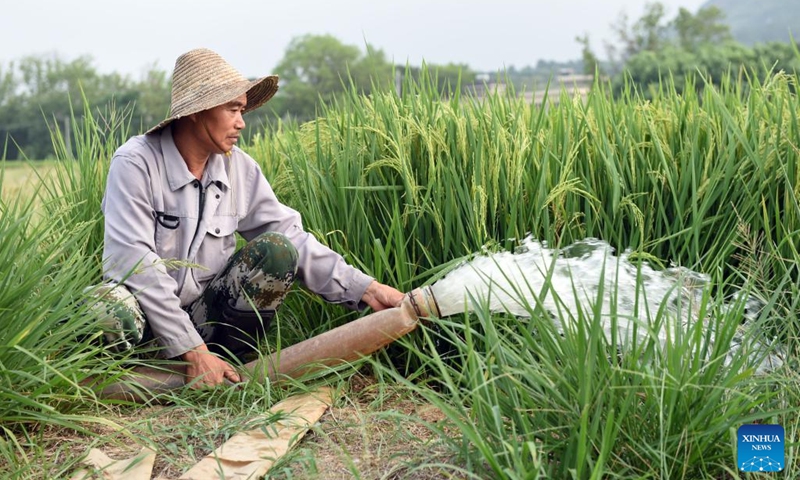 China's National Meteorological Center (NMC) on Saturday issued yellow alert ( two levels from the most serious warning) for high temperatures on Sunday for several provincial-level regions in southern China, including Anhui, Hubei, Hunan, Guizhou and Chongqing. Temperature of some of those places reach above 40 C.
The NMC also issued orange alert (second most serious warning) of drought for many places in south China, and Zhejiang, Anhui and Fujian are experiencing "excessive drought."
The center said that it is unusual that such large swathes of the country are still experiencing heatwave in October, with temperatures hovering around record highs for the month of October in many cities.
Meanwhile, the NMC on Sunday issued earliest cold wave warning in history as cold air is set to sweep through north and middle China from Sunday to Thursday, including provinces such as Inner Mongolia, Jilin, Henan, and some parts of Hubei and Anhui.
The cold air is likely to cool the heat in some places central and eastern China, which have been baking under unseasonably high temperatures.
Zhang Tao, meteorologist at the NMC told media that the persistent heatwave is caused by strong subtropical high. "Temperature in the middle and lower reaches of Yangtze River already broke the historical record of same period in previous years. Before the cold air reaches south China, more places in this region will continue to swelter through extended heat, with the highest temperatures likely to keep growing, and possibly breaking more records," said Zhang.
This summer, China has experienced strongest heat wave and most serious drought in six decades. In an article published on its WeChat account, the NMC said that regions placed at the middle and lower reaches of Yangtze River endured more than 70 days of drought.
Insufficient rainfall and persistent high temperatures have pushed the water level of Dongting Lake, China's second-largest freshwater lake in Central China's Hunan Province, to record low water levels; more than 1,000 kilometers river in water-rich Hunan Province have dried up.
The extreme weather has also affected the country's autumn harvest, resulted in shortage of power and bushfire, especially in Southwest China's Sichuan and Chongqing.
According to statistics released by Ministry of Water Resources in September, more than 29.85 million mu (1.99 million hectare) arable land has been affected by the drought.
The continuing drought will impact the harvest of rice, corn and rapeseed and some fruits, as summer is a key period for autumn grain corps to grow in the middle and lower stream of the Yangtze River. Sun Shao, a senior research fellow from the Chinese Academy of Meteorological Sciences, told the Global Times. He urged the local authorities to pay close attention to the affected areas, to optimize the use of water resources, and mitigate the damage to harvests, production and people's lives caused by the prolonged drought in summer and autumn.
Local governments in Jiangxi, Anhui and Hubei turned help from artificial precipitation to help alleviate the damage from drought. For example, Jiangxi government has conducted artificial precipitation several times from July 1 to September 27, which has increased 1.1 billion cubic meter precipitation benefiting 232,000 square meters land.