Ex-servicemen hail government's efforts in veteran placement
Global Times
1565029365000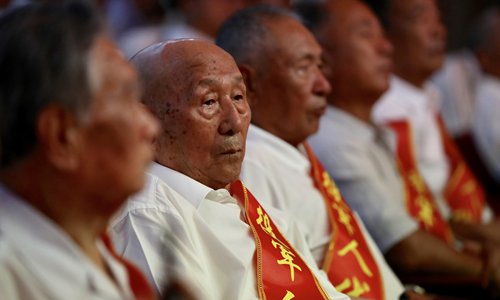 Discharged soldiers view the gala on August 1, 2019. (Photo: Global Times)
More than 400 veterans from Qingdao, East China's Shandong Province, watched an artistic performance on August 1, as China marks the 92nd anniversary of the People's Liberation Army.

There are more than 50,000 veterans in Qingdao West Coast New Area, where China's first district-level service center for military ex-servicemen was founded in 2017. Veteran service stations were then set up at the township and village levels.

Since 2018, the local government has collected more than 51,300 pieces of information about veterans in the region, allocated 595,300 yuan ($85,752) in subsidies and provided job opportunities for more than 100 veterans including retired military soldiers and officers, according to an official report local government sent to the Global Times.

The effort made by this first pilot project demonstrates how China puts an emphasis on the placement of ex-servicemen.

The newly established center also made efforts to handle the appeals of veterans who had disputes with local governments over their placement. Police detained 10 people for staging illegal demonstrations and violently assaulting police in the name of "military veterans" in Pingdu, Qingdao in October 2018.

Live in honor

Sun Maoyu, a veteran-turned entrepreneur in the food industry, who left the army in 1984, told the Global Times that he felt the country's concern for veterans had increased significantly in the last two years.

There are more than 57 million veterans in China, and the number has been growing by hundreds of thousands each year, according the Xinhua News Agency.

Sun was excited when the Ministry of Veterans Affairs was unveiled in April 2018, describing it as "a second home for veterans."

"On the one hand, it shows recognition and respect for this group, on the other hand it presents a more professional way to solve veterans' problems, making their voices heard in various levels of local government," Sun told the Global Times.

"Soldiers have the power to influence society, thus a positive guidance is very crucial," said Sun.

As a veteran, Sun has always believed that what veterans value is the joy of a relatively high social status due to their contributions to the liberation and peace of China.

"The 'priority access for soldiers' in public places is a good example. I hardly ever really used them on a business trip, but that makes you warm," said Sun.

Sun's family was granted with the title "Home of Glory," and he felt esteemed for his devotion in pursuit of national defense. Each time he met a neighbor in need of help, he did not hesitate to give a hand.

As for whether you can obtain substantial wealth, you still have to rely on yourself but not the country, Sun said. "It's undeniable that China's rapid growth in recent years has made it difficult for some veterans, especially those with limited skills, to reintegrate into the digital and commercial economy. But the country should not be blamed for this."

Some of the protesters from Pingdu in 2018 falsely claimed to be retired army in the hope of receiving the benefits associated with military retirement. These protesters should instead turn their heads to improve their skills, as increasing numbers of genuine veterans are doing. Serving in the army itself is a great way to develop skills, but this development need not start or end there, said Sun.

Every August, when military discharge begins, Sun goes to the army to recruit the leaving soldiers. He told the Global Times that he has always valued the sense of responsibility and rules that veterans hold.

Sun's company currently has more than 400 employees, composed of veterans and military families, accounting for more than 50 percent of the company's overall employees.



Digital service

Walking into the Binhai subdistrict office of West Coast New Area, a solemn monument to the military in the center catches people's eyes.

The background wall is impressively engraved with the words, "to make military service an occupation that enjoys public respect."

This is the pilot demonstration area of military-civilian integration zones, with a fine tradition of supporting and loving the army, Gao Yong, a veterans service working group leader at the Binhai office, told the Global Times.

At the entrance to the hall is a large touch-screen machine displaying local jobs targeting veterans.

All the 38 villages of Binhai have set up village-level liaison stations for ex-servicemen, and a full-time liaison officer has been appointed to communicate with them, so as to realize the "self-management of servicemen," according to Gao.

The main functions of the station are to deal with emergencies, consultation and to resolve conflicts, said Gao.

The hall has been equipped with a variety of intelligent information services enabling veterans to learn about latest policies and procedures to obtain certificates online.

Local government would provide more public welfare posts to veterans who meet job criteria, said Gao. There is an annual job fair for ex-servicemen, and 2 million yuan in charity funds is provided for veterans with special needs.

In 2018, the New Area provided 800,000 yuan each for 127 people, supporting ex-servicemen to start their own businesses, and organized special job fairs and labor skills training with employment service companies.

Other charity groups, such as the Chinese Foundation for Military Families and Army Support, a national foundation devoted to serving veterans and their families, also provided vocational training such as cooking, fitness tutoring and IT technology, to make them more competitive in the job market.

Statistics show that in 2018 alone, more than 400 veterans found jobs through special job fairs for ex-servicemen.

Chen Binghe, a 92-year-old veteran, has fought in more than a dozen battles, including a three-year service in the Korean War (1950-53). Having fallen ill with tuberculosis on the battlefield, Chen quit the army in 1955 and returned to his hometown of Qingdao. Chen now receives nearly 2,000 yuan a month in subsidies.

Chen told the Global Times that the village service station would visit him sometimes and brought daily necessities and cleaning services. As the community's oldest veteran, Chen is normally given the best resources including a generous pension scheme and subsidies. He receives a birthday cake and 1,000 yuan pension every year on his birthday, which he finds deeply touching.

The warmth he felt reminded Chen of his glory days on the battlefield. Until now, the elderly man has kept up his morning exercises as he did when he was in the troops.

"I am 92 years old to celebrate the 92nd anniversary of our army. Although I retired, I am still a military reservist. If one day my country needs me, I will not hesitate to go to war again," Chen said.