Anti-poverty project brings rural children closer to their dreams
GUIYANG, Aug. 31 (Xinhua) -- Zhu Yu, 11, has had an unforgettable summer holiday. She and 11 girls in her community performed dances in rural areas in southwest China's Guizhou Province.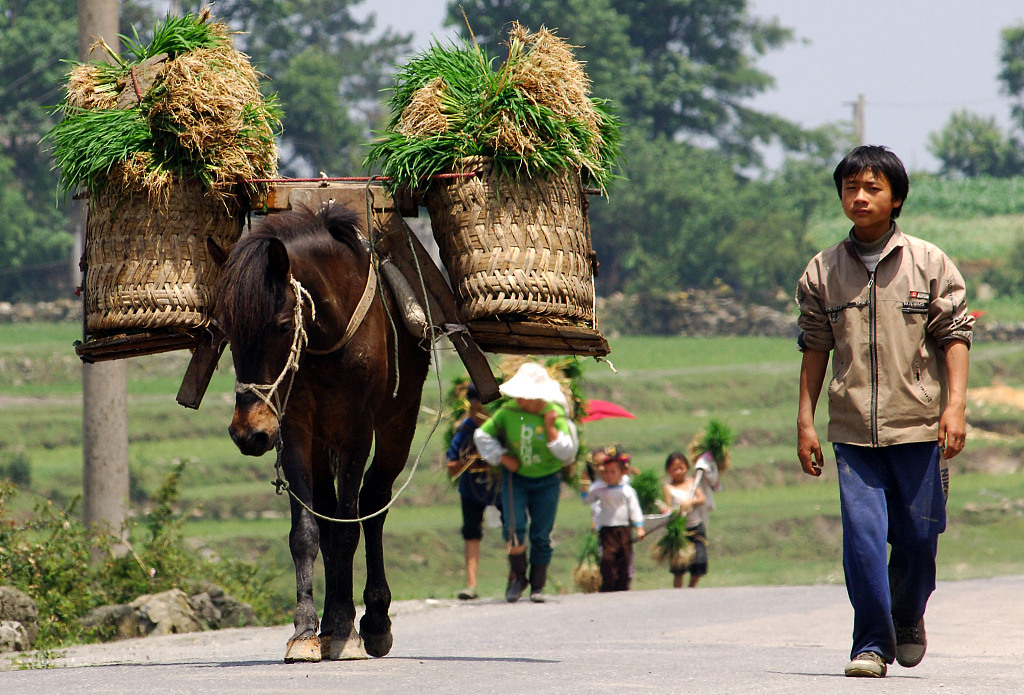 File photo: VCG
They performed sign language dances in 22 poverty-stricken villages located in Wumeng Mountain. It is the first time for most villagers in those areas to have watched this kind of performances.
Zhu herself came from a rural area in Guizhou and was born in an impoverished village in the city of Bijie. Many farmers, who had long suffered from poverty, had to leave their hometown due to the lack of arable lands in the area. They left to look for more opportunities and higher paying jobs in more prosperous regions.
When Zhu was five, she watched a dance competition of a Chinese team and a foreign team on TV, and it was then her dream of becoming a dancer began.
Without any professional training, she often imitated dance moves on TV programs, Zhu recalled.
Yang Youyue is one year older than Zhu, and Yang still remembers her old home in Guda Village. "The roof could hardly keep out the wind and rain as the tiles had fallen off," Yang said.
Yang too had to move away with her mother to east China's Zhejiang Province, to escape poverty, and to move away from her alcoholic father.
Fortunately, all these hardships are less of a problem now.
Thanks to a series of poverty alleviation policies Zhu's family, along with other villagers, were relocated in June last year to a residential community in Hezhang County in Bijie, about 50 km away from their hometown.
The community, equipped with modern infrastructure and facilities, has accommodated more than 9,000 impoverished people from remote villages.
Zhu likes her new home very much as she only needs to walk about five minutes every day to get to school and is able to study in a bright and clean classroom. Unlike in the past, where she had to walk about an hour and a half from her old home just to get to school.
Zhu's mother currently runs a small shop in the community, and her father got a job in the county. Now her family has stable incomes.
While living in the county allows Zhu to receive professional dance training, she studies very hard in her spare time.
"I dream of becoming a dancer like Yang Liping," said Zhu. Yang is a Chinese superstar choreographer and dancer.
"I felt like my dream was closely becoming a reality after moving away from the mountains and into the county," she said.
Yang Youyu also expressed that she had never felt so happy, as her mother doesn't need to travel far away anymore. Her mother now works in a wig manufacturing factory in the community and her father gave up alcohol.
"Moving into the county helps children meet more people and learn more new things, which is important for their growing-up period," said Zeng Mao, 26, a tutor of the troupe and a volunteer.
"Yang was very diffident when she came to the county. She blushed when talking with people but now she can perform before hundreds of people without having stage fright," Zeng added.
Other young performers in Zhu's troupe, who also once lived in rural areas, have become more confident. They all have expressed their desire to become dancers, musicians, painters, teachers and flight attendants.
The children and their families have had significant transformational changes in their day-to-day lives and these are the benefits from the relocation projects of the poverty alleviation policies. This is one of the various measures that China has carried out across the country in recent years to help people living in rural areas cast off poverty and have better lives.
In Guizhou, more than 1.8 million impoverished rural residents moved out of the mountains and were relocated in cities and towns over the past few years. The government provided them with jobs and schools for their children.
In Bijie alone, the central government has invested over 1.9 billion yuan (265.7 million U.S. dollars), while the provincial government pooled over 14 billion yuan since 2016, to put relocation policies into practice.