Hong Kong residents voice their support for the police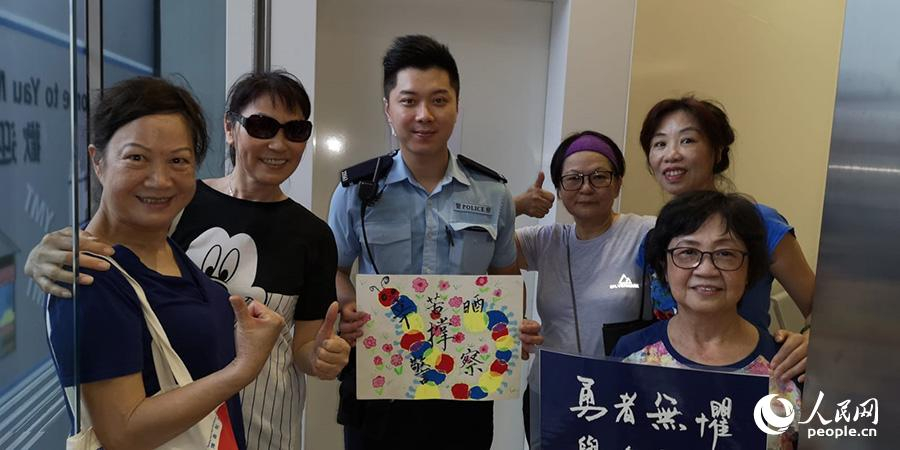 Local residents show their support to Hong Kong police.(Photo: People.cn)
Flowers, blessing cards, and letters. Numerous Hong Kong residents went to police stations in many areas, including the Central District, Kwun Tong, and Kwai Chung, to express their gratitude and support to the police for their efforts in handling recent riots.
One resident said, "We are here today to support efforts by the Hong Kong police. If these rioters continue like this, they will bring more chaos to Hong Kong. We've had enough of it. The chaos can't go on in Hong Kong. We grew up here and witnessed its development, so we can't stand to see it like this."

"We should support the police in taking action, as they've worked really hard."

Another noted "of course we need to support our police. Police are a very important part of Hong Kong. We are a family. We are here especially to support them, to encourage them. We must support the Hong Kong police to carry out justice rigorously. "

The cheering residents also called on others to say "thank You" whenever they meet police officers. Some are bringing their children along, educating them about the wrong actions of radical protesters.

Chan Wei-chieh, a local resident, says that "the police are doing their job. They are maintaining stability. They work really hard. So I brought my children here to tell them what to do in the future." Chan's kid has sent a blessing card to Madam Hsu, a policewoman, that reads "Thanks for protecting Hong Kong during the past two months."
"I feel very happy because Hong Kong residents are supporting us. They know we are enforcing the law and they support us. We feel really grateful that many of the Hong Kong people are showing their support for us," said Madam Hsu, a representative of the Hong Kong police.
She stressed that she and her colleagues on the frontline have been working really hard, facing what they call shocking and violent behavior. Hsu said they will continue doing their job and protecting Hong Kong's security and stability.
Some residents said that voicing their support for the Hong Kong police is also a way to speak for Hong Kong's future. They believe supporting the police conveys not only their confidence in the local law enforcement, but also their confidence in the future.