Can HK chaos silence pro-establishment candidates?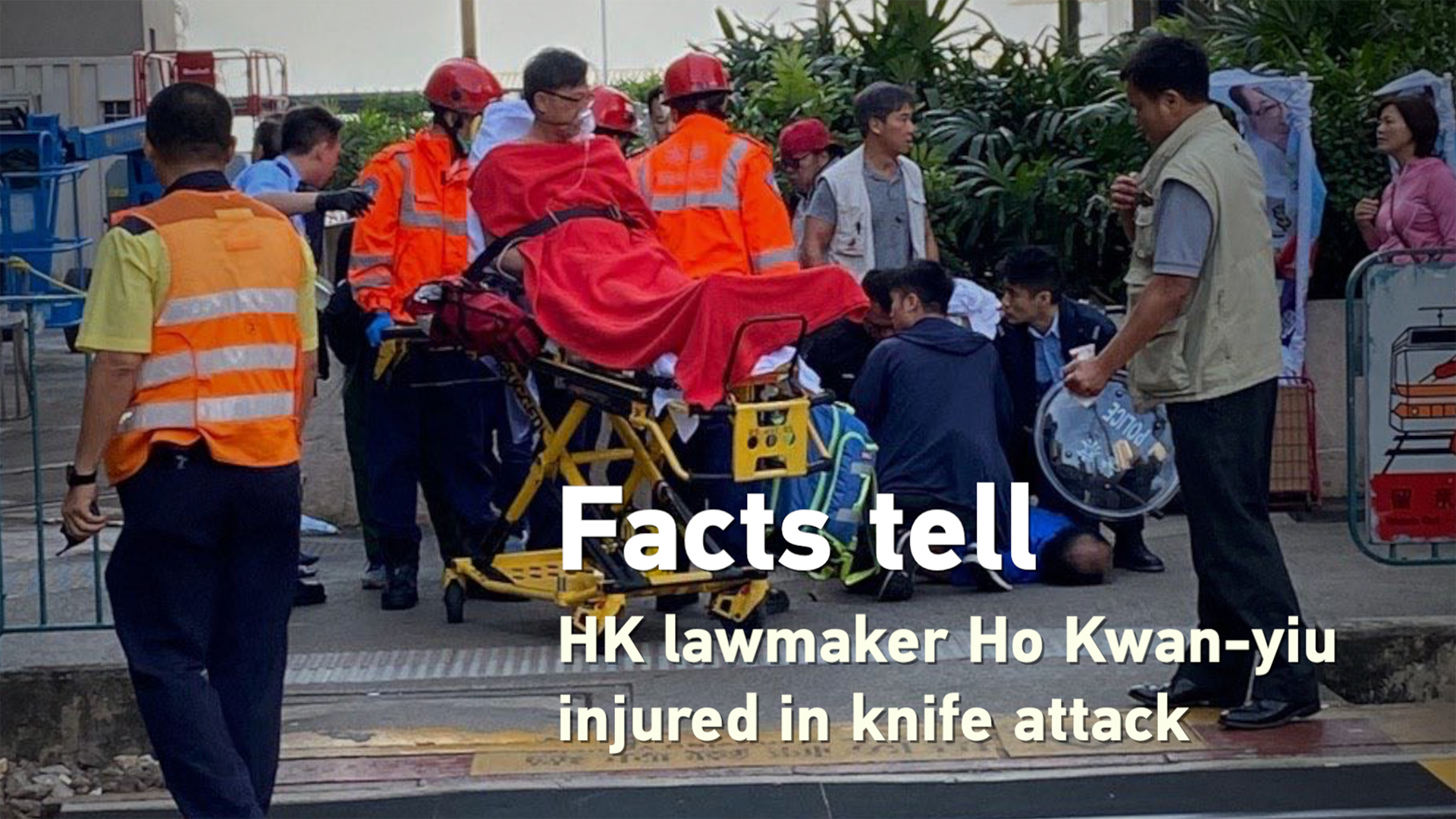 Belongings left behind by protesters at a gymnasium that served as sleeping quarters at the Hong Kong Polytechnic University, November 21, 2019. (Photo: CGTN)
The answer is definitely a "No".
Junius Ho, a Hong Kong Special Administrative Region (HKSAR) lawmaker running for the re-election and the victim of a recent knife attack, said he has become "immune" to criticisms and aggression, urging the public to bravely say "no" to the violence and black terror.
Ho is not the only pro-establishment legislator targeted by rioters. Over 70 offices of the pro-establishment Democratic Alliance for the Betterment and Progress of Hong Kong have been vandalized and those cases are yet to be dealt with, according to some legislators.
Troublemakers
The district council elections in HKSAR are scheduled for Sunday, with over 4.13 million voters registered to cast their ballots.
In the last district council elections, more than 70 percent of the 431 elected seats were gained by patriotic members.
In a bid to scare voters, rioters have recently targeted offices of those members, burning documents and damaging posters and banners ahead of the election.
"We do not need those who are good at fighting to be in our district council, but the members who could really serve the communities," a man surnamed Lee said.
Nicholas Muk, a candidate for the election and a middle school teacher, told reporters his election campaign had been interrupted in different ways. Some rioters hurled vitriol at him while others stole or tore down fliers. Roadside posters were also damaged.
"The radicals would use petrol bombs and launch violent attacks," he said. "Many people were scared and worried about their own safety."
His view was echoed by Lee. "What shocked me the most in the district elections this year was not the candidates' campaigns, but the (attempted) assassination of Junius Ho," he said.
"The district council election has become a stage of the rioters and is filled with empty political slogans, which is appalling," Lee added.
What's at stake?
Given the escalated violence and attacks on candidates in the Asian financial hub, experts and HKSAR officials admitted there are existing risks that could jeopardize the fairness in the elections.
It would be difficult to hold a fair election if there was chaos and violence in a substantial number of districts, as it would affect people's right to cast their ballot, said Tian Feilong, an associate professor at Beihang University's Law School in Beijing.
If black-clad rioters appear on the election day, residents would not dare to come out and cast the ballots, Tian added.
A Hong Kong resident, who only gave her surname Chan for fear of being doxxed, echoed Tian's stance, saying people are afraid of being threatened or even beaten by the rioters.
What's more, an increasing number of candidates have reportedly suffered varying degrees of threats, doxxing and online bullying ahead of polling day.
More than 70 offices of the Democratic Alliance for the Betterment and Progress of Hong Kong were vandalized a total of over 100 times, while nearly 30 offices, clinics and training centers of the Hong Kong Federation of Trade Unions were sabotaged more than 50 times. The New People's Party had about 10 offices destroyed, including two where rioters carried out arson attacks.
In response, Carrie Lam, chief executive of HKSAR, said her government would do everything possible to ensure the elections are held in a fair manner.
Patrick Nip, secretary for constitutional and mainland affairs of the HKSAR government, broke down three factors that are important to guarantee a safe and orderly election.
"First, to stop violence; Second, tunnels and major roads must not be blocked. Third, transport facilities must not be vandalized."
To address possible violence, the Hong Kong police has announced to beef up manpower to guard polls with riot police expected to be deployed. The city's metro subway system – the MTR – also promised to increased security staff by 50 percent on Sunday.