FM: US-led Indo-Pacific Strategy big 'security risk'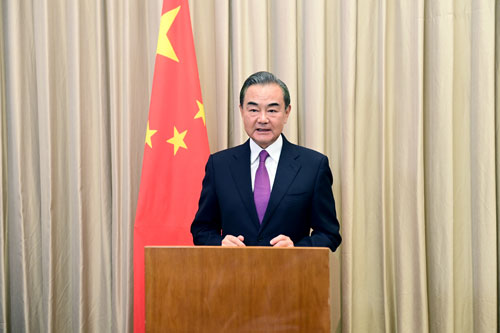 Chinese State Councilor and Foreign Minister Wang Yi. (Photo: fmprc.gov.cn)
State Councilor and Foreign Minister Wang Yi has issued a stern warning over the US-led Indo-Pacific Strategy, which he said impacts Southeast Asia's regional cooperation architecture and "will mark a dangerous start" if it keeps moving ahead.
Wang made the comment at a news conference in Kuala Lumpur on Tuesday when asked about the initiative.
The strategy is based on a four-nation mechanism bringing together the United States, Japan, India and Australia, and it is an attempt to build a so-called Indo-Pacific version of NATO, Wang said.
After the meeting of the foreign ministers of the four-nation Quad group last week, US Secretary of State Mike Pompeo said on Friday that Washington has begun to "build out a set of relationships all throughout Asia" to challenge Beijing, Japan's Kyodo News Agency reported.
"The US-led Indo-Pacific Strategy in itself is a huge, hidden security risk, and if it keeps advancing, it will not only be a retrogression in history, but also mark a dangerous start. I believe all parties will be fully sober and vigilant about this," Wang said.
It encroaches on the spirit of mutual benefit and win-win cooperation in East Asia, impacts the regional cooperation structure with the Association of Southeast Asian Nations at its center, and it dampens the prospects of regional peace and development, he said.
The strategy is based on an outdated Cold War mentality, seeks confrontation among blocs and geopolitical game-playing and works to beef up US dominance and architecture of hegemony, Wang added. He said that given the pandemic, it is necessary to maintain the hard-won peace and stability of East Asia and promote its sustainable development and prosperity.
In another development, Beijing has said it will "make legitimate and necessary responses in light of the development of the situation" after Washington moved forward with three sales of advanced weaponry-including a truck-based rocket launcher-to Taiwan. The White House has sent a notification of the deals to the US Congress for approval, Reuters reported on Monday.
The sales "seriously interfere in China's internal affairs and seriously damage China's sovereignty and security interests", Foreign Ministry spokesman Zhao Lijian told reporters in Beijing on Tuesday, adding that China firmly opposes it.
Beijing urges Washington to immediately cancel any plans for arms sales to Taiwan and cut their military relations, Zhao said.