Why is water-rich Yunnan often hit by droughts?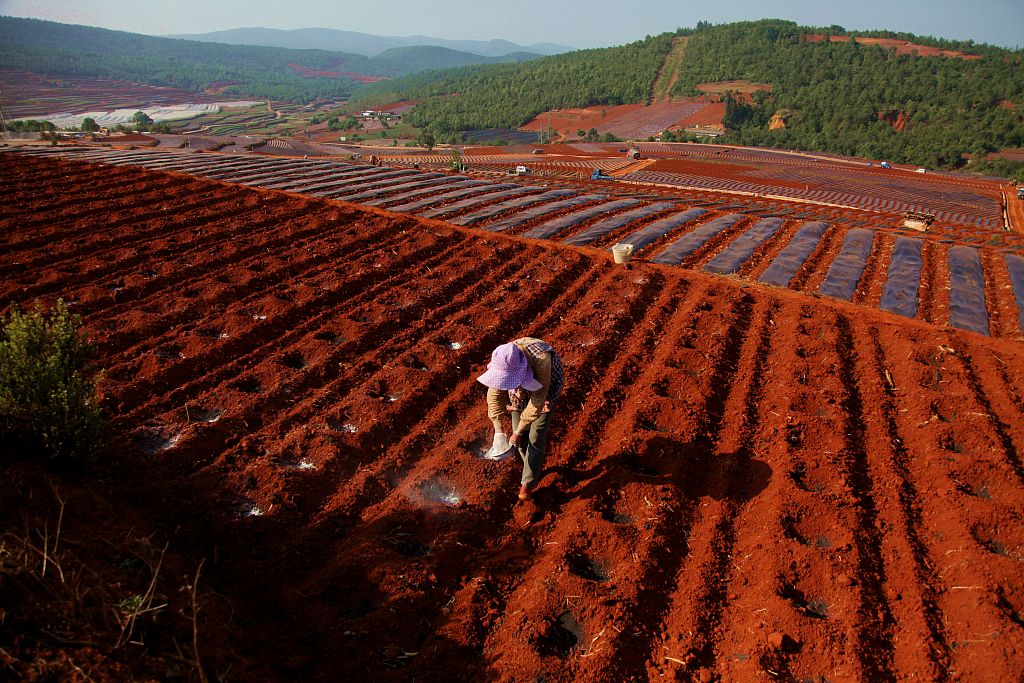 A farmer is fertilizing tobacco seedlings in Yuxi City in southwest China's Yunnan Province, April 18, 2020. (Photo: VCG)
Yunnan Province in southwest China has been hit by the worst drought in 10 years, mainly affecting southwestern regions like Pu'er City, Yuxi City, and Xishuangbanna Dai Autonomous Prefecture.
The serious drought starting from last winter has led to the cutoff of 100 rivers and 180 reservoirs to dry up, causing a drinking water shortage for 1.48 million people and 417,300 livestock as of April 15, said officials at Yunnan's Water Resource Department.
Significant rainfall in central, southern, and western Yunnan from April 22 to 27 has been a temporary relief. However, the spring ploughing has already been affected. According to Tea and Coffee Development Center in Pu'er, 10,813 hectares of coffee were affected by March 31.
For locals in Yunnan, droughts are normal. From 1950 to 2012, there were 59 drought years and nearly half of the severe ones. It is hard to imagine how this could happen in a water-rich province with a forest coverage rate of 62 percent. Why is this province often hit by droughts?
If we look at rainfall, Yunnan Province can be counted as a humid region with the annual precipitation exceeding 800 millimeters. Even though the amount of rainfall was low in 2019, its annual precipitation is still 888.4 millimeters. However, the amount rainfall varies greatly in the province's four seasons.
Yunnan Province has a typical monsoon climate that is characterized by distinct wet and dry seasons. Over 80 percent of the rainfall takes place in the wet season from May to October. The dry season left with little precipitation usually succumbs to droughts.
Additionally, Yunnan sits on a rugged mountainous plateau. The altitude of the northern part is higher than that of the southern part. In summer, the southwest monsoon and warm air from the Indian Ocean and Bay of Bengal can easily turn into dry and warm foehn wind once they encounter the mountains in the north. The foehn wind will go downslope and sweep the southern region, making it hot and dry.
Even though there is ample rainfall during the wet season, water can't be retained in the region. The unique karst landform makes rainfall flow away in the form of subsurface runoff. In Yunnan, the area of karst landform is over 111,000 square kilometers, accounting for nearly 30 percent of the total area of the province.
Apart from seasonal rainfall and geographical conditions, global climate change may also contribute to frequent extreme weather.
Previously, drought in Yunnan was more frequent in the north and east, less in the south and west. The number of drought days are more common in the southeast and fewer in the southwest, according to two studies. However, this year's drought concentrating in the southwest may require scientists to study more of the mechanism of droughts in Yunnan.