Private entrepreneurs innovate, develop business with Xi's encouragement
People's Daily app
1566549475000
Chinese President Xi Jinping said that he hopes private entrepreneurs will "innovate and create without being distracted and work in a down-to-earth way in developing their businesses," in his reply letter to private entrepreneurs on Oct. 20, 2018.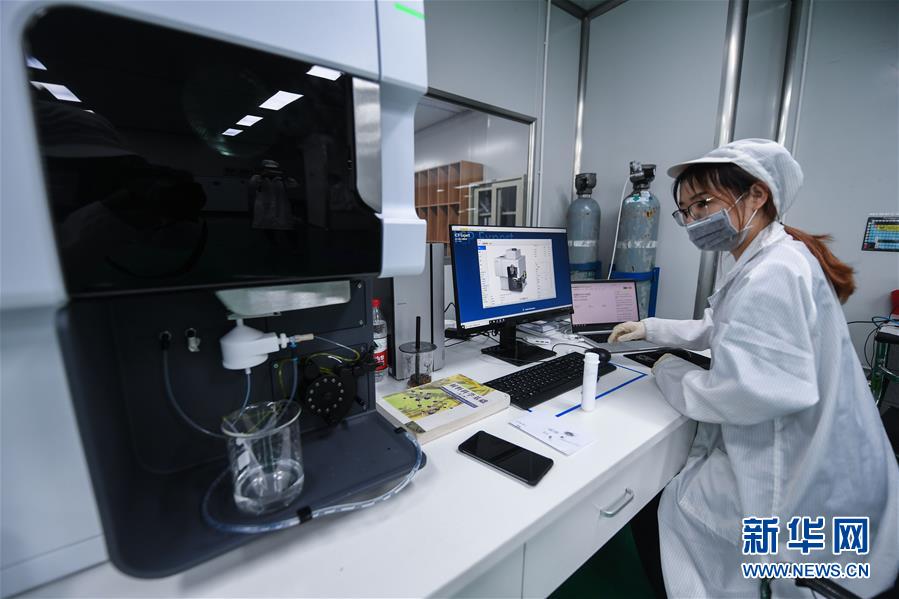 A technician works in the factory at the Konfoong Materials International Co., Ltd, a electronic materials producer in Ningbo, East China's Zhejiang Province, June 12, 2019. (Photos: Xinhua)
"President Xi's letter encouraged and reassured us. Every sentence entered our hearts," said Xiao Anjiang, chairman of the board of Hunan Wujio Light Industry and Chemicals Group, a private company in central China's Hunan Province. Xiao felt warm while watching the news on Xi's letter on television.
Run enterprise well, follow Xi's instructions
"President Xi stressed the importance of running a private enterprise well in his letter. Following his instructions, we will focus on our main business, and make it more specialized and professional," said Cui Genliang, chairman of the board of the Hengtong Group, in Wujiang District, Suzhou, East China's Jiangsu Province.
According to him, the length of the optical fiber produced in a day by the company equals four times the circumference of the earth. Cui also said that their workshop, as a core area of the company, represents the top level of optical wand manufacturers in the world.
After more than eight years of research and development, with a total investment of 600 million yuan ($85 million), the new generation of "chlorine free" green optical wand was put into production in October last year. With this, the Hengtong Group solved the pollution problems caused by the chlorine in the production line, which made the company take a leading position in this kind of technology in the world.
"Enterprises must have principles for healthy development. We've cut corners before, but now we resist the temptation to do it again. Without dominant products, what is the base of our enterprise?" Cui said.
He said that the Hengtong Group's development proves Xi's requirement "to innovate and create without being distracted," taking a path of self-improvement and excellence. Last year, the group made 101.9 billion yuan ($14.4 billion), with its optical wands taking up over 25 percent of the domestic market.
A pill as big as a mung bean has made the pharmaceutical company Tasly Holding Group a giant in the medical industry, with total sales of more than 10 billion yuan ($1,411 million).
A view of the factory of Tasly Holding Group.
The company has been focusing on the development of the pill for 20 years. "If you don't concentrate on one thing, how can the enterprise get bigger and stronger?" said Yan Xijun, chairman of the board of the company.
Today, about 2.5 million people use the pill every day to treat cardiovascular and cerebrovascular diseases, and its annual sales are more than four billion yuan ($570 million).
Innovate, create without distractions
With tower cranes standing tall and transport vehicles shuttling back and forth, Hunan Wujio Light Industry and Chemicals Group started the second phase of construction of a photosensitive dry film project, three months after receiving Xi's letter
Xiao was vigorous, saying that "the first day we got the business license was a new beginning of our innovation and creative work."
"As the high-quality economy develops and market changes, enterprises must find the right future profit growth points," said Xiao. He was not satisfied with the company's existing success in the thermos bottle market, and aimed at developing photosensitive dry film materials. Although most of the technology was in the hands of foreign enterprises, Xiao didn't give up, studied hard and finally overcame the difficulties. When the first phase of the project was put into operation, it earned 800 million yuan ($114 million) annually.
Supportive policies give enterprises confidence
Eleven days after Xi's letter of reply, Xi held a symposium on private enterprises, which again sent a strong signal to encourage, support and guide the development of the non-public sectors of the economy.
After the symposium, Hunan Province held a conference on economic work, and Xiao was invited.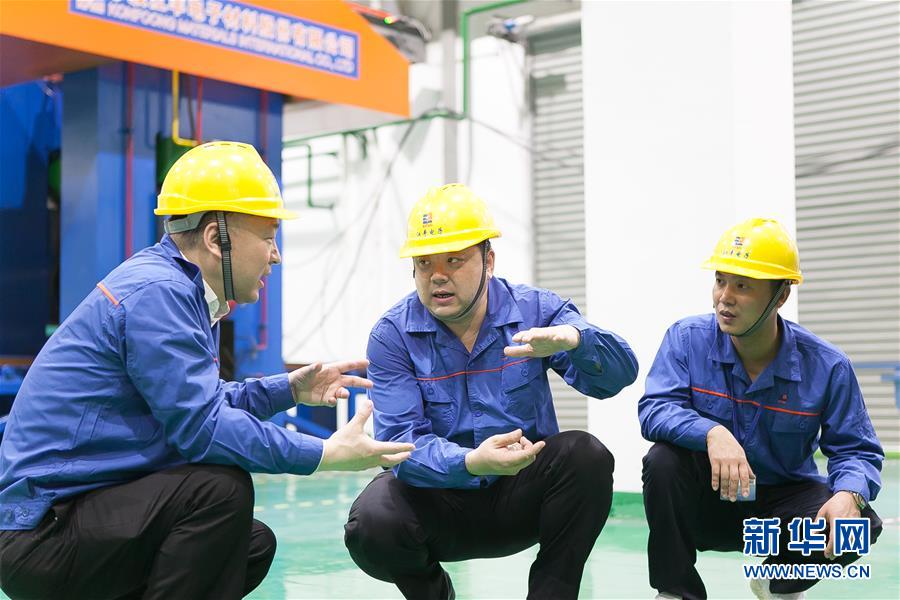 Yao Lijun, chairman of the Konfoong Materials International Co., Ltd, talks with workers in Ningbo, East China's Zhejiang Province, June 12, 2019.
From the central government to local government, policies supporting the private economy have made private enterprises confident.
Cui has set his sights on globalization. The Hengtong Group has been doing business abroad for 18 years, having built 10 overseas research and developing industrial bases. With the completion of the project in Chile in November last year, the total length of submarine cables produced by Hengtong has exceeded 10,000 kilometers.
Despite difficulties, Yan has never wavered in his confidence that traditional Chinese medicine will go global. The 66-year-old entrepreneur remains highly sensitive to the new round of technological revolution in the world. He noted, "Every day, millions of patients use our products. Can we use digital platforms to provide them with more accurate services?" Today, Tasly has started its transformation to a technology-based and intelligent service company.
Xiao has also focused on the latest trends in the industry. Many years ago, the group began its layout of the whole industrial chain from titanium ore to titanium processing. "We are confident to build a new world-class titanium enterprise," he said.
(Compiled by Yu Lidong)