Think tank meets to promote BRICS cooperation
Global Times
1578353418000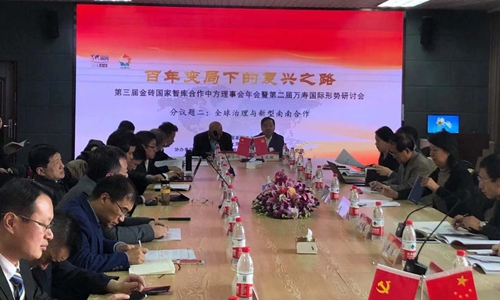 Participants attend the 3rd Annual Conference of the China Council for the BRICS Think Tank Cooperation in Beijing on Friday. (Photo: Global Times)
The association of BRICS has become one of the most important multilateral cooperation mechanisms in the world, during which think tanks from the five member countries have put forward many valuable and feasible policy suggestions, said participants attending a forum.

Hosted by the China Council for Brazil, Russia, India, China and South Africa (BRICS) Think Tank Cooperation (CCBTC) and organized by the Beijing International Studies University, the 3rd annual conference of CCBTC was held in Beijing on Friday.

More than 200 Chinese scholars and representatives of universities, research institutions and enterprises had in-depth exchanges on the theme "Path to Rejuvenation amid Biggest Change in a Century."

The forum discussed diverse topics such as great changes unseen in a century and China-US relations, global governance and new South-South cooperation, and new industrial revolution and a community with a shared future for mankind.

Guo Yezhou, CCBTC chair and vice minister of the International Department of the CPC Central Committee (IDCPC), said that the council's responsibility and value are to provide intellectual support for BRICS's cooperation.

Guo stressed that all governing units should focus on promoting new South-South cooperation, and pay close attention to the turning points caused by scientific and technological changes to grasp insightful methods of the changing international environment.

Guo also noted that the council will continue to provide platforms and resource support for all governing units.

Huang Yiyang, a deputy director-general of the Department of International Economic Affairs at the Ministry of Foreign Affairs, said that think tank cooperation among BRICS countries have been enriched and expanded under the guidance of CCBTC, and many valuable and feasible policy suggestions have been put forward for BRICS's cooperation.

Huang stated that BRICS's cooperation has become one of the most important multilateral cooperation mechanisms, and hoped that all governing units of CCBTC can take full advantage of their strengths, actively deliver suggestions and speak out to the outside world and make contributions to the major country diplomacy with Chinese characteristics.

The council released two academic achievements: the blue book of the South-South Cooperation - BRICS cooperation and development report (2019) and the BRICS sustainable development report 2018, and also hosted the inauguration of the council's official website.

The first BRIC summit was held in Russia's Yekaterinburg on June 16, 2009, before the induction of South Africa in 2010, focusing on means of improving the global economic situation and reforming financial institutions.

The CCBTC was established in January 2017 during China's presidency through the initiative of the IDCPC, reported china.org.cn on Monday.