Upholding rule of law only way to make things right in HK: mainland experts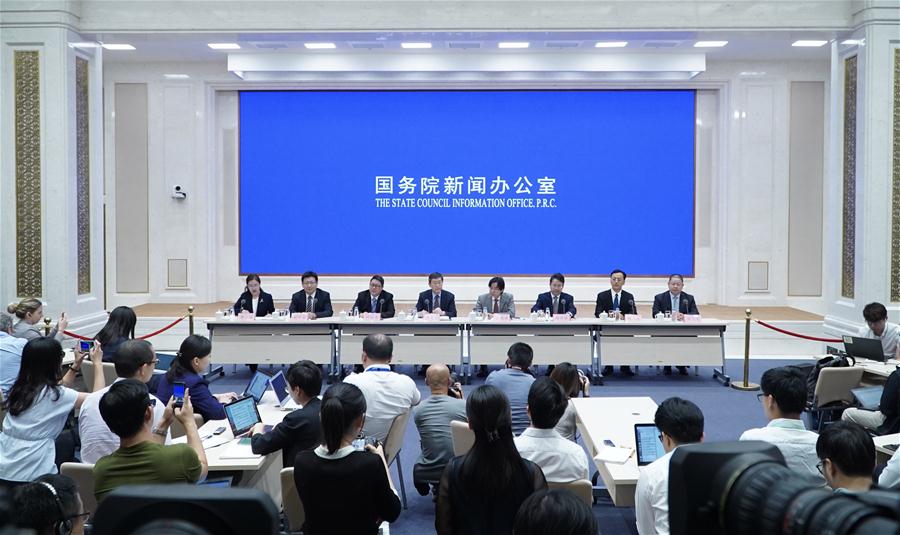 Experts remark on the current situation in Hong Kong at a press conference held by the State Council Information Office in Beijing, capital of China, Aug. 15, 2019. (Photo: Xinhua)
BEIJING, Aug. 15 (Xinhua) -- In the face of serious violence, the only way to resolve the problem in Hong Kong is to return to the framework of the rule of law, a mainland legal expert said Thursday.
Han Dayuan, a professor of law at the Beijing-based Renmin University of China, said at a press conference held by the State Council Information Office Thursday that law-based governance of Hong Kong should safeguard national sovereignty, security and development interests, maintain Hong Kong's prosperity and stability, and protect the rights and freedom of Hong Kong residents as enshrined in the Basic Law.
Noting that the rule of law in Hong Kong is facing various challenges, he stressed that the rule of law has the strength to resolve all disputes, bridge differences and regain consensus so that order and security can be restored as soon as possible.
Recently, the violent acts of radical protestors have severely violated multiple laws in Hong Kong, said Zou Pingxue, director of the Center for Basic Laws of Hong Kong and Macao Special Administrative Regions of Shenzhen University.
Zou called on Hong Kong residents, students' parents and educators to oppose and resist with a clear stand against any actions that aim to incite and instigate young students to take part in illegal activities.
Many countries, including the United States, consider extremist, violent acts as acts of terrorism, said Zhang Jian with the Shanghai Institutes for International Studies.
To curb the tendency of resorting to terrorism, the public ought to show zero tolerance towards violence, said Zhang, adding that the effort also requires strict law enforcement by the police and judicial authorities.
As for foreign interference in Hong Kong affairs, Zhao Kejin, deputy dean of the School of Social Sciences at the Beijing-based Tsinghua University, said Hong Kong-related issues have a profound international background.
After the return of Hong Kong, the United States has become even more blatant in interfering in Hong Kong affairs rather than changing its Hong Kong policies developed during the Cold War, which is one of the root causes of Hong Kong's chaotic situation, Zhao said.
Foreign forces should give up their colonial and Cold War mentality, and stop attempting to use Hong Kong to contain China's development, he added.