Safeguarding lives in Xinjiang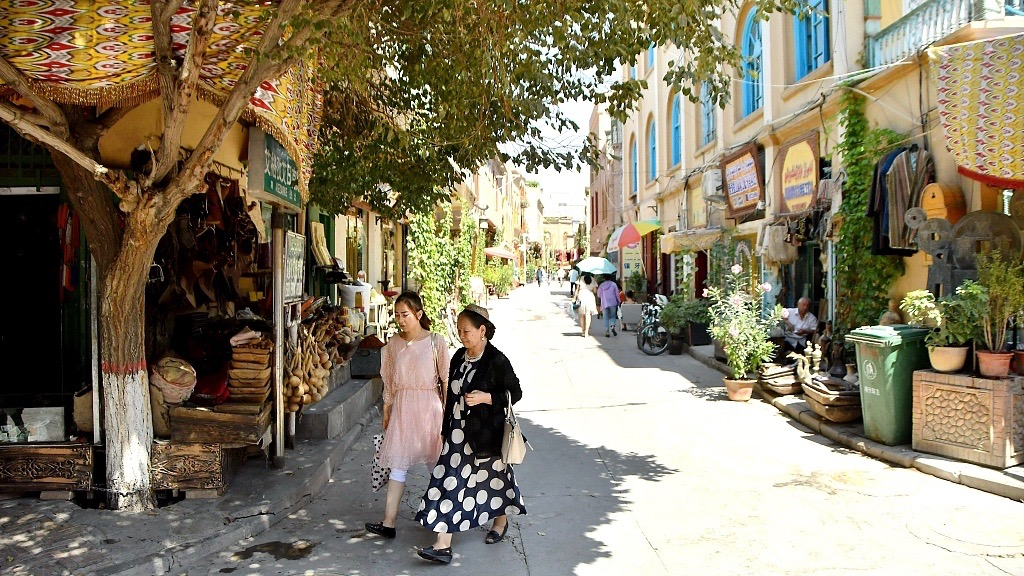 (Photo: CGTN)
"When your life is at stake, what else would you care about?" a resident of Urumqi said. He's a witness of the July 5 riot in 2009 in the capital city of northwestern China's Xinjiang Uygur Autonomous Region.
That violence killed 197 and injured more than 1,700, amid hours-long clashes between over 1,000 rioters and the police. "On that gloomy afternoon, I saw a man stumbling into my community with his head bleeding. The pouring blood quickly covered his face," the resident told us. The injured man managed to flee from the rioting, but his companion had failed to escape.
The biggest riot in years in Xinjiang left the region in shock, grief and panic. From 1990 to 2016, thousands of attacks happened throughout the vast land of the far-western region.
The Urumqi bus bombings in February 5, 1992 killed at least three; five years later, another bus detonation in the city left nine dead. In 2008, the Kashgar truck attack killed 16; in 2011 also in Kashgar, seven died when two men hijacked a truck, careened into a crowd and randomly stabbed people. In Aksu, knife-wielding men killed 16 workers at a coal mine in September 2015.
"They didn't even let passersby go. An extremist killed a Uygur girl and her grandfather walking through a village in Aksu at night," a local official told us during our stay in the city of Aksu this summer – where the modernity of today belies these blood-curdling scenes.
But for many locals, the killing sprees are etched in their hearts as scars. "One of my friends witnessed the July 5 riot in 2009 when he was a teenager, and since then he developed a psychological problem," a young amateur singer from Urumqi told us. According to him, the extreme events are one of the reasons that he left his hometown to develop his career in Beijing.
"Whenever I came back home, I saw stricter security, which on the one hand, indeed takes the city farther away from my childhood memory, but on the other, makes it safer," he said. In a place where extremism is rampant, safety is a luxury.
Despite China's efforts to crack down on terrorism in the Muslim-majority region, many Western countries have criticized the Chinese government, saying it was suppressing ethnic and religious expression. However, Muslim-majority countries, as well as others, have opposed this notion. Last month, a letter supporting China's action in Xinjiang was submitted to the UN, with signatures from countries in Asia, Africa, the Middle East and Latin America. A total of 37 countries said China's policies had brought "safety and security" and "a stronger sense of happiness" to the local Muslim Uygur population.
"We note with appreciation that human rights are respected and protected in China in the process of counterterrorism and deradicalization," the letter stated. Many of the signatory countries have significant Muslim populations, including Pakistan and Saudi Arabia.
The Uygur separatist movement has tried to spread a false narrative, targeting their message at the poor and uneducated Uygurs and making them believe that they are the descendants of Turks living under repression from the Chinese government.
"What happened in Xinjiang in recent years is actually a modernization breakthrough," Tunc Akkoc, chair of Turkey's Aydinhk newspaper who visited one of the reeducation centers, told the Global Times. "The regional government seeks ways to remove the root of extremism. It's not only about getting rid of flies, but also about drying the swamp."
Western media have focused on reporting negative stories and spreading biased opinions, sometimes based on false leads. Famous Uygur musician and poet Abdurrehim Heyit was rumored to be dead and the news was quickly picked up by The Washington Post, which then quickly turned the unfounded allegations into a moral crusade against the Chinese government.
Over the years, the urge to criticize led to rampant use of unverified sources by mainstream media outlets in the West. In January, CNN published a story centered on a Uygur woman who had provided testimony to a group of U.S. lawmakers. Mihrigul Tursun blamed the Chinese government for killing one of her sons. Yet, China's exit and entry records show Tursun's three children – Mohaned, Elina and Moez – all left China before 2016.
Perhaps China's emphasis on societal stability and safety through its own means is a departure from the Western perception of liberty. However, misconstruing the Chinese government's efforts or even blatantly spreading falsehoods to smear the country's image perpetuates ignorance and even hatred – notions that give rise to the security threats that have spread around the world. Only through communicating a plurality of values in a sincere manner can the dangers of extremism be quelled.