Podcast: Story in the Story (8/16/2019 Fri.)
People's Daily app
1565889378000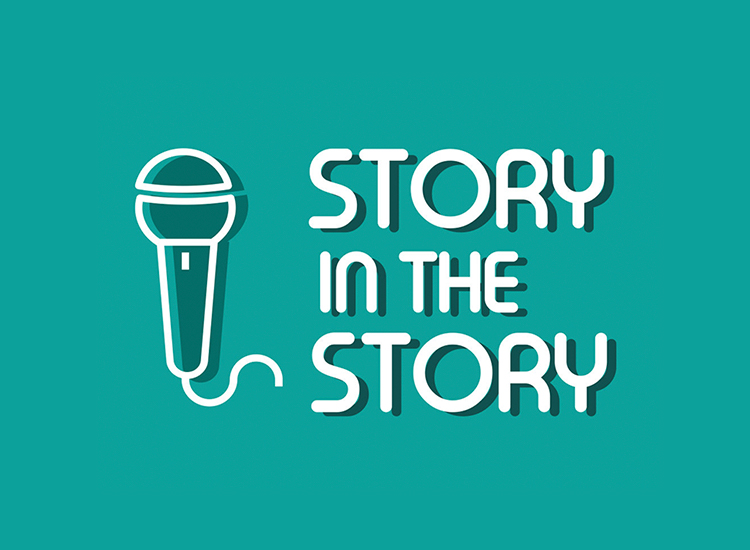 From the People's Daily app.
And this is Story in the Story.
Some say that Lenghu is the most "alien" place on the Earth. Located in the Gobi Desert with a desolate landscape and a starry night sky, it has a name meaning "cold lake."
A township-level region, Lenghu is administered by Mangya city, Haixi Mongol and Tibetan Autonomous Prefecture, in Northwest China's Qinghai Province. No one lives beyond the town's limits. The closest city is Dunhuang in Gansu Province, 230 kilometers away.
Lenghu was a key petroleum town in Qinghai with over 120,000 residents, but when the oil dried up in the 1980s, its population gradually shrank to 800. However, the town's Mars-like landscape is already showing potential for growth.
Emphasizing its newfound identity as a Mars town, Lenghu is becoming a focal point for scientific research, education and sci-fi culture.
Today's Story in the Story looks at how a town in the middle of nowhere vows to become the "Mars town" of China.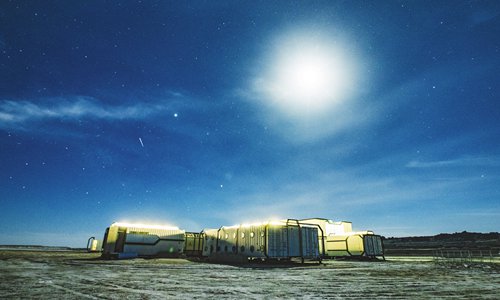 The night view of the Mars Camp in Lenghu, Northwest China's Qinghai Province (Photo: Global Times)

In just two years, the town has attracted many institutes, built up a Mars camp and launched a sci-fi literature award. The first set of professional astronomical telescopes will be installed later this year.
"This is the speed of Mars," said Tian Cairang, Party chief in Mangya.
China plans to launch a mission to Mars in 2020. The probe will consist of orbiting, landing, and roving the planet.
Lenghu was one of the four largest oil sites in China. Ren Qin's father came to Lenghu in the 1950s to work in the oil industry. Ren followed in 1970, working in a lab there after her graduation.
"I used to live and work here, and felt it was quite desolate here. But right now, I understand the beauty of my hometown, it being so vast," Ren said. "I believe Lenghu will attract more visitors."
In 2017, the local government of Lenghu began planning how to take advantage of Lenghu's dark night sky to develop the economy.
"I want to sell the stars," Tian said.
The government made contact with Deng Licai, a senior scientist at the National Astronomical Observatories of the Chinese Academy of Sciences (NAOC), and as Deng expected, Lenghu proved to be an astronomy treasure trove.
"The sky brightness is low here. It is clear most nights. Astronomical sight conditions are also great." he said.
After a year of looking for an ideal site, scientists picked the top of Saishiteng Mountain as the location to install astronomical telescopes. Saishiteng is about 4,200 meters above sea level and is an hour's drive from Lenghu.
Two monitoring towers were initially built on the mountain - one tower for studying the sun, and the other for studying the stars at night. Every day, data would automatically be sent to the NAOC.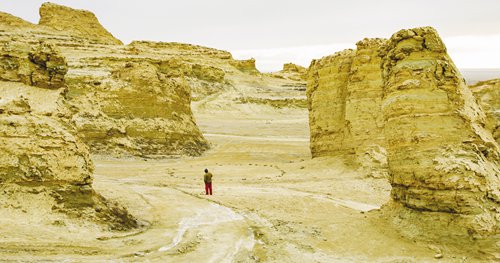 The Eboliang Yardang landscape in Lenghu resembles an alien planet. (Photo: Global Times)
Lenghu has attracted many scientific institutions and universities, including the University of Science and Technology of China.
Over 30 astronomical telescopes are expected to be installed on Saishiteng Mountain, making it the largest observatory in Asia.
The local government of Lenghu will soon partially own the right to use the telescopes for observation, generating revenue and allowing the town to blossom as a scientific hub with a robust local economy.
In accordance with the idea of "selling stars," Lenghu also plans to establish an internship base for astronomy students and cooperate with astronomy departments at other Chinese universities.
On March 1, a Mars Camp officially opened in Lenghu, aiming to attract tourists and inspire children's interest in astronomy.
Visitors can experience living in space capsules, participate in a "rescue mission on Mars," and try out a "Mars feast" consisting of boiled potato, carrots, mutton and fried spam.
The Mars Camp is not only a scenic venue, but also a commercial opportunity.
Jiang Feng, co-founder of the camp, said the project's key task is science education, especially for young people. "In 2040, humans are landing on Mars," she said. "We want to cultivate talent for it."
The Eboliang Yardang region evokes an alien landscape. There is absolutely no flora and fauna there, but its Mars-like characteristics can be found in its countless hills shaped by wind erosion which appear similar to Mongolian yurts, the Great Wall and even the Great Sphinx.
"People come and say that Lenghu is perfect for shooting movies. But what to film?" Tian said. "So, we decided to create our own stories."
The Lenghu Sci-Fi Literature Prize was launched in 2018.
(Produced by Nancy Yan Xu, Brian Lowe, Lance Crayon and Paris Yelu Xu. Music by: bensound.com. Text from Global Times.)