Xinjiang: Far west region, heart of Silk Road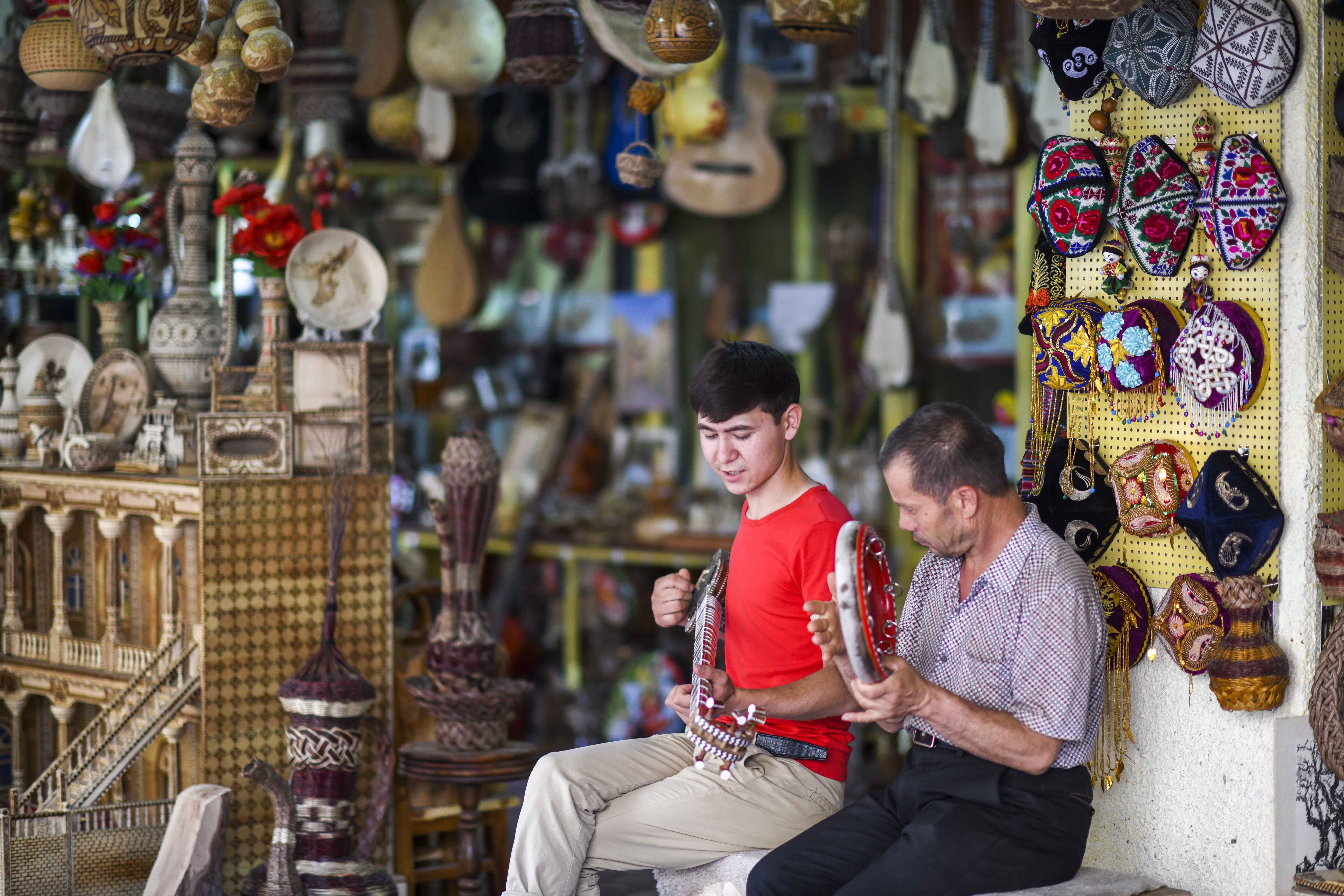 Yumaerjan Usaan (L) plays dutar at his wooden handicraft shop in Kashgar, July 6, 2019. (Photo: Xinhua)
Tradition, travel and trade: What can these #Xinjiang tales tell us about this far western region of China?
URUMQI, Aug. 17 (Xinhua) -- In Yongxin, a village administered by Urumqi around 30-km away, a gigantic monument shoots up into the sky -- this is the geographical center of the Asian continent.
While tourists pose for photographs under the landmark, potato farmer Chen Gong, 70, explains that he has never left the outer limits of Urumqi.
"I am Urumqi born and bred. I've never been to the coast. If I had the chance, I'd love to see the sea," he says.The Pole of Inaccessibility, the farthest point on land from the coastline, is in China's far west region of Xinjiang. But it is far from inaccessible. In fact, it is Xinjiang's unique position on the Silk Road -- ancient and modern -- that puts it on the map.
For centuries, the ringing bells of camel caravans carrying merchants and tourists have signaled the arrival of new goods, and ideas.
Today, trains and planes have made modern Xinjiang better connected than ever before. As China's key trade gateway to Central and West Asia, the remote region's position as the heart of the Belt and Road Initiative is unmistakable.
TRADITION
In Kashgar Old Town, southern Xinjiang, Yumaerjan Usaan and his father Yusaanjan Yusuyin play a cheerful dutar-tabour duet at the door of their wooden handicraft shop. Their audience -- two little girls and an old man -- clap their hands to the beat.
"Larks can't stop singing on the blooming branch/Just as I can't stop missing you/I can't sleep at night/When can I see you again, my love?" Yumaerjan sings.
"The traditional music of Kashgar was influenced by the music heard along the ancient Silk Road," says Nurmemet Rishat, composer and vice chairman of the Musician's Association of Kashgar.
Archaeological digs have unearthed evidence that the Chinese four-stringed pipa was played here 1,100 years ago. The influence of India and Persia can be seen in local stringed instruments such as the dutar or rewap. And the Yangqin, a Chinese hammered dulcimer with roots in western Asia, also found its way to Xinjiang thanks to the ancient trade routes.
Just like the music, the ancient Silk Road, and the people, languages and products that travelled along it made Xinjiang what it is today: a cultural patchwork.
Once an oasis in the vast sand, Kashgar was an important staging post. A place where travelers, carriages and camels rested before continuing their trek on the Silk Road.
A few steps away from the wooden ware shop is Mewlan Turaq's boutique. Racks of ornate, beaded and embroidered costumes jostle for space next to modern, modified outfits, all featuring Mewlan's unique, eye-catching designs.
With the help of his mother Aygul Khasim, a tailor, Mewlan recreated outfits that were once everyday wear in Xinjiang, and made a two-minute video to show the evolution of Uygur fashion over the past century.
"We can see that time has left different marks on our clothes, and different cultures have blended," said Mewlan.
He can wax lyrical about the typical central Asia pattern found on old caps, or the Manchu motifs embroidered with Han techniques on a set of Uygur costumes from a century ago.
From his perspective, cultures in the east and west have met and melded in Kashgar, and that shows in the evolution of the area's fashion.
He spends most of his spare time visiting old tailors and craftsmen and huntig down bargains at flea markets. He sees clothes like a language with which different cultures can communicate.
"I care about the cultures, the history and the aesthetic values behind the clothes. More importantly, I would like to see how cultures blend together and what cultures these blending elements are from," said the designer.
TRAVEL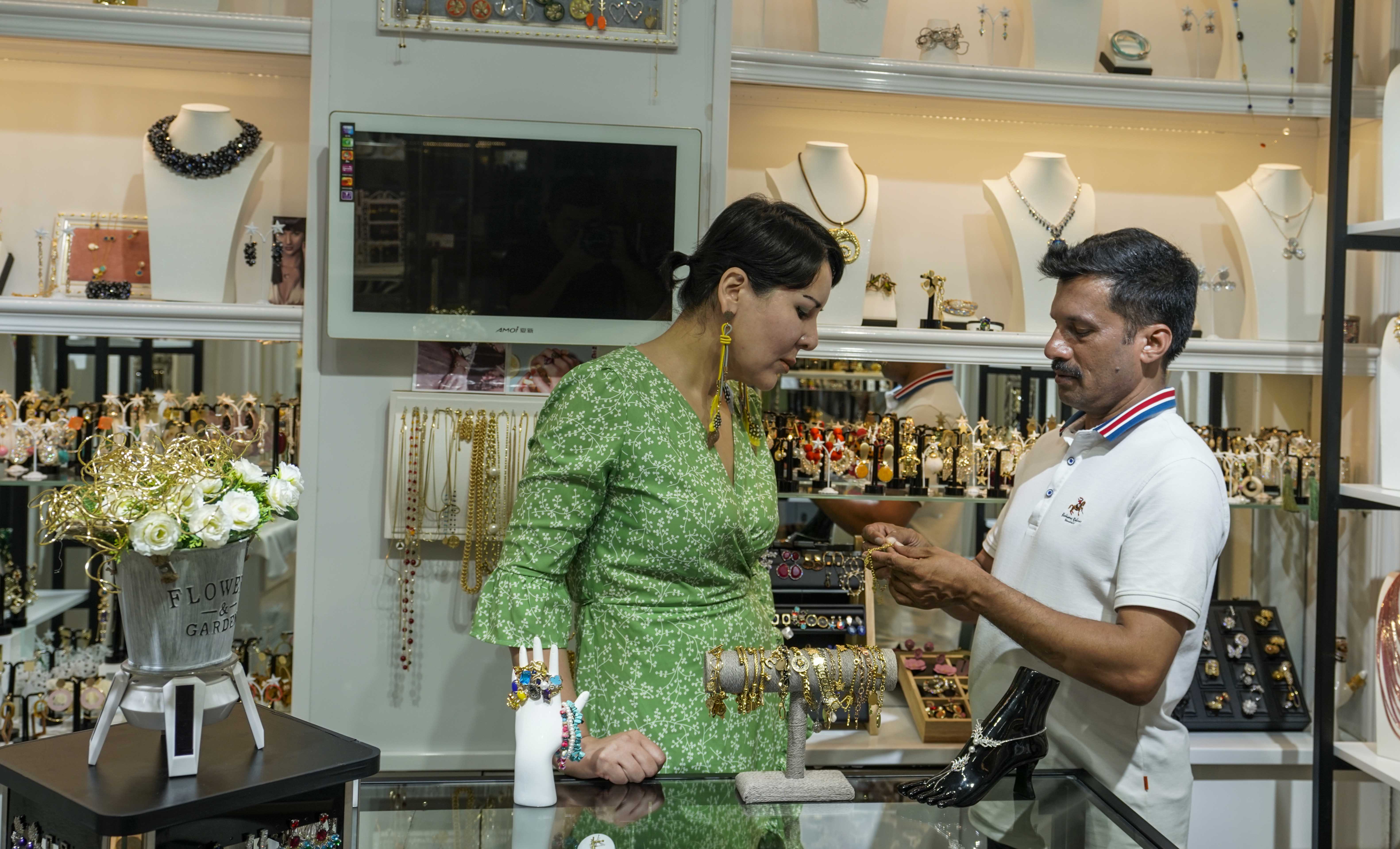 Asim Mohammad from Pakistan and his wife Saiyida Abulizi arrange jewelry in their jewelry shop at the International Grand Bazaar in Urumqi, July 13, 2019. (Photo: Xinhua)
In contrast to the bazaars on the winding old lanes of Kashgar, shopping malls in the modern metropolis of Urumqi are crowded with young people going to the movies, dinner, or shopping in fast fashion retailers like Zara and H&M.
Dating today is very different from the experience of Saiyida Abulizi and Asim Mohammad 23 years ago. Back then, to see his dream girl, Asim had to travel from his hometown Lahore, Pakistan, all the way to the capital city of Xinjiang.
"In 1994 there was no direct flight between Pakistan and Xinjiang. So I had to come by bus. It was so long. It took maybe seven to eight days," says Asim, sitting side by side with his wife.
"At that time he couldn't speak Chinese. He didn't tell me about his long trips until we got engaged, and his Chinese had improved," says Saiyida, her face flush, "It deeply touched my heart when I found out."
Asim's trek for love became easier a year later when a direct flight between Lahore and Urumqi was launched.
"Every 15 days I would come and stay here for one month," says Asim, "It's very helpful and very easy."
In 1996 the couple got married, and three children soon followed. Ever since the family has lived in Urumqi. Together, they run a jewelry shop at Xinjiang International Grand Bazaar, a contemporary shopping mall with products from Asia and Europe.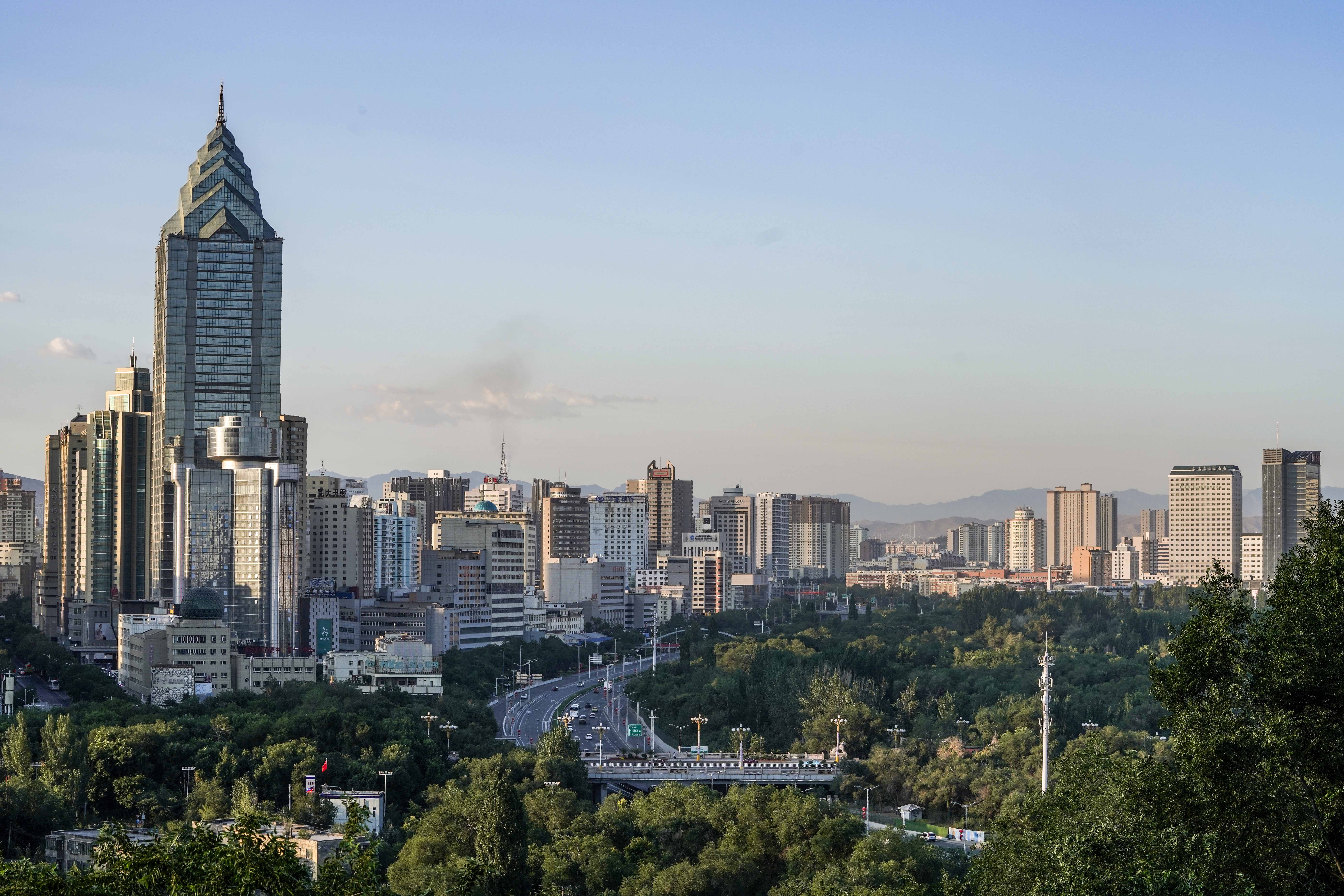 A morning view of Urumqi. (Photo: Xinhua)
"Urumqi is very different now from 20 years ago. We have buses, BRT, and even the metro. It is all so convenient," says Asim.
Apart from the metro and other urban transportation, a 1,776-km high-speed railway connects Urumqi to the neighboring province of Gansu, and from there, passengers can catch more trains to the far-flung corners of China.
Products from home and abroad are also on the move. Goods from Chinese coastal provinces pass along the tracks and through Urumqi freight logistics center to get to Europe in just one-third of the time it would take by sea.
This freight center sends products along 21 rail routes to 19 European and Central Asian countries, transporting goods from clothing to machinery to electronics.
Around 270 billion yuan has been channeled to transport infrastructure funding in the past three years alone.
TRADE
In his shop, Kasym Kali is busy opening bottles and pouring wine. This seasoned entrepreneur from Kazakhstan opened his first wine shop at the China-Kazakhstan International Border Cooperation Center in Horgos, northwest Xinjiang, two years ago.
Horgos, meaning "a place where caravans pass" in Mongolian, was once a busy passage used by traders traveling along the ancient Silk Road. It became a border pass between China and Kazakhstan in 1881. Today, the caravans are a distant memory, in their place are fleets of vehicles at the city's port, which has been revitalized by the Belt and Road Initiative.
The cooperation center is the world's only duty-free shopping center spanning two countries. People from China and Kazakhstan cross-country shop here without a visa, and pay little or no tax at all.
"It's duty-free, so many customers come here. That's why I wanted to open my shop here," says Kasym, who has also had farms and restaurants in Kazakhstan, "The peak season is from April to December. I can sell 20,000 to 30,000 bottles of wine in a month."
Promotion plays a big part in his business plan.
"We invite a lot of people to try our drinks and give out many free samples. So it's a lot of investment. Entering the Chinese market was a gamble. I have invested a lot, but I can earn the money back," he says.
But that's not the worst hardship. His family live in Nursultan, the capital of Kazakhstan, 1,700 km away. He only returns home once every one or two months. But Kasym is determined to make sure his absence is worthwhile. Part of his new two-year plan is to open a second shop in Beijing, and more shops in other Chinese cities.
"China has a huge population, and more and more Chinese love red wine. So I'm confident," he said.
"The network and railway between Kazakhstan and China is very convenient for businesses, too," he added.
Imports and exports through Horgos reached around 7 billion U.S. dollars in 2018, up 29.1 percent year on year.
And that's just a small piece of the picture. Last year, imports and exports between Xinjiang and 36 countries along the Belt and Road increased to approximately 42.3 billion US dollars, accounting for 98.2 percent of the total foreign trade through the region's ports.
Although his wish to see the sea remains empty, living at the center of the continent, Chen has at least tasted it -- Prawns.
With faster transportation and more robust trade brought by the BRI boosting Xinjiang's economy, seafood is no long a luxury in the city farthest from sea. Lobsters and groupers from Pakistan can reach Urumqi within 34 hours through air transport.
Slurping Xinjiang's signature pulled noodles with prawns, Chen has never felt closer to the sea.