Xi stresses eco-conservation of Yellow River basin, Chengdu-Chongqing economic circle development
BEIJING, Jan. 3 (Xinhua) - Chinese President Xi Jinping on Friday stressed efforts to enhance ecological protection and high-quality development of the Yellow River basin, and promote the construction of an economic circle covering the western cities of Chengdu and Chongqing.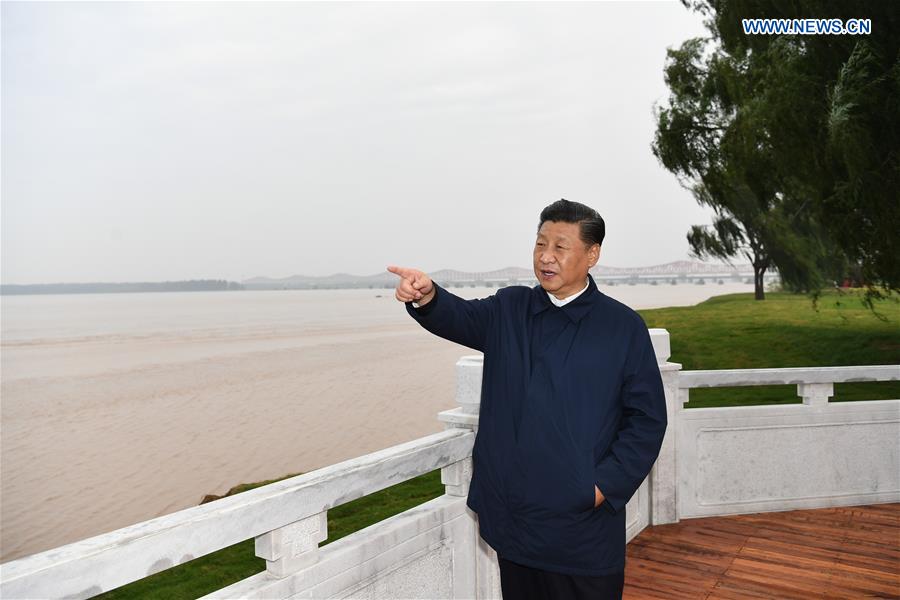 President Xi Jinping inspects ecological protection of the Yellow River at a national geopark during his tour in Zhengzhou, central China's Henan Province, Sept 17, 2019. (File photo: Xinhua)
Xi, also general secretary of the Communist Party of China Central Committee, and chairman of the Central Military Commission, made the remarks at the sixth meeting of the Central Committee for Financial and Economic Affairs. He is also head of the committee.
Senior leaders Li Keqiang, Wang Huning and Han Zheng attended the meeting.
To strengthen ecological protection and high-quality development of the Yellow River basin, the meeting underlined ecological conservation, green development and natural restoration of the environment.
Unreasonable water use in the region should be firmly curbed, while development efforts should be made in light of local conditions and efforts should be made to push for coordinated protection and management of the basin, said a statement issued after the meeting.
Attention should be given to major issues in the ecological protection and high-quality development of the basin by implementing projects including water source conservation and water and soil loss control, according to the statement.
Measures will be adopted to solve water, air and soil pollution as well as to promote the high-quality and coordinated development of city clusters along the river.
The meeting urged efforts to improve industrial structure while preserving and promoting cultural legacies of the Yellow River.
The meeting also noted that promoting the construction of the Chengdu-Chongqing economic circle will help foster a growth pole for high-quality development in western China and push opening-up in the landlocked area.
Work will be done to turn the Chengdu-Chongqing area, with the two cities taking the leading role, into an important economic center, a center for scientific and technological innovation, a new highland for reform and opening up and a livable place for high-quality life of national influence, the statement said.
The development of the Chengdu-Chongqing economic circle is a systematic project that requires top-level design and overall planning, with transport infrastructure construction and collaborative and innovative development among the priorities, it said.