HK anti-govt figure Lai charged under national security law; 'severe sentence' highly likely
Global Times
1607670315000
Anti-government media tycoon in Hong Kong Jimmy Lai, deemed as a "modern-day traitor" for his notorious acts and deeds in instigating one of the most violent and chaotic riots in the city in 2019, was officially charged under the national security law for Hong Kong, and the local police confirmed with the Global Times that the case will be heard on Saturday morning at a local court.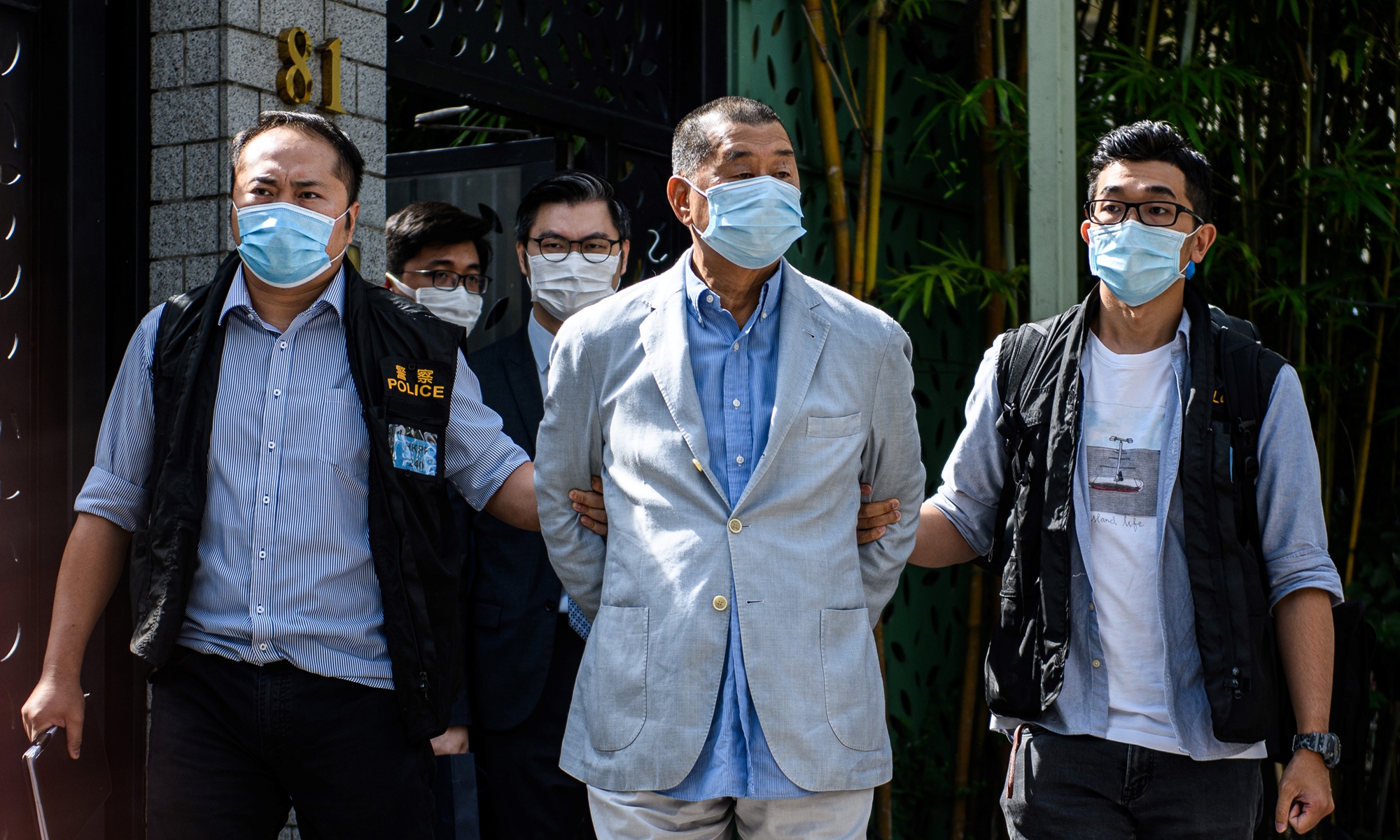 After an in-depth investigation by the National Security Department of the Hong Kong Police, the 72-year-old man was charged with an additional offense of "collusion with a foreign country or with external elements to endanger national security," the Hong Kong Police Force (HKFP) confirmed with the Global Times on Friday at noon when asked about Lai's case. The case will be heard at West Kowloon Magistracy on Saturday morning.
As the founder of Hong Kong media group Next Digital, Lai was denied bail in his fraud case earlier in December and may be detained until his next trial - scheduled for April.
Some Western media and political figures have been trying to portray Lai and his infamous Apple Daily newspaper as the spiritual leader of the so-called free press, which is considered as naïve thinking that fails to listen to the true voices of Hong Kong's people, experts said. To the fair-minded people familiar with the 72-year-old's words and actions - and the grave consequences of them for the roughly 7 million residents in the city - he is a traitor, a criminal and a force of evil who has sowed violence and chaos in arguably one of the freest and most prosperous cities in the world.
He was arrested on August 10 by the HKPF, about 40 days after the enactment of the highly anticipated national security law for Hong Kong. Being the most high-profile case, it also delivered a heavy blow to local secessionists, experts said.
Lai also faced fraud charges, and his application for bail was denied, meaning he will be detained until April 16.
Some legal experts considered that given Lai's infamous behaviors, it's highly possible that he could face a severe sentence under the national security law for Hong Kong, and "life imprisonment can't be ruled out," Tian Feilong, a legal expert on Hong Kong affairs at Beihang University in Beijing, told the Global Times in an earlier interview.
As the Trump administration, which has been severely confronting with China over Hong Kong affairs, has now entered its transition period, observers see this as the window of opportunity to continue consolidating the victorious fruits of the national security law for Hong Kong, which aims at secessionists like Lai and Joshua Wong. And in the coming months, more reforms in the law enforcement, legal, education and civil affairs sectors are expected to be accelerated to "clean up the mess" left by anti-government rioters in the Chinese city.