'Enough is enough', HK residents' joint statement says
People's Daily app
1565843629000
The front pages of several Hong Kong newspapers carried a joint statement from Hong Kong residents and launched an online signature campaign on August 15.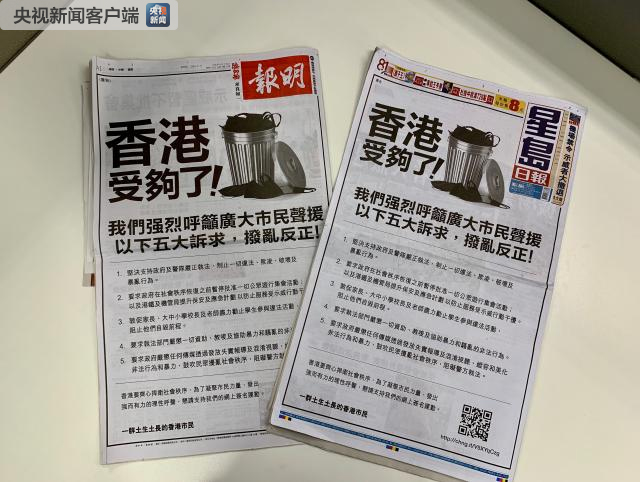 Photo: CCTV
The joint statement was launched by a group of people who call themselves "those who were born in HK and love HK". They hope to consolidate the strength of Hong Kong residents, and be the voice of reason that will attempt to safeguard social order.
The joint statement strongly appeals to all Hong Kong residents to show solidarity with five appeals.
They called for strong support for the government of China's Hong Kong Special Administrative Region (HKSAR) and the Hong Kong police in enforcing the law to stop all illegal activities, bullying, sabotage and rioting.
They asked the HKSAR government to suspend the approval of all public processions and assemblies until social order is restored.
They also appealed to parents, principals and teachers of primary and secondary schools to do the utmost to discourage students from participating in illegal activities.
They urged law enforcement departments to severely punish offenses that finance, abet and aid violence and disorder, and the HKSAR government is also required to severely punish any media for distributing false reports which condone and glorify illegal acts and violence, advocate public disorder and obstruct police enforcement.
(Source: the Paper; compiled by He Jieqiong)