China defends detaining Canadians spies, says Meng Wanzhou's arrest has political purpose
People's Daily app
1566573541000
Foreign Ministry spokesperson Geng Shuang criticized the US's recent wrong remarks on the detention of two Canadian spies and Meng Wanzhou's arrest at a regular press conference on Friday.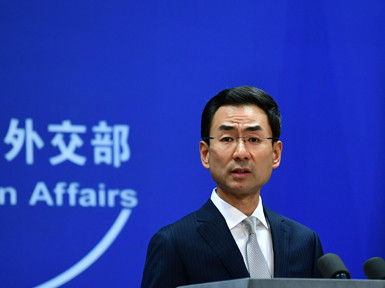 (Photo: fmprc.gov.cn)
US State Secretary Mike Pompeo said the US government is working on the release of two Canadian spies detained by China during his official visit to Canada on Thursday.
When asked about Pompeo's stance, Geng reiterated that China "resolutely opposes the US's thoughtless remarks."
"China's legal authorities handled the case independently. It has nothing to do with the US," Geng said. "The US needs to stop making irresponsible comments and using double standards on legal questions."
Pompeo said the Canadian detentions and Meng's arrest are not "morally similar." Chrystia Freeland, Canada's minister of foreign affairs, insisted that Meng's case was a criminal justice matter, not a political one.
"The drama staged by the US and Canada revealed the political purpose of Meng Wanzhou's arrest," Geng said.
He then drew a hard line between Meng's arrest and the detentions of two Canadians.
"The two Canadians, Michael Kovrig and Michael Spavor, were detained for national security crimes," Geng said. "But Meng was held up as a political hostage. The US government saw her case as a way to crack down on China's high-tech companies. And Canada is being an accomplice of the US."
"People will tell right from wrong themselves," Geng said.
"The international community could learn from Meng's case how a Chinese citizen's legal rights are infringed upon by both countries for political reasons," Geng warned. "China urges that Canada and the US must reflect on their wrongdoings. Canada should release Meng Wanzhou immediately and ensure her safe return to China."