Latest resurgence of COVID-19 in E.China's 'shoe city' unlikely to affect travel in national holidays
Global Times
1631499838000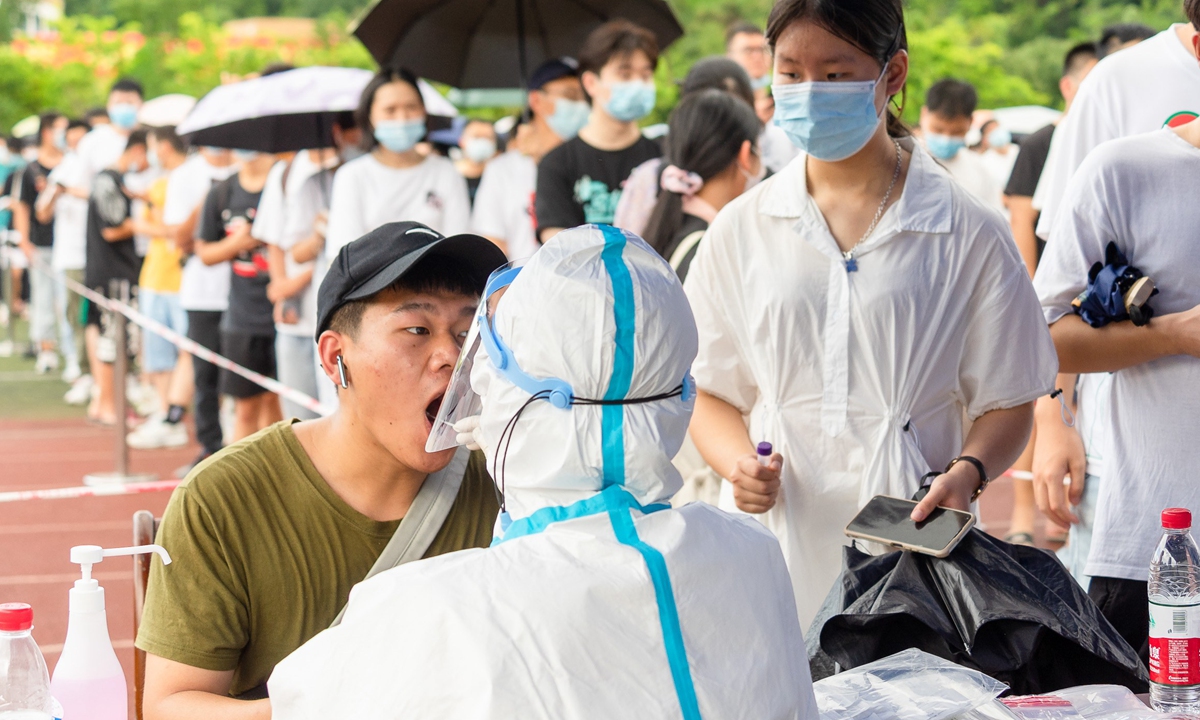 China's sneaker manufacturing hub, the city of Putian in East China's Fujian Province, registered 64 new locally transmitted COVID-19 infections in the last two days - the latest outbreak in China that has cast a shadow over the upcoming national holidays.
However, epidemic experts believe the fresh outbreak will not affect the general tourism market ahead of the Mid-Autumn Festival and the October 1 National Day holidays as the resurgence is so far confined to Putian and the adjacent city of Quanzhou. They said the scale of the latest outbreak is much smaller than the most recent outbreak that started in Nanjing, capital of East China's Jiangsu Province, and spread within Jiangsu and then to some provinces and cities across the country.
Putian residents told the Global Times that the resurgence of COVID-19 infections has disrupted their travel plans for the upcoming holidays. Last year, there were some 637 million domestic trips in the autumn holiday period across the country.
"Before the outbreak, I was planning to go to the seaside with my family. But now we'll have to stay home," a Putian resident surnamed Hu told the Global Times on Sunday.
Hu, who has a 2-year-old, said she is anxious about the epidemic situation, as the virus has spread among children at a local school. "Now my kid and I seldom go out," she said. "I've stocked up necessities at home."
A Baidu "migration map" showing the most popular travel routes out of Putian between August 26 and September 11 reveals that most people traveled from Putian to nearby cities in Fujian, including Fuzhou, Quanzhou and Xiamen. Major cities in South China's Guangdong Province, such as Guangzhou and Shenzhen, also saw steady population inflows from Putian.
Wang Guangfa, a respiratory expert at Peking University First Hospital, told the Global Times on Sunday that judging from the current situation where infections are mostly confined to Putian, the outbreak will likely be smaller than the Nanjing one.
Wang said the outbreak is unlikely to impact travel during the national holidays as long as affected areas maintain strict epidemic control. But people still have to wear facial masks and remain alert to potential infections and avoid gathering during travel.
China has gained vast experience in handling localized outbreaks. If anti-epidemic measures are properly implemented and there are no deficiencies in combating the virus, case numbers should decline in seven days, with no new cases after 28 days, Wang noted.
Authorities in Putian responded quickly and took necessary measures to curb the spread of virus.
Putian local government asked residents to stay in the city and those who must leave must hold proof of a negative nucleic acid test taken within the previous 48 hours, the city's anti-epidemic group said in a notice released on Sunday. Public venues such as cinemas, museums and libraries must suspend indoor activities. Restaurants should limit their operation hours, it said.
From Monday, all schools and kindergartens in Putian, excluding grade three senior high students and boarding schools, will go to online classes. Fujian provincial education authorities asked all students and teachers to undergo nucleic acid tests before September 19 and those who traveled to Putian are barred from campuses and must quarantine at home for 14 days.
Vaccination of teachers and students aged 12 to 17 in the city is expected to be finished before Wednesday, Putian education officials said on Saturday.
Health experts reached by the Global Times said they approve of the measures, saying vaccines are effective in reducing severe illness with most of those with breakthrough infections only displaying mild symptoms.
Since Friday, Putian registered 64 positive COVID-19 infections, including 32 confirmed cases and 32 asymptomatic cases, many of whom are students. The outbreak spread to Quanzhou which has one confirmed and one asymptomatic case. The two worked at a shoe factory in Putian and lived in a nearby village.
Among the 64 positive COVID-19 infections, at least 18 were found to be students from Putou elementary school, according to information released on Sunday by the city government.
As of Sunday afternoon, Putian has tested more than 196,000 people. Fengting, a district in Putian, was listed as a high-risk region and three other districts are listed medium-risk regions, according to authorities at the press conference on Sunday.
The source of infection for two students from Putian's Xianyou county who were initially identified is so far unknown, but preliminary studies suggest it is related to the Delta variant, with experts suspecting that the outbreak may be caused by a patient who recently returned to Putian from Singapore.
The patient, surnamed Lin and the father of a student in Xianyou, came back from Singapore on August 4. Upon arrival, Lin had undergone a 14-day quarantine in Xiamen and a seven-day home health monitoring during which Lin took nine nucleic acid and serologic tests, which were all negative. He only tested positive on Friday.
Peng Zhiyong, director of the intensive care unit of the Zhongnan Hospital of Wuhan University, told the Global Times on Sunday that this seemingly longer incubation period of this patient is very unusual. About 95-99 percent of infections are still easy to detect. Strong infectivity and viral loads of the mutated variant mean that Delta-infected cases are easily caught by regular nucleic acid tests, Peng said.