China, UAE issue joint statement on strengthening bilateral comprehensive strategic partnership
China and the United Arab Emirates (UAE) on Tuesday issued a joint statement on strengthening their comprehensive strategic partnership.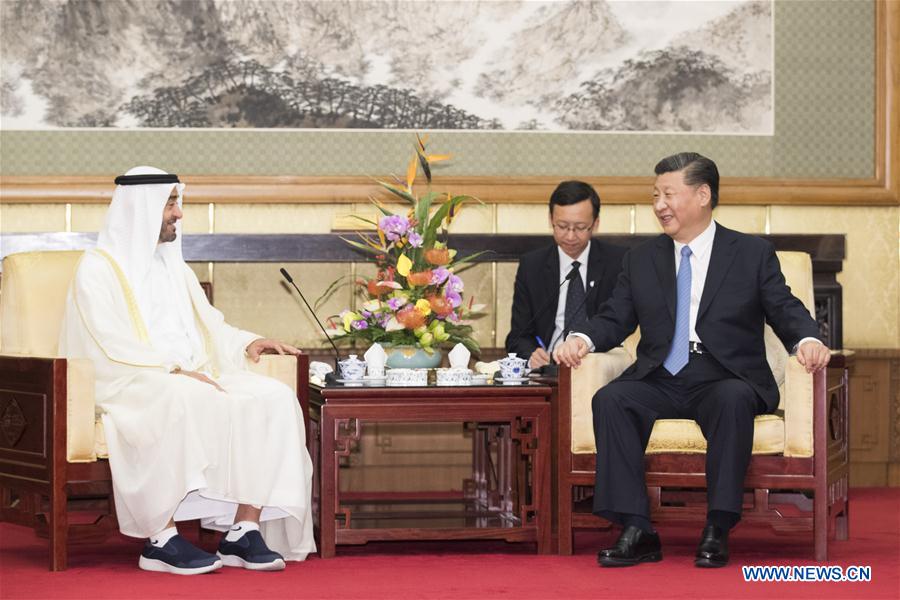 Chinese President Xi Jinping (R) meets with Sheikh Mohammed bin Zayed Al Nahyan, crown prince of Abu Dhabi of the United Arab Emirates, at the Diaoyutai State Guesthouse in Beijing, capital of China, July 22, 2019. (Photo: Xinhua)
The two sides will make the development of the China-UAE comprehensive strategic partnership a priority and strengthen cooperation in international and regional issues, said the statement.
Under the agreement, the two nations will provide each other with firm support on issues concerning national sovereignty, independence, territorial integrity and security.
The UAE is highly appreciative of China's efforts to promote ethnic unity and harmony and supports China's measures to safeguard national security, stability and regional tranquility.
It also opposes anti-China separatist activities by religious extremist forces, ethnic separatist forces and violent terrorist forces.
Meanwhile, China supports the UAE's efforts to safeguard national sovereignty, unity and territorial integrity.
The two sides will further deepen cooperation within the framework of the Belt and Road Initiative and strengthen cooperation in all areas of the comprehensive strategic partnership.