Employment stability set to continue
Employment is forecast to remain stable even as the job market faces increasing pressure in stabilizing hiring due to the novel coronavirus pneumonia outbreak, senior officials said at a news conference organized by the State Council Information Office on Tuesday.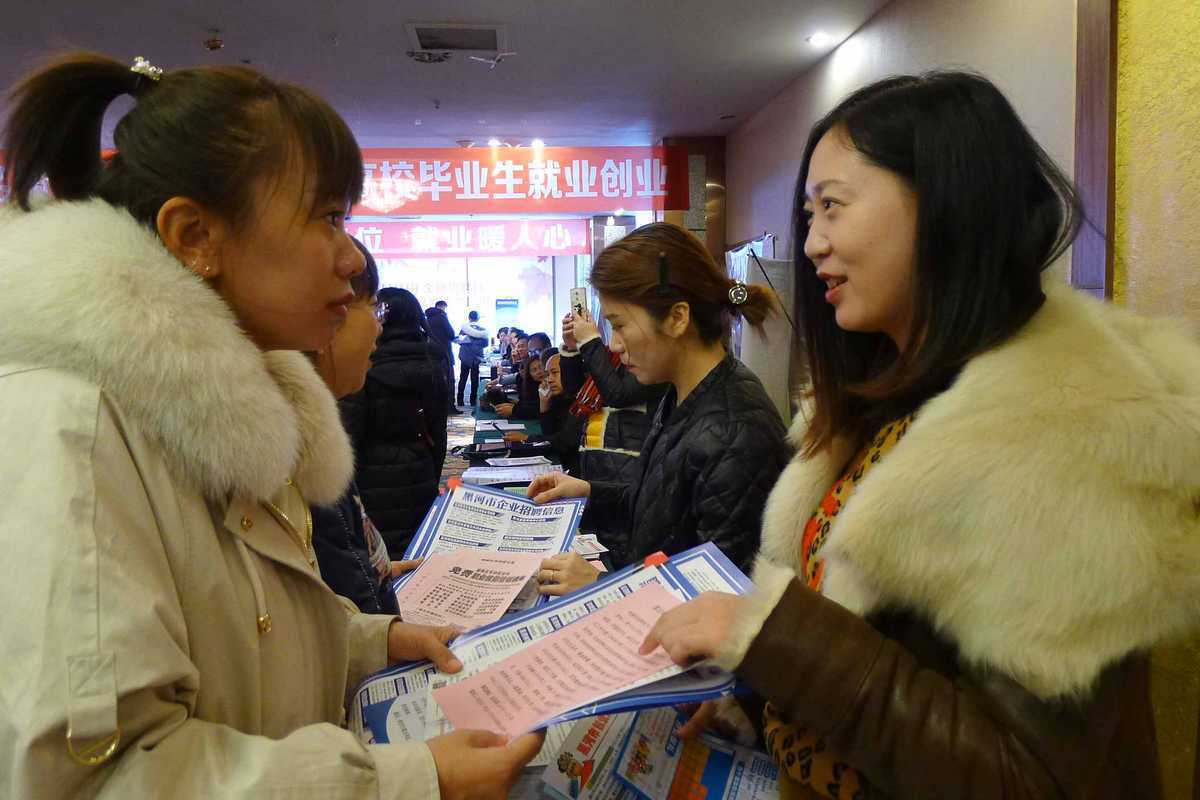 College graduates hand in resumes at a job fair in Heihe, Heilongjiang province, on Nov 19, 2019. (Photo: China Daily)
Zhang Ying, director of the employment promotion department of the Ministry of Human Resources and Social Security, said at the conference that the epidemic has affected companies, especially small and medium-sized enterprises. There is a labor shortage because of policies restricting population flow, Zhang said.
"However, the situation will be relieved after the epidemic is better controlled," she said. "Companies' demand for workers will further expand."
Zhang said that the ministry has taken measures to help companies and workers get through the current tough period.
"We are making full use of the vacancies now available, such as in those positions producing medical supplies. Central and local governments also have released preferential policies to small and medium-sized enterprises such as reducing taxes and providing them with rent allowances."
"Financial allowances were also given to companies and human resources units that organized production and transportation of medical supplies during the just-completed Spring Festival holiday," she said.
Also, companies that organize online or offline training courses for workers unable to resume their work because of the epidemic will be eligible for subsidies from central government departments.
In late January, the ministry released a notice saying that companies facing hardship because of NCP can adjust workers' salaries, change work shifts and shorten work hours after conferring with their workers in order to help avoid downsizing.
Zhang said the ministry also put greater stress on employment of some key groups including migrant workers, college graduates and workers in areas hit hard by the epidemic.
The ministry, jointly with four other central government departments including the Ministry of Education, released a notice on Feb 5 encouraging universities and companies to organize recruitment tests and interviews online to help college students get information on the job market.
"We are guiding migrant workers to return to their positions in good order," Zhang said.
Companies and administrative units are encouraged to postpone in-person written tests and interviews in accordance with epidemic control measures. But they also can move those processes online.
Zhang said that the ministry will further enhance their activities in helping control the epidemic and promoting orderly resumption of companies' business.
"The ministry will publish information online focusing on work resumption, giving people information such as when companies will open again and which companies are in need of workers. We suggest that workers check with their managers on the exact date of their return to work before setting off for their workplace. And we suggest job-seekers send in their resumes online," she said.
Zhang said companies producing medical supplies such as masks, protective suits and disposable gloves and industries providing power and water supplies are facing a shortage of workers.
Zhaopin, an online recruitment agency in Beijing, said in a report on Monday that about 30 percent of companies surveyed are unable to pay wages on time while 30.4 percent surveyed said they will downsize because of economic losses from the epidemic.