Podcast: Story in the Story (12/9/2019 Mon.)
People's Daily app
1575827879000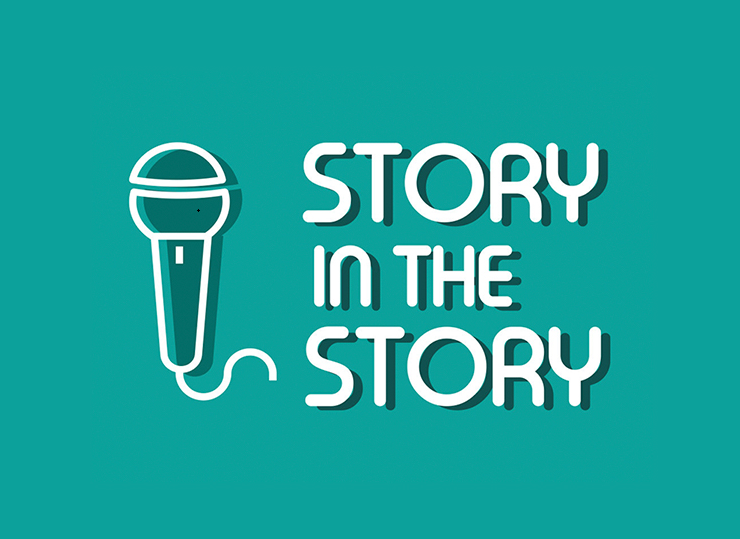 From the People's Daily App.
This is Story in the Story.
Winter arrives in Northwest China's Xinjiang Uyghur Autonomous Region earlier than most parts of the country.
Taking advantage of the snow, Xinjiang has sent out invitations to promote their winter tourism.
The largest provincial region in China, Xinjiang has great resources to develop winter tourism. With the Beijing 2022 Winter Olympics approaching, snow tourism in Xinjiang is trending.
The Xinjiang government recently introduced 10 routes they designed for tourists visiting during the winter season.
"Ice and fire" is recommended as the first route on the list. In the 8-day-trip, tourists could visit Tianchi Lake, an alpine lake and world nature heritage site near the Tianshan Mountains, and Kanas National Geopark, home to a mythical monster similar to the one in Loch Ness. Tourists can also enjoy a hot spring during the trip.
Another 8-day-trip would feature unique natural and cultural scenes in southern Xinjiang.
Today's Story in the Story looks at how Xinjiang is cashing in on the build up to the 2022 Beijing Winter Olympics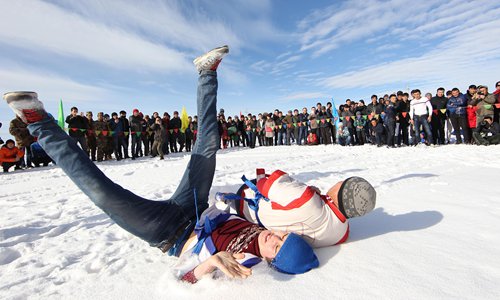 Herdsmen take part in a Kazak wrestling match in a snowfield during the opening ceremony of the snow and ice tourism festival in Zhaosu county, Northwest China's Xinjiang Uyghur Autonomous Region, on January 16, 2016. (Photo: VCG)
Over the past two years, stability has benefited Xinjiang and tourism developed greatly under this circumstance, said Bu Dengke, an employee from the Xinjiang culture and tourism department.
The autonomous region has seen tourism as a key sector and engine of high-quality development in Xinjiang, Bu said.
Altay, which is located at the northern end of the region with mountains bordering Russia, has great advantages for developing winter tourism.
Hu Jinliang, an official from the publicity department of Fuyun county in Altay Prefecture, said the local government has made a full plan for the upcoming winter tourism.
"Roads to the ski resort in Fuyun county have been updated and the projects to update other infrastructure are expected to be accomplished before November. We also have helicopters to send people to the ski resort," Hu said.
Since Beijing is hosting the 2022 Winter Olympic Games, many winter sports will be popular and Xinjiang, especially Altay, is focusing on attracting visitors in winter, Hu said, noting that the government of Altay gave an introduction and marketing event in Beijing recently and signed cooperative agreements with various businesses.
Instead of living in a hotel, visitors to Fuyun can also live in the farms of Kazak families and have a taste of their lifestyle.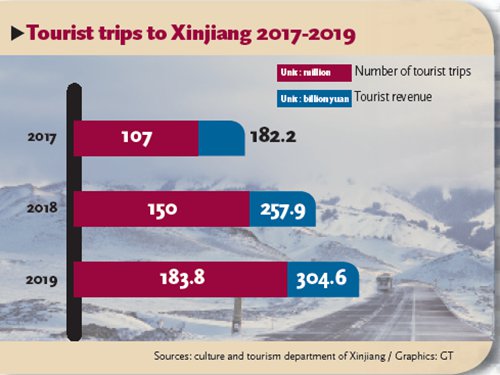 Traveling hub. (Photo: Global Times)
Guli Abulimu, deputy chief at the culture and tourism department of Xinjiang, said that Xinjiang has unique natural resources of ice and snow.
"The region has a long winter, in some places lasting from November to March," she said. "In winter the temperature is low but duration of sunshine is long. The high-altitude mountains are covered by snow all year round. Therefore, Xinjiang could develop ice and snow tourism."
Xinjiang has traditionally been more popular for tourists in warmer seasons. However, Guli said that in recent years, the region has developed many facilities, tourist products and promotion of winter tourism, attracting more tourists.
The region is digging into the potential of ice and snow tourism and building a traveling hub in western China, Guli said.
Xinjiang has started building a grand transportation network, which largely supports the development of the tourism sector, Xinjiang-based news website ts.cn reported.
The region has 6,270 kilometers of railways, 5,200 kilometers of expressway and 21 civil airports. The transportation department in Xinjiang has invested 800 million yuan to materialize key projects and better combine transportation and tourism, said the report.
Statistics show that between January to September, Xinjiang welcomed 184 million visitors, a 40.9 percent increase annually, and received an income of 304.6 billion yuan, 40.78 percent higher than last year, according to the culture and tourism department of Xinjiang.
(Produced by Nancy Yan Xu, Brian Lowe, Lance Crayon and Paris Yelu Xu. Music by: bensound.com. Text from Global Times)