Hainan University investigates professor for online comments supporting HK separatists
Global Times
1588287896000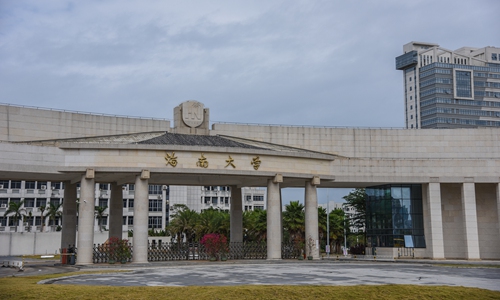 Hainan University. (Photo: VCG)
A second Chinese professor is being investigated in a week after being suspected of publishing improper online comments supporting Hong Kong separatists.

Hainan University launched an investigation on Wang Xiaoni, a retired professor from the College of Humanities and Communication, for alleged improper comments online, the university said on China's Twitter-like Sina Weibo Thursday.

Netizens pointed out that Wang has posted and reposted comments supporting Hong Kong separatists on Sina Weibo between 2011 and 2014. In a post in 2012, she posted a picture of Lei Feng, a soldier renowned in China for his generosity and altruistic deeds, calling a memorial of Lei "materials for the Theater of the Absurd."


Wang's investigation came after Hubei University announced Sunday an investigation of Liang Yanping, a teacher from the School of Chinese Language and Literature at the university. Netizens claimed that Liang had published online comments supporting Hong Kong separatists and visits to Japan's controversial Yasukuni Shrine years ago.

In both cases, many netizens showed support online toward the launching of the investigation, as the authorities in 2018 published guidelines emphasizing morality of university professors and lectures.

All of Wang's Sina Weibo posts were found to have been deleted on Wednesday. Some netizens continued to share screenshots of her posts and expressed strong opposition to her comments.

"It won't make sense if the university doesn't fire such a person who is anti-Communist Party and the nation, and shows no respect to the martyrs," wrote a netizen on Sina Weibo Wednesday.

The related hashtags about Wang Xiaoni's improper comments have drawn more than 71 million views on Sina Weibo as of Thursday afternoon. After the university announced the investigation, many netizens applauded the move and called for a thorough investigation, as it concerns the education of the students.

According to media reports, Wang joined the China Writers Association in 1988 and was hired as a professor by Hainan University from 2004 to 2012.