Expert: 2nd-child policy worsens work bias against women
China's second-child policy has worsened employment discrimination against Chinese women, who have become less involved with labor and are finding it more difficult to find jobs and get promoted, a senior expert said.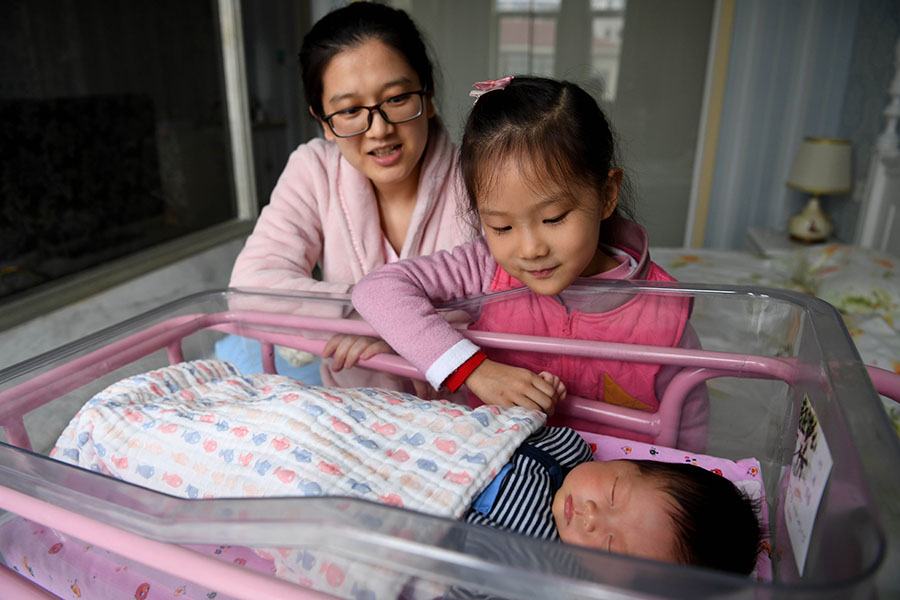 Motherhood, which relates to marriage, reproduction and child care, affects the occupational development of women in terms of income, welfare and recognition of working capabilities, and it has lowered their wages and employment status, said He Dan, director of the China Population and Development Research Center and a national political adviser, at a seminar in Nanchang, Jiangxi province, on Saturday.
In a survey of working women who have given birth over the last 10 years, 28.9 percent saw their wages drop, while 16 percent said their salary was cut by more than half and 14.5 percent said their job posts were changed, He said.
The number of newborns in China was 14.65 million last year, but only 4.2 million working women received a childbirth allowance, she said.
Other figures showed that 61.7 percent of children who have not attended kindergarten are mainly taken care of by their mothers, 35.7 percent by grandparents and only 1.1 percent by fathers. Married women also spend an average 55.8 hours a week doing housework, while husbands spend only 25 hours.
He proposed to further ease the burden of childbirth and child-rearing among women by offering public childcare services, optimizing maternity leaves, encouraging more male involvement in child care, strengthening family security and safeguarding women's equal rights in employment after childbirth.
Members of the younger generation are delaying marriage and childbirth. The average marriage age for women rose from 23.6 in 2006 to 26.3 in 2016, while a woman's age for first childbirth increased from 24.3 to 26.9. The preferred marriage age in the post-1990s generation grew to 29.9, China Women's News reported.