Country in top ranks hosting foreign students
China is attracting an unprecedented number of foreign students on the back of its rising influence and globalization, putting the country in a distinct position of being not just the world's top "supplier" of international students but also a leading educational draw, according to latest analyses.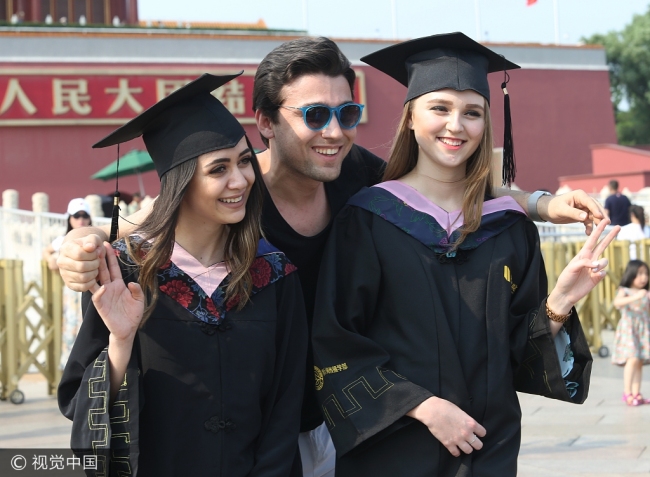 (File photo: VCG)

"In China, which aspires to host half a million international students by 2020 (and is close to reaching that goal), international students are benefiting from new opportunities to undertake internships, smoothed pathways to residency permits, and a variety of programs which enable graduates to stay in-country to work," according to a major industry report released in Beijing on Wednesday. The report was jointly presented by leading independent think tank Center for China and Globalization, and the Institute of International Education and World Innovation Summit for Education global exchange and education groups.
The Chinese education sector forms a major part of the current "shift away from the long predominance of Anglophone countries in the higher education market" toward emerging players and China's "focused approach to building and marketing its higher education sector as a destination, paired with its well-established source of outgoing students, are core elements of the ambitious Belt and Road Initiative, and dramatize the pivotal role China plays on the global stage today", the report said.
Five English-speaking countries (the United States, United Kingdom, Australia, Canada, and New Zealand) together host almost half of all international students, but other countries such as China, Russia and the Netherlands are actively recruiting them, with China alone making great strides in the past two decades to emerge as the third-largest host destination accounting for 10 percent of globally mobile students, it said. Top host destinations received more than 2 million globally mobile students in 2001, with that number rising to 5 million last year, according to the report.
Growing talent
"China has been paying special focus on nurturing talent, which will play an even greater role in the country's development and globalization," said Zhou Mansheng, senior researcher at the think tank, in a forum on the latest trends.
"In that regard, both students from abroad and Chinese students heading overseas will be equally important," said Zhou, who is also vice-head of the Chinese Society of Educational Development Strategy.
With the exception of a sizeable number of students from the US, most international students in China come from South Korea, Thailand, Pakistan, and India, according to the report. Overall, students from the region comprise nearly one-fifth of all international students in the country, with recent years recording a jump in Indian students for medical studies and among African students, it said.
China itself remains the world's leading supplier of international students, with more than 662,000 Chinese going abroad to study last year, a rise of more than 8 percent year-on-year, according to the Ministry of Education.
The latest report is important as it sheds light on the changing strategies by countries to attract students and retain them after graduation, said Ahmed Baghdady, World Innovation Summit for Education's research and content development manager.
"I'm seeing intentional efforts from China to attract international students from different parts of the world, including Africa, so it's important to consider how we can revisit the traditional understanding of international student recruitment," he said.
Major drivers
Internationalization at home, revenue and building of knowledge economies form some of the main reasons behind efforts to draw foreign students, with scholarships, internships and opportunities for high-tech and e-commerce students to transition to the workforce being some of China's key strategies in the drive, according to the report.
The rapid rise in the number of African students studying in China, which is now the second-largest host destination for African students after France, alone "reflects the expanding economic and business ties between China and African countries, as well as China's commitment to provide scholarships to African students", said the report. The number of African students in China grew from nearly 3,000 to almost 50,000 over the 2005-2015 period, according to ministry figures.
In that regard, the Belt and Road Initiative has helped China toward its goal of hosting the rising number of international students, but universities and governments also "need to work on how to really integrate and take advantage of the many interesting and bright people studying on campuses", said Paul Turner, the regional director for East Asia at the Institute of International Education.
"You have to have everything working together to be more successful. Government procedures, policies, universities ... having a kind of ecosystem that brings all these things together," he said.
Other industry players at the forum also pointed to the challenges that remain for China to draw and retain foreign students and talent in line with global practices, including facilities and amenities.
Yang Changju, international consultant at the Beijing University of Technology and a professor at the international education college of South-Central University for Nationalities, said more must be done for foreign students to better understand Chinese society on the ground, beyond their classrooms.
"We should strive for greater diversity and better selectivity, for students to have a better educational and cultural experience."