Xi's stories: Giving rural people access to sanitary toilets
People's Daily app
1613373383000
On July 16, 2015, President Xi Jinping came to inspect Guangdong village, Helong city of Yanbian Korean Autonomous Prefecture, Jilin Province. Xi pointed out that along with agricultural modernization, construction to revitalize rural areas should also be pushed forward constantly, so a "toilet revolution" should be conducted to give rural people access to sanitary toilets.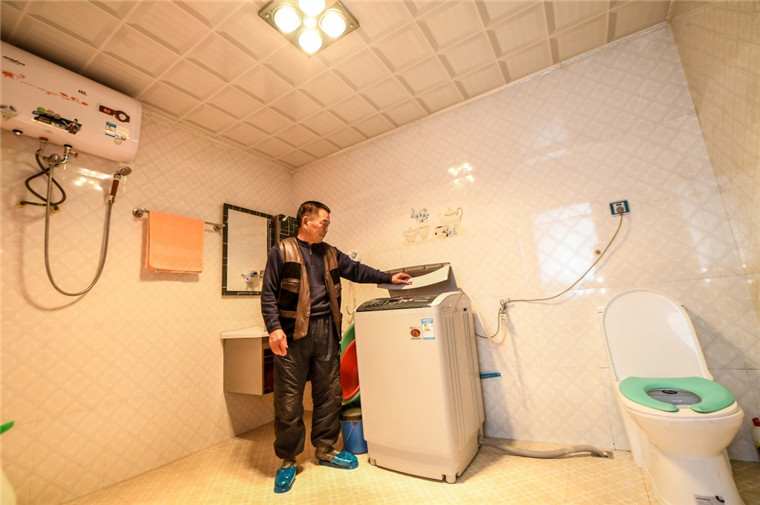 During the inspection, Xi went to the home of 70-year-old villager Li Longzhi. Following Korean customs, he took off his shoes and went into the house, learning about Li's living conditions. Li recalled, "When Xi heard that many villagers were still using dry latrines, he said there should be a 'toilet revolution'."
In the past five years, bearing in mind Xi's instructions, a "toilet revolution" affected the well-being of 242,000 families in Yanbian prefecture, has been launched.
Traditionally, the toilet was a pit and two bricks framed by wood. "In Guangdong village, now all the traditional toilets are abandoned," Xuan Jie, the first Party secretary of Guangdong village, told reporters.
Nine years ago, Helong city was encouraged to develop rural tourism and gave subsidies to farmers to upgrade to indoor toilets. Li Longzhi was the first to follow suit and the first to use a flush toilet.
But Li's toilet was a "cellar type," with feces flowing into the septic tank under the yard. "It is very easy for leaks in the septic tank to pollute the groundwater," said Sun Taisong, an official from Yanbian Agricultural and Rural Bureau.
Since 2015, the pilot project in Guangdong village has been using three-part purification tanks for sewage treatment. In 2019, the septic system was centralized, and a sewage pipe network has been laid.
Helong city has completed its transformation to a centralized sewage pipe network in 12 villages.
Flush or pit toilets? That is a question.
The 12 villages carrying out this transformation only account for 15.8 percent of the villages in Helong city, since the cost of transformation and the requirements for residential density, housing quality and terrain flatness are very high.
A one-size-fits-all approach never works.
Although the three-section sewage tanks are more advanced than the "cellar type," this system is not suitable for every household in Yanbian because of the low temperatures in winter.
Due to water shortages, in some villages people are encouraged to build dry pit toilets.
Walking into Donggou village, you can see a green pavilion in every family's yard, which is the "sanitary dry toilet." When you go into the toilet, you can pull flush mechanism and see sawdust falling down instead of water. The human waste falls into a replaceable waste container.
This kind of toilet takes up little space, is clean and beautiful, and can be used for composting. After the waste is fermented, it can be used as farm manure. At present, the popularization rate of sanitary toilets in Helong city has reached 93 percent.
Jin Jun, who returned to Guangdong village to set up a rice processing factory, said that previously he felt embarrassed when his guests ask to look around the village or go to the washroom. Now the village is clean and hygienic after the construction projects supported by the local government. He said in a rural area, sewage treatment and toilet renovations really matter.
(Translated by Jia Lijuan, edited by Sun Tianran and Xie Huiwen)