Coronavirus outbreak prompts wave of donations
The novel coronavirus has put China and the rest of the world on high alert. With nearly 43,000 cases of infection and more than 1,000 deaths, the pressure to find a vaccine or adequate treatment is extreme, and the same goes for manufacturing and supplying the affected areas with medical materials. All of this requires financial resources, and the world's richest have stepped forward and opened their wallets.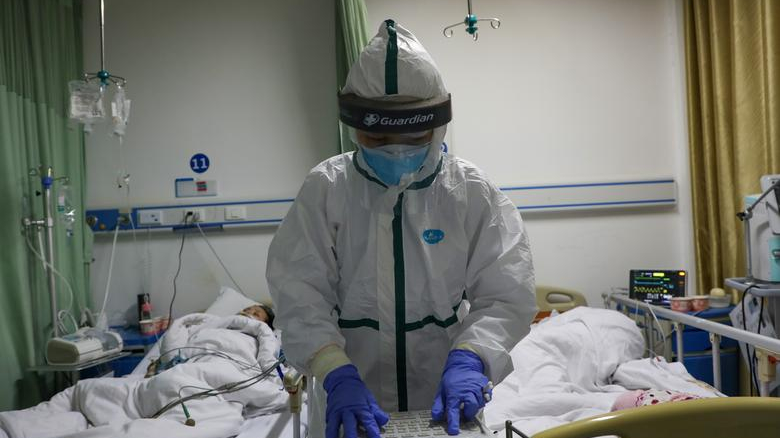 A medical worker in a protective suit in an isolated ward of a hospital in Wuhan, Hubei Province, China, February 6, 2020. (Photo: China Daily)
Hong Kong billionaire Li Ka-shing is the latest to contribute to the growing number of donations to help fight the virus.Just last week, Bill Gates announced a 100-million-U.S.-dollar donation to respond to the virus through his foundation, the Bill & Melinda Gates Foundation. This amount includes the 10 million U.S. dollars the organization had already committed to the outbreak in late January.
"Our hope is that these resources will help catalyze a rapid and effective international response. This response should be guided by science, not fear," said Gates Foundation CEO Mark Suzman.
The total amount is divided into three different objectives: 60 million to the development of vaccines and diagnostics; 20 million to accelerate detection, isolation and treatment in cooperation with the WHO, U.S. Centers for Disease Control and Prevention, the National Health Commission of China and the Chinese Center for Disease Control and Prevention; and the other 20 million to help public health authorities in sub-Saharan African and South Asian countries, which would be extremely vulnerable to the virus.
Recognizing the possibility of the virus transmission continuing for several months, it notes that "safe and effective vaccines and therapeutics will be needed to help sustain long-term approaches to disease control and to prevent severe disease and deaths."
According to Reuters, through the Li Ka-shing Foundation, the tycoon has donated 100 million Hong Kong dollars (12.9 million U.S. dollars) to Wuhan, the epicenter of the new coronavirus.
Adding to this list, Jack Ma, who was one of the first billionaires to donate to this cause, has pledged 14.5 million U.S. dollars through his foundation to help develop a vaccine.
The tech billionaire also opted to distribute 40 million yuan (5.8 million U.S. dollars) for two Chinese government research organizations.
Macao gaming operators donate $25 million
Private companies are also pledging their funds to help fight the outbreak. The most recent ones are China's Macao Special Administrative Region (SAR) casino operators. Even though the local government decided to implement a two-week temporary suspension of operations, the first in the SAR's history, casinos, and "junkets" went forward with donations.
Galaxy Entertainment Group, Melco Resorts, MGM China Holdings, Sands China, SJM Holdings, and Wynn Macau all donated 20 million patacas (2.5 million U.S. dollars) each to purchase medical supplies and support communities in Hubei Province, as announced in press releases. Some of the companies also allocated an extra 5 million patacas (625,000 U.S. dollars) to support prevention initiatives in the SAR itself.
The Liaison Office of the Central People's Government in the Macao SAR acted as the intermediate for most of the donations.
Besides casino operators, junket groups are also contributing. Suncity Group has donated 30 million patacas (3.75 million U.S. dollars) to Hubei Province; Tak Chun Group has announced a donation of 20 million patacas (2.5 million U.S. dollars) plus 100,000 masks to Hubei. Meg-Star Group said it was giving 10 million patacas (1.25 million U.S. dollars) – via its Meg-Star International Charity Association – for medical supplies to Hubei Province. The Guangdong Group has also given 10 million patacas (1.25 million U.S. dollars).
Multinationals open their wallets
When the surging number of cases started to make the headlines, Tencent Charity Foundation took a step forward and announced a 300-million-yuan (43 million U.S. dollars) donation to be used "for front-line combat and prevention of epidemic disease in Wuhan and other places," including the purchase of medical materials.
Besides money, the company offered a series of technological tools to help fight the medical industry dealing with the virus and free online services to ensure users can study from home.
Jack Ma's Alibaba also created a 144-million-U.S.-dollar fund to buy medical supplies for Wuhan City and Hubei Province, and it's also offering artificial intelligence computing power to research organizations.
China Daily reported that Chinese internet search giant Baidu has created a special fund of 300 million yuan for epidemic prevention and public health security. The fund will also be used to support the development of drugs to combat the virus.
Tech company ByteDance, short video platform Kuaishou, and Bilibili donated 200 million yuan (28.7 million U.S. dollars), 100 million yuan (14.3 million U.S. dollars) and 10 million yuan (1.4 million U.S. dollars), respectively.
According to the Financial Times, Microsoft will contribute 142,400 U.S. dollars to support relief efforts in Wuhan City and Hubei Province.
And even Boeing announced in a press release a donation of 250,000 medical-grade face masks to aid workers and medical personnel in Hubei's Wuhan City and Zhoushan City in Zhejiang Province.
"Through our donation, it is our hope that we can help limit the spread of this virus and ease the burden on local aid workers and medical personnel," said Boeing President and CEO Dave Calhoun.