Year in review: Most touching stories of 2019
2019 has brought many news stories that moved us, such as a 6-day-old baby whose donated organs gave hope to others, a 60-year-old teacher devoted to rural education, doctors who never gave up to save patients, and three generations passing on the tradition to protect their home from desertification. We've selected some of the most touching stories to warm your heart at the close of the year.

Photo: Xinhua
Doctors revive patient whose heart stopped beating for 72 hours
A group of doctors in Xiamen, Fujian province, saved the life of a 26-year-old woman whose heart stopped beating for 72 hours.
On Jan 1, the woman had ventricular fibrillation when she was receiving treatment at the First Affiliated Hospital of Xiamen University. Her heart stopped beating and she lost consciousness. She was later diagnosed with fulminant myocarditis (FM), an inflammatory process in the myocardium causing acute heart failure.
Doctors from the emergency department and the extracorporeal membrane oxygenation, or ECMO, tried cardiopulmonary resuscitation on her for two hours but failed.
According to the medical treatment standard, the woman was supposed to have been declared dead in that condition. But the doctors didn't give up. "She's so young and we wanted to try additional efforts to give her a fighting chance," said Zhang Minwei, director of the intensive care unit, or ICU, at the hospital.
So they transferred the patient to the ICU and used medical devices to perform the functions of her organs. Thanks to the doctors' efforts, the patient regained some consciousness the next day and her heart started to beat after 72 hours.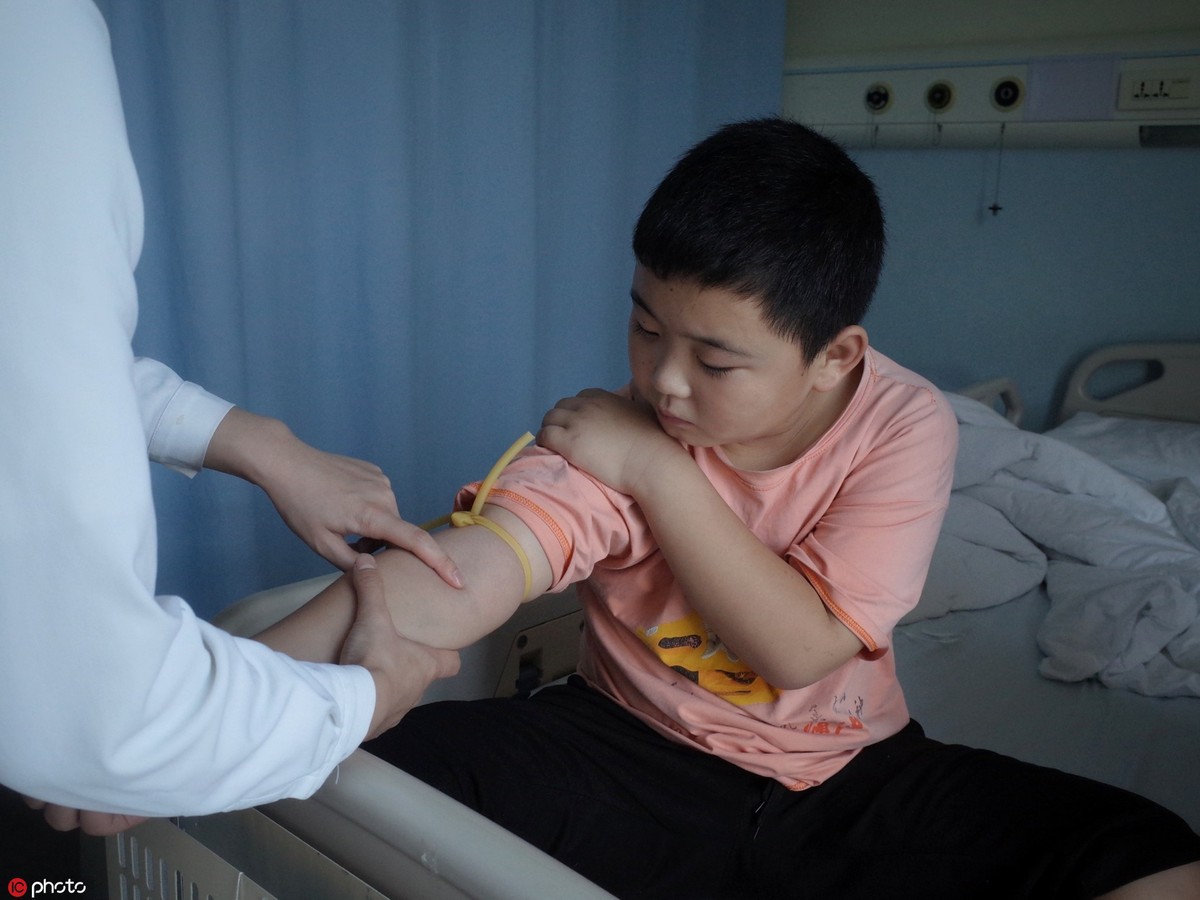 A nurse draws Lu Zikuan's blood for a test at a Peking University People's Hospital branch in Beijing. (Photo: IC)
Boy gains weight to save father's life
Lu Zikuan, an 11-year-old boy from Huixian county, Henan province, gained 15 kilograms in three months in order to donate bone marrow and save his father.
When he was 3 years old, the boy's father was diagnosed with myelodysplasia syndrome, or abnormal development of spinal cord, which is an early stage of leukemia. In 2018, the father's condition worsened. To save his life, a bone marrow transplant was needed. And for the transplant to be carried out, the donor had to weigh at least 45 kilograms.
By consuming five meals a day, the son ballooned from 30 kg to 45 kg since March, when his bone marrow was found to match that of his father.
On Sept 9, the operation went smoothly at a Peking University People's Hospital branch in Qinghe, Beijing. After being discharged from hospital, the boy started to lose weight and hoped to eventually get back to about 30 kg.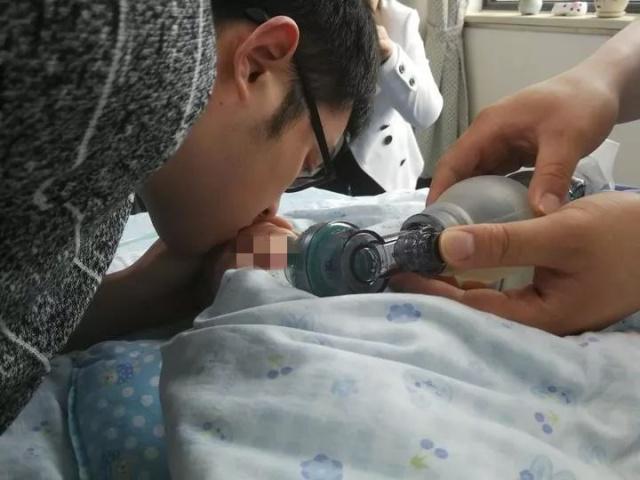 Mao kisses his daughter before she is sent away for the donation operation. (Photo: youth.cn)
Father donates 6-day-old daughter's organs
"Maodou, you went away without once seeing the world. Now the people who have received your corneas will see it for you. I know you would have supported Dad's decision. And please take care of Mom for me in the afterlife," a father whispered in front of a grave of his daughter, who died just six days after she was born.
On April 18, Maodou's father was waiting for his wife and their newborn baby outside the delivery room in a hospital in Huzhou, Zhejiang province. However, his wife died of an amniotic fluid embolism (AFE), a pregnancy complication that causes life-threatening conditions. The baby, suffering serious asphyxia, was sent to the intensive care unit, or ICU.
After sitting outside the ICU for a whole night, Mao decided to donate his daughter's corneas and kidneys, allowing her to live in another way. The decision was supported by his wife Feifei's family, who all believed this was something she would have liked.
On April 24, Mao signed the organ donation form. He kissed his daughter, put a cloth toy that her mother had made beside her, and watched her being pushed into the operation room. He said he hoped Maodou could reunite with her mother in the afterlife.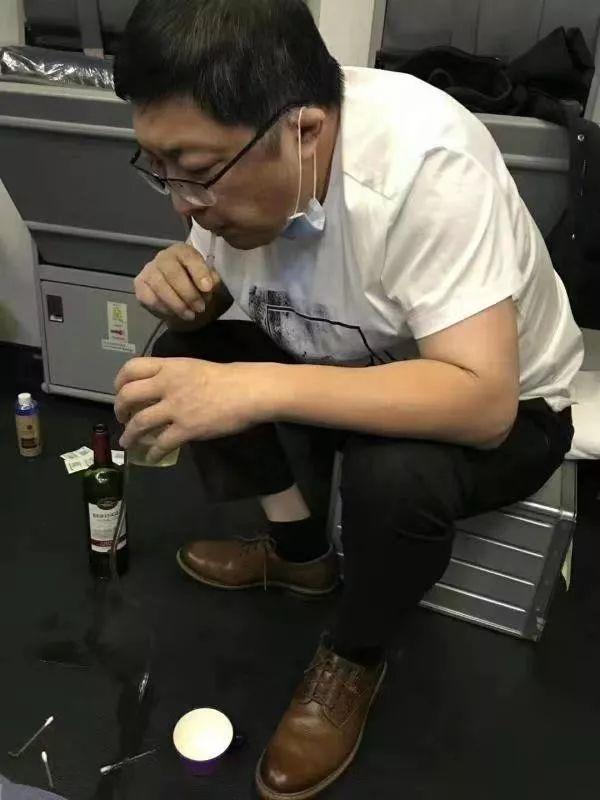 Zhang Hong, a doctor from the First Affiliated Hospital of Jinan University in Guangzhou, South China's Guangdong province, siphons out urine with his mouth. (Photo: people.com.cn)
Doctor on plane sucks out elderly man's urine
A doctor on board a flight saved an elderly man, who suffered acute urinary retention (AUR) and was at risk of bladder rupture, by sucking the man's urine out with his mouth.
Zhang Hong was on Flight CZ399 from Guangzhou to New York on Nov 19 when he learned of a man unable to urinate while six hours of flying time still remained before landing.
When a makeshift urine draining device made by another doctor onboard could not extract the man's urine, Zhang decided to siphon out the liquid with his mouth. He repeatedly siphoned out mouthfuls of urine, a process that took about 37 minutes.
With the urine drained bit by bit, the man gradually recovered. When the plane arrived in New York, the man got off the plane safely with his wife. Both of the doctors were later honored for their courageous life-saving acts.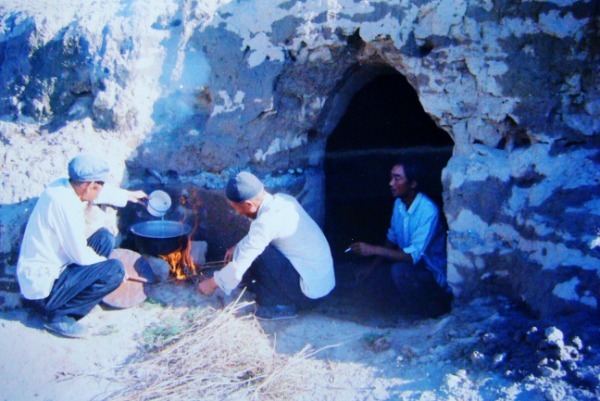 (Photo provided to chinadaily.com.cn)
Three generations in Gansu pass on fight against desertification
In the early 1980s, six villagers known as the "Six Old Men" started battling desertification in Gulang county of Northwest China's Gansu province.
When the "Six Old Men" began their work, the eldest of the group was 62 years old and the youngest 40. In 1981, they signed a joint contract to set up Babusha Forest Farm, pooled some money to buy seedlings and started forestation. In the early days, they met many difficulties but never gave up, ultimately achieving their goal of turning a desert into green space.
They vowed to persuade their children and grandchildren to follow them and continue forestation after they died.
In 38 years, three generations, together with other forest farmworkers, have turned more than 24,666 hectares of desert into green areas. They have planted over 40 million trees. In the protected area of the Babusha Forest Farm, the vegetation coverage rate has increased from less than 3 percent to more than 70 percent.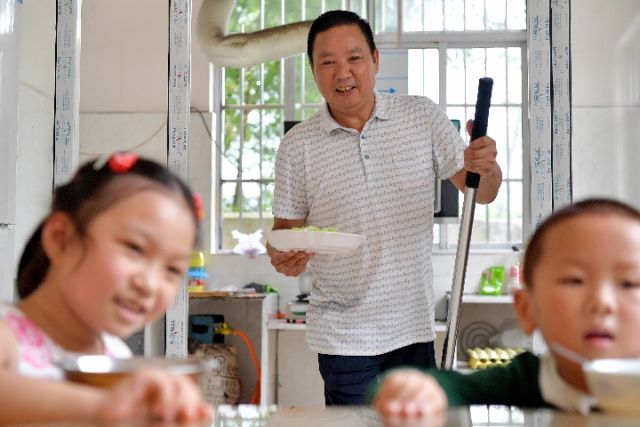 Gao Ziren. (File photo: Xinhua)
'Teacher on crutches' dedicates 42 years to rural education
Gao Ziren, a 60-year-old teacher who has paralysis in his left leg, requiring him to use a crutch, has devoted himself to teaching rural students for more than four decades.
For the past years, Gao has worn out more than 60 crutches on the way between his home, the school and students' homes at Meiling township in East China's Jiangxi province.
Born to a rural family in the township, after coming down with polio at the age of 1, Gao's left leg suffered muscular atrophy, which left him unable to walk normally. He didn't give up, persevering to finish his studies from primary school through high school.
He started his career in 1977 when a village official visited him about being a teacher in the village, as one of the two teachers there had left. Gao agreed to take the position, as he knew the importance of a teacher to students, especially those like him.
The roads were sandy and muddy in the past, causing him to stumble on the roads. "He has difficulty walking, but he is usually the first to come to school," said a colleague who worked with Gao Ziren for many years. During those days when the teaching conditions were still poor in the area, he usually brought some desks and benches from home and bought stationery for the impoverished students.
"I have taught many students since being a teacher for so many years. Some students would like to visit during the holidays, and it feels good that someone remembers you," Gao Ziren said.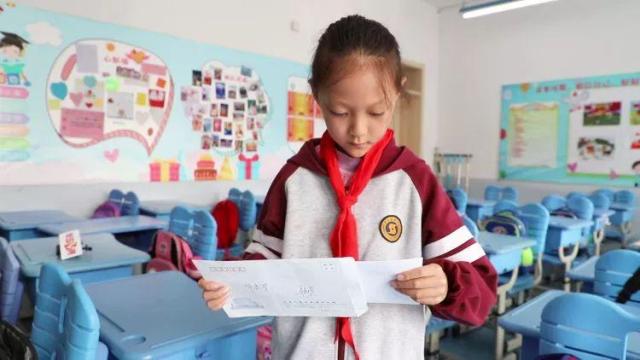 Cheng Guo opens the letter from China's Ministry of Foreign Affairs with the signatures of renowned spokespeople Hua Chunying and Geng Shuang. (Photo from Sina Weibo)
Primary school student inspired by letter from Foreign Ministry
Cheng Guo, a second-grade student at a primary school in Qingdao, Shandong province, unexpectedly received a reply from the Ministry of Foreign Affairs of China on Oct 23 after she wrote a letter to the ministry before National Day on Oct 1.
Cheng wrote to the ministry on the occasion of the 70th anniversary of founding of the People's Republic of China, saying that she really admires the wisdom and confidence of the government spokespeople, which fostered her passion for becoming a diplomat.
Cheng Guo's father, who wanted to encourage his daughter to realize her dream, helped deliver the letter to the post office together with his daughter on Sept 29.
In the letter in reply to Cheng Guo, it said "Cheng Guo, we're glad you write to us...Your letter is very encouraging...Your dream of becoming a diplomat is great! To be a diplomat, you have to love your country and the people, and have all-around capabilities. We believe that through hard work, you would succeed and we hope to see you in our team one day." A signed envelope was also attached to the letter from foreign ministry spokespeople Hua Chunying and Geng Shuang.
"I am so excited; I will remember every sentence in the letter!" said Cheng Guo.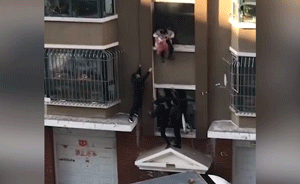 Heroic man catches baby falling from burning building
A video uploaded online on Jan 24 showed a terrifying moment in Qitaihe, Liaoning province. A woman sitting on the edge of a window on the third floor of a residential building had a baby slip out of her arms, and the falling infant was caught by a heroic man below.
The mother was trying to escape after a corridor of the building caught fire. When she was passing her baby to a man standing on a ledge on the second floor, the baby suddenly fell out of the clothes wrapped around it.
Thanks to the man, he caught the baby in the nick of time and safely passed the infant to the other rescuers. The video went viral online, where many netizens applauded his heroic act and quick response.
Screenshot of Pear Video shows the schoolmaster greeting students at the school gate.
Schoolmaster greets students every day for over 10 years
A schoolmaster of a primary school in Yubei district of Chongqing municipality has kept waiting for students in the morning and seeing them off after class for more than 10 years.
From a video uploaded online on March 1, the schoolmaster is seen greeting every student by either giving them a high-five or gently touching their heads, with smiles on his face.
"The behavior is warm and approachable. An example is better than a directive," said a parent of a student. According to another parent, the schoolmaster shows up at the school gate on time every day, regardless of the weather. He believed such behavior can affect the students, teaching them to persist in their studies and also respect others.
One netizen said, "He is the schoolmaster that all the students will admire." Another said, "I give him a thumbs-up for continuing to do this for 10 years."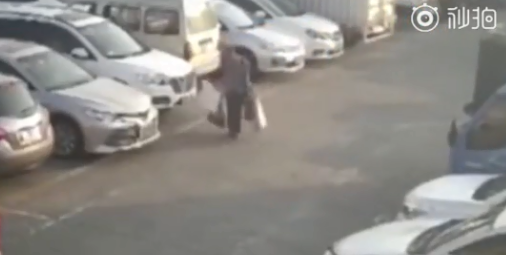 Screenshot from an online video shows the scavenger at a wholesale market in Foshan.
Scavenger walks 1.5 km to return lost wallet
A scavenger in Foshan city, Guangdong province, found a lost wallet and returned it with a thoughtful note.
His good deed was captured Sept 11 on a video, in which the scavenger can be seen collecting waste paper with two woven bags at a wholesale market in the city. He spotted a wallet nearby, picked it up and waited around. But the owner didn't show up.
So, while carrying two bags of waste, he walked 1.5 kilometers to the local police station and left the wallet with a note to the security guard.
According to the note shown in the video, inside the wallet was 1,305 yuan, eight bank cards, an ID card and a driver's license. "I reported it to the security guard of the market, and asked if I could find the owner through broadcasting. But there wasn't a broadcast service in the market. So I must trouble you (police officers) to help find the owner. Thank you," the note reads.
Thanks to this man, local police quickly found the owner and returned the wallet to him.