Protesters paralyze airport as HKSAR chief executive appeals for end to violence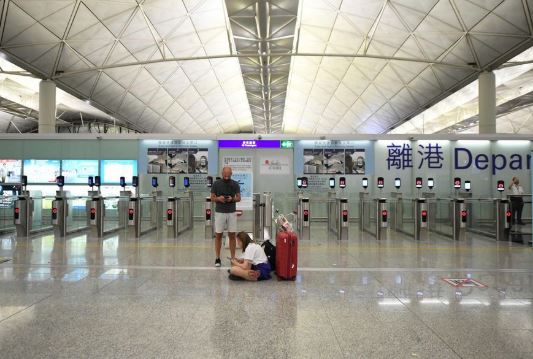 Stranded passengers are seen at Hong Kong International Airport in Hong Kong, south China, Aug. 12, 2019. (Photo: Xinhua)

HONG KONG, Aug. 13 (Xinhua) -- Protesters created chaos at the Hong Kong International Airport for the second day on Tuesday, causing cancellations of most outbound flights at one of the busiest airports in the world.
All check-in services for departure flights were suspended starting at 4:30 p.m., the Airport Authority Hong Kong said in a statement after protesters occupied the airport terminal and prevented passengers from departing.
Footage aired by a local broadcaster showed some protesters grab passengers' arms, preventing them from passing through checkpoints.
As of 3 p.m., 188 arriving and 182 departing flights scheduled on Tuesday had been canceled due to the protests, according to the airport authority.
It was the second day of chaos at the airport caused by protests, leaving many stranded passengers visibly annoyed.
"Unfortunately with the chaos, we are stuck here in the airport," said a Filipino passenger named Bennet. "No food and no drinks at all. Most of the restaurants are closed."
A passenger from the Chinese mainland said she considered flying from Shenzhen instead. "I don't know when this will end," she said.
"They (protesters) are damaging Hong Kong's business environment and image," said the passenger surnamed Gao. "I love Hong Kong, but I feel sorry for those young people who have been incited and used."
A HEAVY PRICE
Frank Chan Fan, secretary for transport and housing of the Hong Kong Special Administrative Region (HKSAR) government, said paralyzing the airport will make Hong Kong "pay a heavy price."
"Amid fierce regional competition, it is very easy to destroy years of achievements the airport has accomplished, but rebuilding them would be very hard," Chan said.
In 2018, the Hong Kong airport handled an average of 200,000 travelers each day, while trade via air accounted for nearly half of Hong Kong's total trade volume.
In a joint statement on Tuesday, seven labor unions in the aviation industry of Hong Kong condemned the unpermitted demonstrations that have stained the international reputation of Hong Kong.
The unions urged the protesters to stop all unlawful demonstrations and refrain from "gambling at the expense of Hong Kong's economic pillar."
On Tuesday, HKSAR Chief Executive Carrie Lam said the most urgent task now is to stop violence and safeguard the rule of law to prevent Hong Kong from sinking into "an abyss where it will be smashed to pieces."
Lam said some people, in the name of freedom or justice, have been committing vandalism and damaging the rule of law, throwing Hong Kong into a state of panic.
If violence persists, it will take a long time to restore the openness, freedom, inclusiveness and economic stability in Hong Kong, and the stable lives of seven million residents can not continue, Lam said.
RETAIL, TOURISM BADLY HIT
Weeks of protests and violent incidents have dented Hong Kong's retail, catering and tourism sectors, a key part of the local economy.
Business owners and industry insiders expressed growing worries as endless and ever-escalating violence continued to weigh on consumption and deter potential tourists.
"Business has been really bad recently. Sometimes, we don't receive a single guest in hours," said Ben Pui, a lobby manager of a hotel located in Sai Wan on Hong Kong Island.
The occupancy rate for Pui's hotel is currently struggling to reach 70 percent, compared with over 90 percent in past summers, despite a drop of room price to 300 HK dollars ($38.20) from 600.
Visitor arrivals to Hong Kong totaled around 5.14 million in June, dropping by about 770,000 from the figure in May, according to Hong Kong Tourism Board.
Since June, the tourism sector has been hit hard by multiple violent protests, and safety concerns mounted, said Yiu Si-wing, a lawmaker and tourism industry insider, adding that immediate recovery is not likely even if violence ceases soon.
The HKSAR government said earlier this month that the value of total retail sales in June 2019 decreased by 6.7 percent compared with the same month in 2018, as local consumer sentiment turned more cautious and growth in visitor arrivals moderated.
"Every time I heard about a possible protest in the neighborhood, I just closed my shop and took a day off," said a Hong Kong resident surnamed Lau, who runs a small clothing shop in the Causeway Bay shopping district.
"With the chaos, people don't want to hang out and buy things. How can I make money?" Lau said.