Tourist applauded for cleanup along trip to Tibet
People's Daily app
1599892343000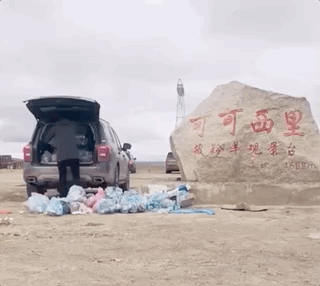 Gif: BTV
Cai, a 27-year-old man from Quanzhou City, East China's Fujian Province, has become famous these days after a video of him picking up garbage along his trip in Tibet went viral on Chinese social media.
During his road trip to Southwest China's Tibet Autonomous Region, he had seen garbage scattered along the road. So, along the way he often stopped the car, collected the garbage into bags, put them in cars and threw them away in the nearby garbage cans or stations.
Cai said he didn't feel dirty or tired, but he hoped that tourists can learn from his actions, don't litter and protect the environment.
"It is estimated that I have picked up more than 500 bags of garbage. In fact, I've picked up 100 or 200 bags at a time. But I do think it is worthwhile," he said.
"I hope that more traveling bloggers will actively participate in environmental protection campaigns."
(Compiled by Huang Jingjing and Wang Pengda; Source: BTV)