Policies create joy for elderly farmers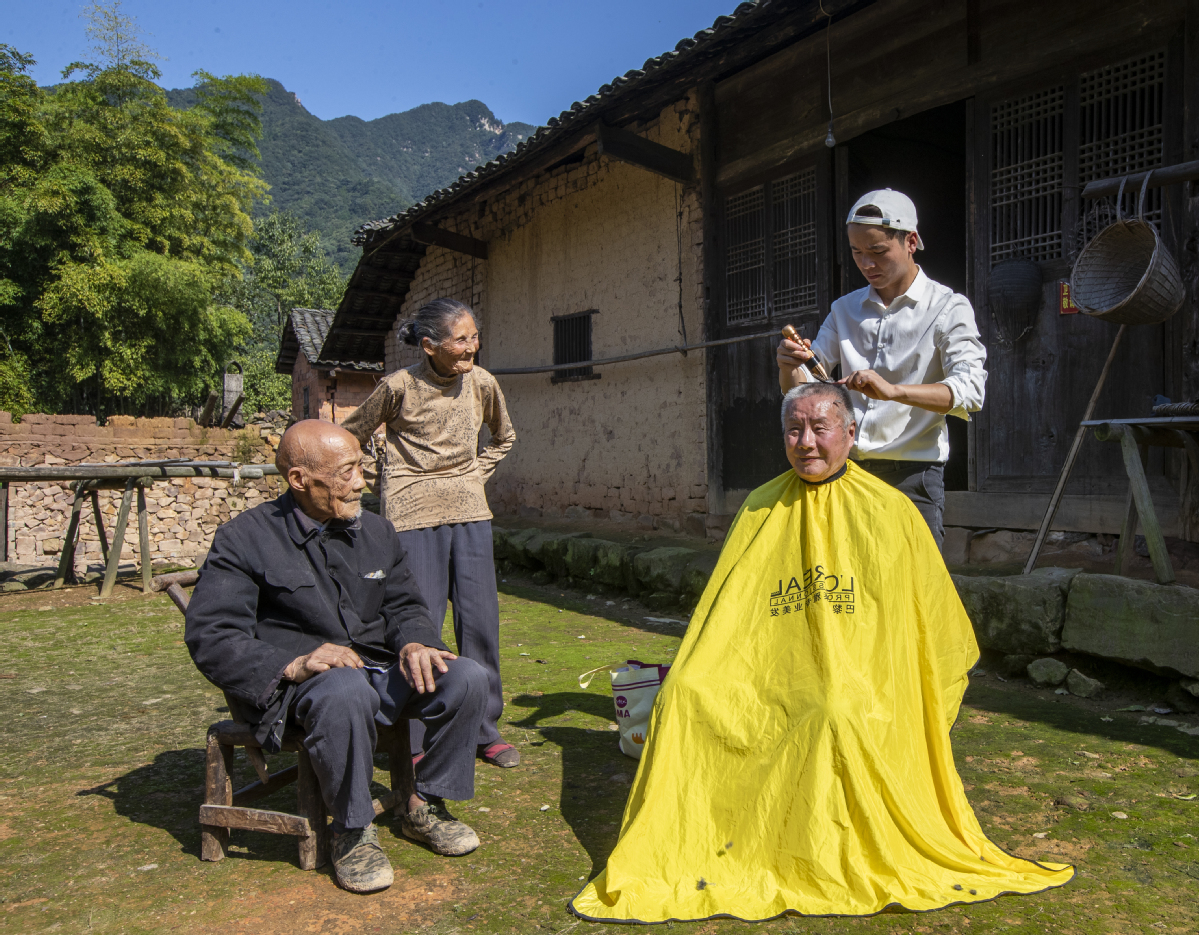 No society can reach the xiaokang ideal of providing everyone the opportunity for a good life without taking care of the less fortunate, many of whom are elderly.
In a recent visit to areas around the cities of Nanjing, Taicang and Wuxi in Jiangsu province, a group of international journalists got a chance to see different ways China is providing for its urban and rural elderly people.
The farmers of Donglin village, 7 kilometers from Chengxiang town of Taicang, were relocated to centralized apartments starting in 2010. They leased their land to the government, which is able to farm more efficiently and with much better technology than would be possible on small individual plots.
Chen Yaoming, an 81-year-old retired civil servant, said the conditions now are much better than before. "In the morning, we do tai chi and in the evening we dance. Here, it is quiet with beautiful scenery, the sanitary conditions are much better, and the neighborhood is very good."
In the past, sanitary and health conditions were not as good as now. Before relocation, they were far from town and the road was so narrow and winding that it took 30 minutes to get there by bicycle. No cars were in the village earlier. But now, there are good roads and cars. "Before relocation, it was difficult to live a good life," Chen said.
In exchange for leasing their lands, each farmer receives a dividend payment of 1,800 yuan ($271.6) a month, plus health insurance is paid for. Maintenance fees on the apartments and common land are covered.
The living conditions will make urban dwellers envious. Each relocated family was able to buy three apartments of 90 square meters each. So, each farm family has 270 square meters of living space in the new apartments.
Often, a family will live in two apartments and rent out the third. The total purchase cost for the three apartments amounted to only 100,000 yuan. Plus, the apartments can be inherited by the family's children and they can choose to sell the apartments.
Many younger people now work for nearby German companies and are becoming involved in technology, according to Chen Yi, the granddaughter of Chen Yaoming who is now the community's deputy Party secretary.
Near Wuxi, the visiting journalists also visited the Hongshan Intelligent Farmland. As in Donglin, the farmers have leased out their land to the local government in exchange for dividend payments. The government is using very high-tech sensors to demonstrate ways to optimize farm production.
Unlike Donglin, the farm families will continue to live in their traditional homes, which are being upgraded. The location is attractive for tourists who want to visit the nearby Lianghong Wetland, so the plan is to build homestay rooms in many houses.
The journalists also visited Yunlin Life Apartments for the elderly in Wuxi. These apartments are specially designed to be easy for older people to use-doors are wider, bathrooms are accessible, and even the signs in the building are designed to help older people with memory loss to find their own apartment. A large medical clinic for the elderly is on the ground floor of an adjacent building.
Most importantly, Yunlin Life follows a philosophy developed in the Netherlands that stresses the importance of designing eldercare facilities to focus on the happiness of the residents.
So, Yunlin provides a wide variety of social and educational opportunities. Research shows that this is key to being happy in old age.
More broadly, the economic development strategy of ensuring that good jobs are available throughout the province makes it possible for younger people to remain near their families, so older people have the love and support of several generations.